4

best monopods For Your DSLR
(how to choose the best monopod)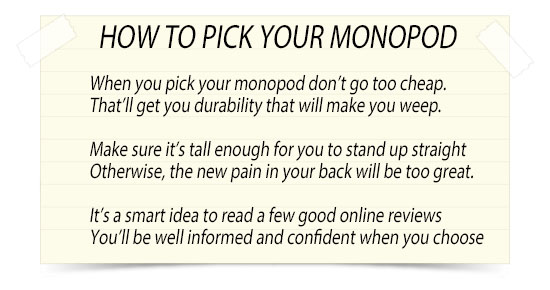 Are you searching to find which monopods are the best monopods? You likely know by now that there are too many choices. It may feel similar to the search for a new a car.
You have a ton of variety, with many features and benefits. Then, there's a wide range of price levels to add to the confusion. Camera monopods are like that too. Here are the winners.
The best monopod for you could be the one that just "Feels Just Right."  If you have just started to look for your first monopod, this guide will help. If you already have some experience with using a monopod, then you likely already know some of the things you like and don't like about your current monopod.
A good place to start is by knowing some of the various different features that monopods have.
Here is an article on monopods discussing the advantages and disadvantages of specific features: Monopod Reviews.
What to consider to get the best monopod
What features do you need to look at specifically to figure out if a monoid is a good fit for you? Here are the 5 main characteristics you need to consider.
1. how much do monopods cost
Price is one of the biggest factors people focus on first. News Flash: That's human nature and we're all guilty of doing that. Just don't forget the durability and usability have to be considered too.
The old adage that you get what you pay for is generally true, but it's extremely important to think about two other things as well. Specifically the kind of photography you are doing and the camera-lens combination that you are shooting with are just as important.
If you use your monopod only when you're shooting video your choose for the best monopod will be different than mine. I use my monopod for shooting portraits in low light situations and for shooting wildlife, specifically bird photography.
Prices range from about $350 for a Gitzo 6-section, 6x carbon fiber Traveler Monopod to around $11 for the cheapo, mostly plastic, no-name brands.

These very affordable monopods can often do the job for a point and shoot camera or a compact DSLR camera when it does not have your heaviers long telephoto lens attached.
Usually people who buy these cheaper are not serious photographers and they are not overly surprised when their monopod breaks or becomes worn very quickly. A good monopod for most people is a happy medium somewhere in between. Many of us would like to take a tripod everywhere, but there are many times when it is not practical or even allowed.
At many sporting events, stadiums, race tracks, tennis courts, museums or botanical gardens, tripods are forbidden. Tripods can be annoying and can be hazardous where people may trip and fall.
So finding one of the best monopods is important to your photography when a tripod, for whatever reason, is not going to work. You still need to support your camera, get blurry-free images and save your arm or back muscles.
2. how many sections should your monopod have
One of the important, but often overlooked features to compare is the number of leg sections. Higher end monopods typically are manufactured with more leg sections than the cheaper models.


It's great to have the least possible number of sections when you're adjusting the height. More collapsible sections means you can compact it to a smaller length and that allows you to transport it easier. If your collapsed monopod is too long it becomes tougher to carry it around and you'll want to leave it at home.

3. how heavy is a monopod
Compared to tripods all monopod are quite light. Generally, the heavier your monopod is, the sturdier it will be. Thicker legs will have more stability, but at the cost of weighing more.
Weight is an important consideration when choosing the best monopod. Sometimes you'll really want to travel lightly. Hiking and backpacking are good examples. If you're carrying everything on your back that you need, you know every single ounce counts.
Compare the weights of different monopods. You will see that there is quite a bit of variation in how much they weigh. Heavy duty monopods can weigh more than lightweight tripods, depending on the material they are made with, as well as what accessories they have.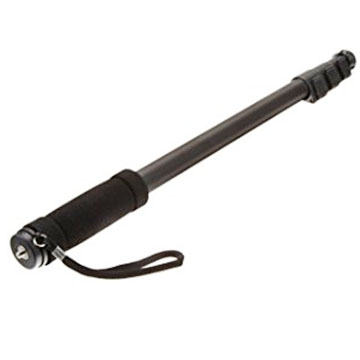 6.2 Ounce Monopod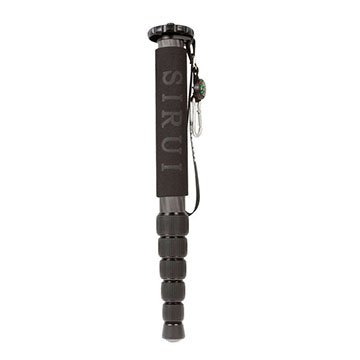 14.1 Ounce Monopod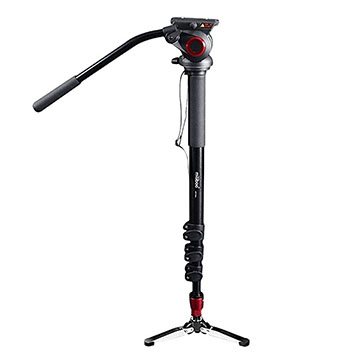 5.1 Pound Monopod
4. how tall can your monopod go
Height. How high do you need it to go and how small do you want it to collapse? Measure the distance from the ground to the level of your eye. Anything shorter than that is no good. Not only is it difficult to use your monopod if it's too short, but it's bad for your posture and the health of your back.
5. what type of head should your monopod have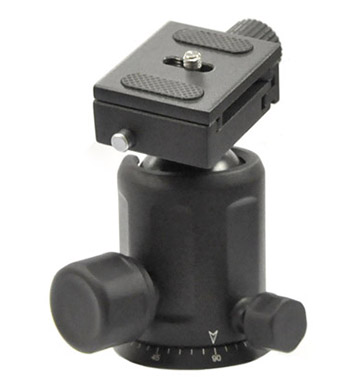 The type of monopod head has a huge impact on how well it functions for you. Ball heads are clearly the best monopod head to have unless you a significant amount video. Without a head you're limited in angling your camera to shoot at an up or down angle without leaning your monopod to a less stable position.
Right now, at the time of this post update, it's a challenge to find a monopod without feet that does have a simple ball head included. Monopods with feet are a little more geared toward video shooters and usually have a fluid monopod head with long screwdriver type of handles. I've used my Koolehaoda monopod with it's small ballhead plenty of times for still photographs.
more posts on monopods
 Monopod Reviews and Accessories. For more information about specific monopod reviews and monopod accessories.
Opteka Monopod Reviews. Reviews of the features, pros and cons of Opteka Monopods.
Manfrotto-Bogen Monopods - Reviews. Higher quality and higher priced line of Manfrotto and Bogen Monopods.
How to Use a Monopod. Using a monopod is simple, but many people make the mistake of not knowing the best monopod techniques. Discover the under-used tips on how to get the best results with your monopod and get the sharpest photos.
Monopod Heads and Tripod Heads. A big consideration in finding the best monopod for you is what kind of tripod or monopod head you use. There are many choices.
Choosing the best monopods is an objective consideration of price, features and how you are going to use your monopod. It is also a subjective decision on what just feels right. Just like any other purchase it is sometimes just the look and feel that allows a photographer to enjoy a monopod and its intended uses. See the specific monopod reviews below.
the
4

best monopods for your dslr

I just added this list of the 4 best monopods based on some more research at the leading online photography equipment retailer. These are the highest rated monopods, limited to mid and high-priced monopods, for DSLR cameras. If you are looking for a good monopod for a lighter point-N-shoot type of camera these monopods are overkill.

These monopods got the highest ratings as well as had the highest number of reviews given. That's very significant, because it means you are getting a lot of reviewers who are all quite positive about each of these monopods.

As an Amazon affiliate I may receive a small commission from qualifying purchases, at NO added cost to you.

best budget monopod
If the monopod highly above are more than you need, you're better off looking at some of these budget monopods, all priced for less than $50 at the time this article was written.
Stay Inspired. Shoot more photos.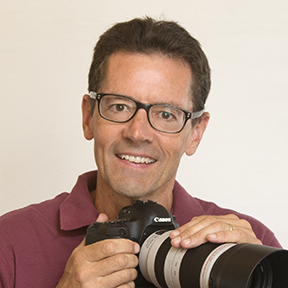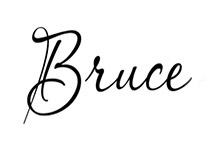 ABOUT BRUCE LOVELACE
Bruce is the publisher of this website. He is the author of the book "Improve Your Photography Instantly."  Read more on Bruce on his Bio Page. He's been known as The Traveling Photographer ever since 1994. Or read more about this website.
View some of Bruce's photos on Instagram.   Visit the Facebook Page. Watch him on YouTube.  Bruce runs photo workshops for kids and adults, and provides one-on-one photography coaching.
---