opteka monopod reviews
Most feedback on camera monopods, including Opteka monopod reviews written by photographers have been quite positive. Read on to find out more about the most reviewed Opteka monopod of all of them, the Opteka MP100.

It's maximum height is 67 inches which is tall enough for most people to shoot at eye-level while standing upright. It is rated to hold a little over 30 lbs. It's legs are constructed with black anodized high-strength aluminum.
The best feature of monopods for me is always how light they are and this Opteka monopod weighs in at about 12 oz. The legs lock with a 45° flip of the thin plastic levers.
Opteka monopod reviews have included complaints about the weakness of the plastic mounting knob which turns the screw into the base of your camera.
As with any piece of photography equipment, you must not be very forceful when dealing with plastic. This is even more true if you are doing your photography in cold conditions where plastic is more brittle.
The saying that you get what you pay for is true here and $15 is a bargain for a monopod like this one; carrying bag with shoulder strap is included.
To read Amazon.com customers' Opteka monopod reviews click here:
Opteka Monopods

The Opteka monopod CFM300 represents the opposite spectrum in the line of Opteka monopods. The carbon fiber and magnesium construction make it rigid and light.
It's maximum height is 68 inches, but still packs down to 19 inches because of the 5 twist-locking leg sections. It accepts 1/4" and 3/8" threaded mounts
Carbon fiber and magnesium construction for lightness and rigidity. Cost is around $60, which is considerably less than the Bogen and Manfrotto monopods.
This is the kind of monopod where you might consider getting a ball head and quick release mount.
I've got a quick-release, ball head on my carbon fiber, Rocketfish tripod and I love it:  Carbon Fiber Tripod-Rocketfish Reviews. The ball head does add a little weight, but adds the important versatility of shooting at angles and turning your camera sideways for vertical photo compositions.
The CFM200 is the lighter and shorter version of the CFM300. I believe that a carbon fiber monopod is a bargain for this small investment. It can handle my Canon 5D and my 70-200 zoom lens easily.
This Opteka only extends to 58 inches, but compacts down quite small because of its 5-section leg.
---

The Opteka M900 71" 5 Section Ultra Heavy Duty Monopod is not listed on Opteka's web site anymore but is still listed for sale on Amazon.
Many people enjoy using this monopod as a walking stick because of its sturdiness. It is rated to support 30 lbs. of camera and lens weight.
The M900 weighs a bit more than 1 & 1/2 pounds(27oz) which still feels lightweight for monopod described as heavy duty.
It extends all the way to 71 inches and compresses down to less than 22 inches.
Opteka M900 Monopod should be able to handle heavy cameras without putting too much strain on it's movable parts.
Monopods help make 360° panoramic photos easier to tackle with photo stitching software.
The cost for the Opteka M900 is around $25. Although there are some plastic parts, in my mind this is still a bargain for a piece of photography equipment that cam really help you take better digital photos.
---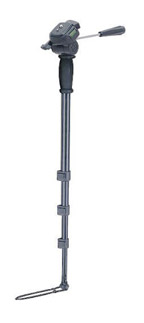 The Opteka M700 71" Video Monopod comes with a foot stabilizer.
When analyzing monopod reviews of monopods with the foot stabilizer, you have to be realistic with your expectations on how much stability will be gained.
I also find it very awkward to use the pan and tilt adjustments while trying to hold a monopod steady. The adjustment arm also sticks out a bit and can interfere with camera angle adjustments.
The 90 degree tilting platform is definitely a good feature that let you make a vertical composition with your photo.
With video, you'll get more professionally looking results with the more stable, heavier 3-legged monopod's cousin, the tripod.
There may be a few unique situations when a stabilizing foot and the pan/tilt handles can be valuable.
---
Reviews of Opteka Monopods by Buyers on Amazon
Opteka monopod reviews, as well as reviews on many other monopods, are given by individual buyers
---
Related articles:
Manfrotto Monopod Reviews. Instead of the Opteka monopod reviews, if you are interested in monopods made by a company with an international reputation for top-quality, then read the reviews on Manfrotto-Bogen monopods.
Slik Monopod Reviews. Slik had been manufacturing tripods and monopods for over 50 years. Many of their designs have been adopted as industry standards for monopods.
Gitzo Monopods. Gitzo represents the opposite side of the spectrum when it comes to monopods. Quality and price are both premium.
Benro Monopods.  They have not been around for a long time but they are good, really good.
Three articles, all covering different, but similar aspects of using monopods and how to use monopods to get the most stability and sharpest photos:
Best Monopods    How to Use a Monopod     Monopod Tips
Macro Photography Technique. Another piece of photography equipment that I found useful is my Opteka extension rings which are described in this article on macro Photography.
Many users report using these handy stabilizing devices as Monopod Walking Sticks. Shoot more photos. Shoot better photos.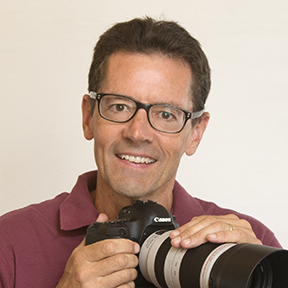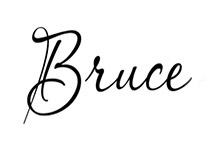 ABOUT BRUCE LOVELACE
Bruce is the publisher of this website. He is the author of the book "Improve Your Photography Instantly."  Read more on Bruce on his Bio Page. He's been known as The Traveling Photographer ever since 1994. Or read more about this website.
View some of Bruce's photos on Instagram.   Visit the Facebook Page. Watch him on YouTube.  Bruce runs photo workshops for kids and adults, and provides one-on-one photography coaching.