Camera memory card Guide For 2022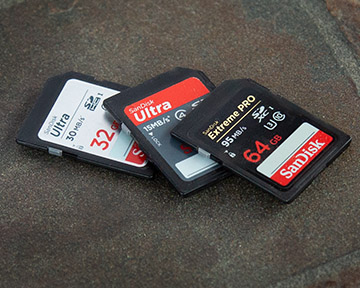 Which camera memory card is best


Reading technical camera memory card reviews can be a bit confusing. This guide will simplify it and make it easy to pick the best SD memory card for your digital camera.
Most digital cameras don't include a memory card, and if they do, it's a cheap one. Now you need to buy a memory card, but you don't know where to start.. It's confusing because there are so many classifications, specs, and brands to choose from.  Researching the brand, capacity and speed of the digital memory cards that will work best with your camera is too time consuming.
Memory card reliability is by far the most important quality to look for. Your photos are irreplaceable. Buy memory cards that have a great track record for not failing. The brand you buy matters.
The good news is that memory is dirt cheap and is easy to buy. Unlike the days of film, the memory cards can be used over and over again many times.

1. Best Brand of SD Camera Memory Cards
To insure that your camera memory card is reliable, go with one of the top 3 brands. Buy one of the following brands of memory cards.
SanDisk
Transend
Lexar
Although there are others that could suffice, these brands don't cost anything extras and they give you peace of mind that your photos and videos will be preserved.
2. Speed of Memory Card
Buy a card the has a speed of 100 MB/s (megabytes per second). That will easily handle shooting at fast burst rates (individual photos taken in a fast sequence) as well as high definition video (4k). That's all you need to know. You can ignore the classification like "UHS speed class," "UHS Bus Class," and "Video Speed Class." They are overkill for unneeded information.
3. Memory Card Capacity
Get a card with 64 GB (gigabytes) of storage. That's a huge amount of capacity for a ton of photos and video. The only instance you'd need more is if you shoot super long, ultra quality video. If that's the case, get a 128 GB memory card. They're all super cheap too now in 2022.
valuable resource for memory card reviews
For more information and reviews go to:
Card Reviews on Amazon
The 4 most widely used kinds of memory cards are pictured below.


SD Cards - Compact Flash - Micro SD - Memory Stick


The first, on the left, is called SD, for Secure Digital. These cards are very popular because of their small size. The newer SDHC and SDXC, cards were improved versions of the original. These SD cards are also used in many other small electronic devises like PDAs, phones and mp3 music players.
The CompactFlash card is used primarily in pro DSLRs. These are the most advanced cards. They have an internal microchip that aids in faster writing and reading times. The newer CompactFlash II cards are faster and higher capacity than the original.

The third card featured is the xD. They are very small! These are popular with Fuji and Olympus cameras. There are also adapters which make these compatible with SD cameras.
The final card pictured is the outdated, Sony Memory Stick Pro. I've never been a fan of stubborn manufacturers who have proprietary formats that only work with their own products. So if you already have a Sony camera and want to upgrade to a new camera, your memory cards are only good for another Sony camera.
Consumer ratings are the best way to judge reliability. I am a big fan of Lexar and ScanDisk as manufactures of the best memory cards. You can never have too much memory capacity. I've researched memory card ratings and read many digital camera memory guides. Many of these memory card guides recommend a certain size of card.
The problem is that memory card reviews that are only 6 months old are outdated. The truth is the numbers change rapidly with the technology, depending on the size of your digital camera sensor.
How much memory card capacity is enough?


Camera sensor's get bigger and bigger and so do the size of the files. Base your decision on the estimated number of photos your camera will fit on a memory card. Camera manufacturer's websites will have charts and estimated photo capacity for each size of memory card.
Yes, it is a bit more of a cash outlay to get the bigger storage cards; but there is no worse feeling than missing that once in a lifetime photo because your memory card was full. Another tip is to always have a back-up card ready to go. It is rare, but occasionally a card can malfunction or become corrupted.
One of the biggest photo mistakes that people make is they fail to back-up their photos after their photo shoot is done. Download your photos onto your computer as well as a 2nd back-up like an external hard drive, an online system or separate DVD disk.
Once you have your photos backed up, you should use the camera's format function to clean the memory card up so that it is ready for the next photography session. You can read the memory card reviews, study the memory card ratings, and find a good digital camera memory guide. Just remember the most important thing to do is figure how many photo you need to fit on your card.
Then buy a second card and always back up your photos in 2 spots and then format your card so it's ready for your next photography adventure.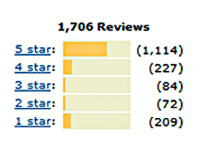 I have an additional tip I must share with you about reading memory card reviews. If there is a five star rating system, take a look at the total number of 1 star readings, not just the average reading.
In this example there are 209 1-star reviews out of a total of 1706 reviews. Dividing 209 by 1706 is 18%. That's a big red flag. If almost 20% of digital camera memory card reviewers give a product the lowest possible rating that's a good Do-Not-Buy signal.
For more information and reviews go to: Card Reviews on Amazon. 
Closing REmarks on Digital Camera Memory Cards
Memory cards are so good now in terms of speed, capacity, reliability, and now price,  provided you go with one of the 4 major brands I mentioned. Don't get caught up in all the technical specs and classifications that have been stamped onto your memory card.
I hope you found this article helpful. Keep shooting and stay inpsired!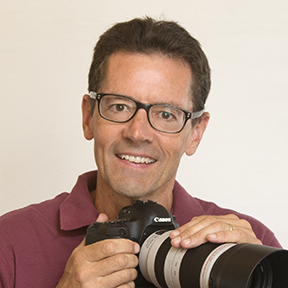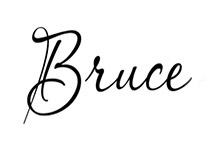 ABOUT BRUCE LOVELACE
Bruce is the publisher of this website. He is the author of the book "Improve Your Photography Instantly."  Read more on Bruce on his Bio Page. He's been known as The Traveling Photographer ever since 1994. Or read more about this website.
View some of Bruce's photos on Instagram.   Visit the Facebook Page. Watch him on YouTube.  Bruce runs photo workshops for kids and adults, and provides one-on-one photography coaching.
---
---
---
---
As an Amazon affiliate I may receive a small commission from qualifying purchases, at NO added cost to you.

Back from Memory Card Reviews to Digital Camera Instructions
Digital Camera Accessories

Back to Digital Camera Buying Guide