Bruce Lovelace Bio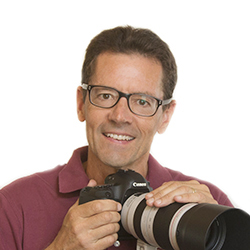 Bruce, The Traveling Photographer


Bruce Lovelace is the publisher and chief writer for the Better Digital Photo Tips website. He's had a passion for photography and camera equipment every since he shot his first roll of film on a class trip while in the 4th grade in 1970.
His enthusiasm for shooting photos led him away from pursuing a career as a chemical engineer and his life has been centered around photography ever since.
Bruce's Photography Experiences
Here's a list of the experiences Bruce Lovelace has had with regards to photography spanning over 50 years.
If Mr. Lovelace was applying to teach at a university for a job as a photography professor, this is what would be highlighted on his resume:
I used my first camera when I was 10 years old in 1969. Have likely used over 2 dozen different cameras over the last 48 years.
Had a black and white darkroom in my basement with all the chemicals, trays, and an enlarger when I was in middle school.
I Expanded it to a fully equipped color darkroom and used that throughout the high school and college.
Graduated from college with a bachelor of sciences degree in professional photography.
Worked for a portrait company for 9 years.
Opened my own portrait photography business in 1994.
Writes for several photography blogs and inspires photographers with individual coaching and workshops for both pre-teens and adults.
Publisher of Better Digital Photo Tips website. About This Website.
Where Else To Find Bruce Lovelace
You can see many of Bruce's photos at various locations on the internet or read some of his posts on camera equipment and photography. See the links below.
Published Guest Posts:
Photography Websites:
Author at Digital Photo School
Professional/Social Media:
With the exception of a few years while in photography school, Bruce Lovelace has lived his entire life in southern New Jersey. Bruce has been married to his college sweetheart for 40 years, has 3 grown children and 3 growing grandchildren.
---
---