toy cameras for kids
Toy cameras for kids come in as many flavors and colors at point and shoot cameras. Will your child really get any benefits from receiving one?
This post will help you decide if it's a good buy for you and which one would be the best digital camera.
First realize that toy cameras are really best purchased for a specific age group. Just for kicks, I did a quick search on Amazon using the term and the top three result gave these age ranges: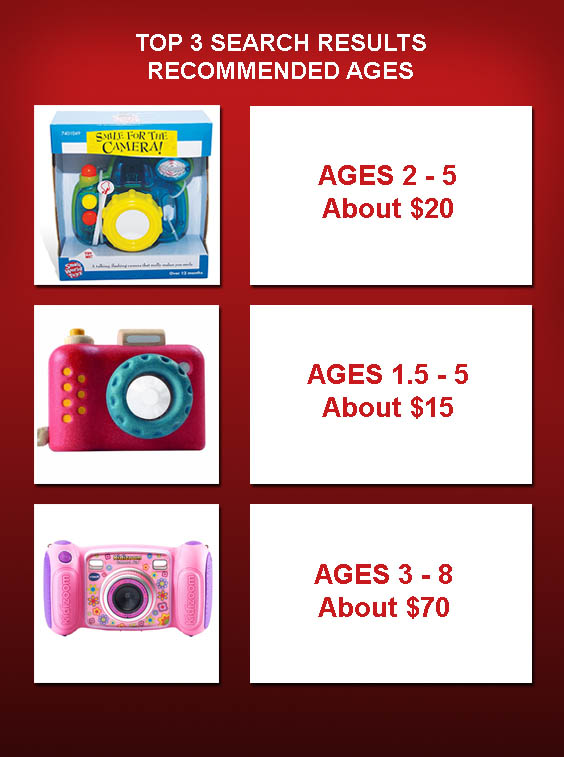 Recommended age vs price for kids cameras
Some kid's cameras are based on popular celebrities, cartoon characters, action figures or movies. Some are intended to actually spark an interest in digital photography for young children, and yes, you can still get play cameras that aren't cameras at all.
The key is to get the right mix of fun and photography that appeals to the person who will be using it.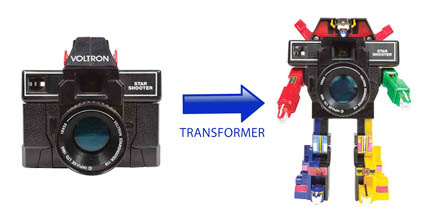 For the kids who love transformers you can convert a digital camera into an action hero. Models like this one are likely be played with more as a toy and less as a camera.
what to consider about toy cameras
I really don't want to take all of the fun out of it, but you may want to take just a second to figure out why you're interested in play cameras.  Are you buying a gift to spark a child's interest in photography?
Perhaps it is that you just want to get a fun toy that will lead to lots of imaginative playtime. It's a great time to be looking because there is a range of options, starting from pure, make-believe choices through dedicated cameras with advanced settins, and everything in between.
Consumer Reports had 30 young photographers test some kid cameras. Although this is just a teaser video, it may give you some ideas on how kids may benefit from using them. 
how to get the best picture quality with toy cameras
Let's be realistic, these cameras aren't designed or made to take the highest quality photographs. They're made for kids to have fun, learn a few things, and withstand bumps and drops that can happen when handled by young, inexperienced hands.
You can do two things to improve picture quality. First, get in the brightest areas possible. This will give you higher shutter speeds and sharper images.
Secondly, teach young photographers how to hold the camera steady and squeeze the shutter button gently.
where to buy toy cameras
There are so many places to buy toys and cameras-too many to possibly cover in less than a 20-page book.  One piece of advice: when you narrow down to the type of camera you may want, visit a review site.  
Try to avoid the on-line marketers who just try to steer you toward one specific camera they like. Like me, they sometimes may be getting compensated for referring customers to them, but they give their own personal bias toward a camera that fits their specific needs.
It's often more valuable to read as many customer reviews as you can. Some retailers are better than others. You can visit retailers like BestBuy, ToysRUs, Target, or WalMart and get some opinions from customers who have purchased cameras for kids.
The dedicated on-line camera retailers like Adorama, B+H PhotoVideo, Samy's, or RitzCameras, don't offer a significant selection of digical cameras for kids.
Wherever you decide to buy, Amazon is the king of places to read the reviews on children's cameras.
Go ahead, just do a search for "toy cameras" and see how many choices come up.
The total number of reviews written by consumers is astounding, so you have a better chance of getting some good feedback on a product.
Story-telling, non-picture-taking camera
Just like the one I used to play with when I was young, this Fisher-Price play camera doesn't take photos. You look through the viewfinder and each snap of the shutter shows a new picture and tells a story.  New stories are told by inserting new disks.
This might be appropriate as an intro camera to a very young child, to see if he or she might have an actual interest in taking pictures in the future.
final thoughts on digital photography for kids
We can use digital photography as a great learning tool to spark a child's curiosity, improve visual and communication skills and build confidence in expressing themselves. You can find cameras for 3 year olds, toy cameras for toddlers, and several that are really just for imagination and not taking any photos at all.
You, the adult, are the bridge between the child and their camera and enhancing their great experience with it. 
Shoot more photos.
Watch less TV
Bruce
Go to Digital Photography Tips Home Page