macro photography-Hard Or Easy
What makes macro photography hard or is macro photography easy? This post will explain the difficulties of shooting macro images as well as the ways to make shooting close-ups easier.
You'll find out the best camera settings to use for easy macro photography, what makes shooting macro hard, and at the end of this post, there's a helpful list of links to articles on specific macro photography topics you'll be able to use as a great resource. 
why macro photography is great for beginners
There are 3 solid reasons on why you can start with macro photography as an enjoyable avenue of image making. You can explore the world, learn a lot in the process while still having fun. It's easy to shoot macro anytime of almost any subject with your camera.
You can shoot macro photos anywhere you are, anytime of year, and you don't need a lot of room.
The camera gear you need can be very simple-No you don't have to use an expensive macro lens.
Pixels are free! You can try different angles, different lighting situations, and different camera settings to the same subject and see your results instantly.
---
What makes macro photography hard?
Macro photography can be intimidating to learn because it involves a few techniques that are different from shooting regular normal distance photos. There are several reasons shooting close-ups can be challenging.
1. Focusing
Getting the focus just right when shooting macro can be hard because of the optics involved. The range of things in focus (depth of field) is very small when your lens is close to your subject. You don't need to know the scientific physics behind this, just understand that getting your entire subject in focus can be tough.
2. Blur
We're talking about motion blur, not the soft look of blur from focusing issues mentioned above, but rather blur caused by movement of your subject or the motion of your camera at the exact movement the exposure is made. Blur from either of these two causes is magnified when you're in close to your subject.
3. Lighting
With respect to macro photography lighting, avoiding harsh shadows is the hard part. Many advancing photographers get caught up with complicated lighting schemes and that renders your close-up subject in an unattractive way.
Secondly, it becomes extra challenging to get a sharp photo in darker shooting situations. It's a good idea to know a few options on how to add more light to your subject to achieve good macro lighting.
best camera settings for shooting macro photos
Here are the 4 best camera settings to use to make it easy to get great macro photos. Remember that using a tripod gives you a big advantage for getting sharp photos. First, it eliminates blur from camera movement. Secondly a tripod will keep your lens at the same focusing distance from your subject..
1. FOCUSING. Set your camera to manual focusing or to a single "spot" focus setting. Your camera's autofocus is a useful and convenient tool that works terrific in a lot of situations. Macro photography is not one of them. By its nature, close-up photography gives you a very shallow depth of field. The range of things in sharp focus is limited. You need to be pinpoint accurate on what you want your camera to focus on.

Shoot macro with your camera set to manual focus.


2. USE YOUR SELF TIMER. There are some times when you can shoot macro while hand holding your camera, but most of the time you'll be using a tripod. Using your self timer will allow your camera to remain perfectly still during the exposure. That's better than causing image blur with a slight jiggle of your camera caused by pressing the shutter button with your finger.

Use your camera's self-timer for better sharpness.


3. SWITCH TO LIVE VIEW. On most cameras you can zoom in on your LCD screen in order to fine tune the accuracy of your focus.  You can also use your LCD screen to check your focus afterwards, at least to some extent, by zooming in on the playback. That helps you make sure you've got the sharpness right before you view the enlarged view of your computer.
4. USE A HIGHER ISO SETTING. You can get both faster shutter speeds and smaller apertures when you set your camera's ISO to a higher number (but not super high). This increases the likelihood that your macro photos will be sharply focused with no motion blur. 
These are the four settings I highly recommend. Most macro shooters use aperture priority too. They want to be able to set their f/stop number to a small lens opening to get a good depth of field. When you use aperture priority your camera will choose the best shutter speed to give you a good exposure.
how to find out more about macro PHOTOGRAPHY
You're probably looking for even more information about macro photography than just the basic settings for a beginner.  This article will lead you to whatever you want to know. You see, I'm a big fan of shooting up close and there are quite a few how to posts and about shooting macro on this website.
Whether its shooting tips, macro equipment and accessories, ideas on what to shoot or macro lighting, it's all here for your consumption. You can take several different paths:
Use the websites own search function here and scroll down to see all of the results that you're looking for.
Go straight to the list of macro articles.
Click one of the links or just ask me a question.
Another trick is to simply pick attractive and interesting subjects for your macro photography.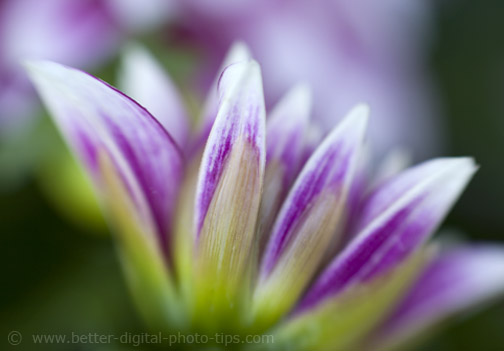 Flowers are great because we find them to be so beautiful and there are plenty of them around. Even in the winter, conservatories, arboretums, and botanical gardens make great places for a macro photo excursion.
A true macro lens has the capability of achieving at least a 1:1 magnification. That means that the size of the image on your sensor is actually life-size, or in other words the same size as the object you are photographing.
Most of my previous articles giving tips for taking digital photography were focused on portrait posing, rules of composition, lighting and photo exposure.
I gave myself a macro photography assignment and only one hour to complete it. I had recently purchased a budget-priced set of extension tubes made by Opteka and wanted to get a few decent photos to start a section on my web site on this topic.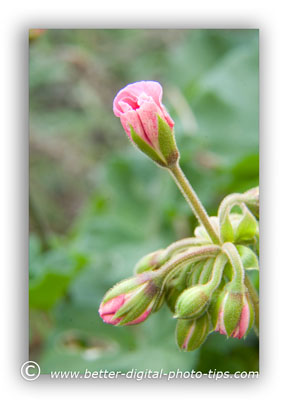 Geranium Closeup


When I originally researched taking close-ups, I considered screw on filters, extension tubes and macro lenses. I read many reviews on Amazon.com and other sites.
I saved a lot of money by not buying an expensive macro lens or high quality extension tubes. I can get better quality photography with these extension tubes than I can with screw on filters.
Articles giving tips on this type of photography always advise you to use a tripod. I took that advice for most of the images I captured. In this picture of the budding pink geranium, I needed the tripod to prevent getting a blurry picture. My shutter speed was 1/20 second even though I set my camera ISO to 800.
I also took some pictures of butterflies using these extension tubes. They were quite busy moving from flower to flower on our butterfly bush. I didn't have enough time to set the tripod and focus on one flower with the hope that one would land and stay in the exact spot for more than a fraction of a second.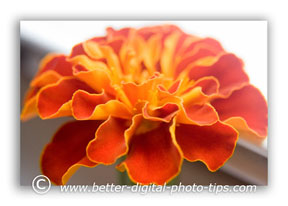 Marigold CloseUp
Taking pictures of ordinary objects at very small distances opens up a whole new world of picture taking opportunities.
Of course flowers always make a great choice for subject matter. You still must consider your lighting and use good composition techniques to get great images.
One of the biggest photo mistakes people make with close up photography is to get distracted by concentrating on the subject and they forget to look for an interesting way to compose it.
Use the rule of thirds when you can; look for diagonal lines and remember to consider whether a horizontal or vertical composition works best. Looking for some easy macro photography ideas? Look no farther than your own backyard. I used the extension tubes described in the Macro Photography Techniques article listed below.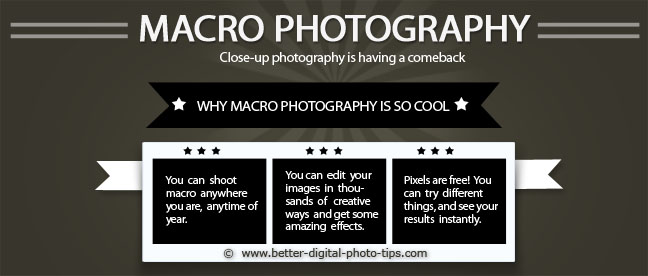 List Of articles on macro photography  
Accessories.  Several gadgets and gizmos that are useful for shooting close-ups.
Macro Photo Ideas. Looking for inspiration on what to photograph with your macro photos. Here is some inspiration.
Lenses for Macro.  To use a dedicated macro lens or alternative macro equipment.  That is the question.
Artistic Macro Photos. Create macro photography art. Sample artistic photos and an opportunity for you to submit your macro photography art.
Macro Photography Tips. If you'd like to read some more digital photography tips on this topic, try this article.

Extension tubes for Macro Photos. Affordable and easy to use, these accessories often come in a set of 3 to give you several different levels of subject magnification.
Close-up Photography Equipment for advanced macro photographers, equipment choices are abundant. This includes bellows, reversing rings and several options for macro lighting equipment.
Abstract Macro Photos. Using close-up photography to create abstract photos. Can you guess what the subject was in the original photograph? Want to make other viewers make guesses about your abstract macro photo?
---
Close-up Photography Technique. If you are interested in what close up photography equipment to use, read this article.
Close Up Photography Lighting. To see some examples of great close up photography lighting technique, visit this gallery with comments.

Indoor Lighting Tips. What is the best lighting for shooting photos of tiny translucent spheres inside? I accidentally got a cool photo because I made a mistake in lighting my photo.

Close-up Photography for Beginners. Don't know where to start. Read this article for beginners on how to do close-up photography.
Close-up Photography Tutorial. Illustrated tutorial with photos of a set-up for inside macro photography with a point and shoot camera and an external flash for equipment.

Natural Lighting with your macro photography. Two illustrated photos and explanations of how they were taken.
---
Summer Close-up Photography.  Got an ideas for some good summertime close-ups?  Samples and your chance to submit your own photos and thoughts.
Photo Assignment-  Photograph that beautiful amaryllis plant as it blooms in 15 minutes or less.
Affordable Diffusers for Macro Work.  You have several options when it comes to softening the light for more appealing close-up photos.
Tripod for Macro Photography. Usually when you're shooting macro photos outside it centers around insects and flowers. That often means you have to get down low, close to ground level.  What's the best tripod for macro photography outside?

See the other macro photography articles listed below my signature. Have a blast. Keep shooting!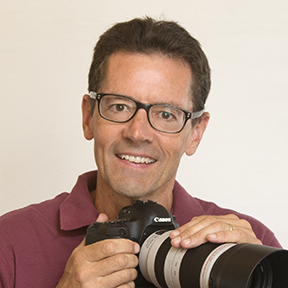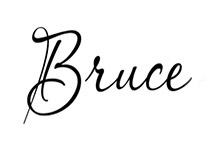 ABOUT BRUCE LOVELACE
Bruce is the publisher of this website. He is the author of the book "Improve Your Photography Instantly."  Read more on Bruce on his Bio Page. He's been known as The Traveling Photographer ever since 1994. Or read more about this website.
View some of Bruce's photos on Instagram.   Visit the Facebook Page. Watch him on YouTube.  Bruce runs photo workshops for kids and adults, and provides one-on-one photography coaching.
---
---
---
---