tripod for outdoor macro photography
So,  you need a good tripod for outdoor macro photography. You'll want a tripod that works for macro photography  as well as most other types of photography situations. I get it. That makes sense.
But there are some of us camera equipment geeks who like a tripod for every season. I won't bore you with the details, but check this out.
I have 6 tripods and 4 of them pretty much suck for shooting macro photos down close to the ground. One is great for travel. Another tripod that I use mostly for portraits.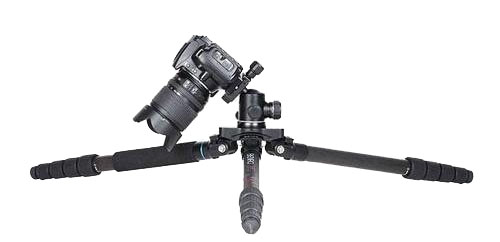 Ground level tripod
for macro photography
I have a third one that stays in the basement for shooting videos for my photography blogs. My 4th tripod is a mini tripod and I use that occasionally with hiking and it's good for inside or outside macro photography.


Cheap tripod for lending
to my photography students


I keep my 5th tripod because I am nostalgic and the sixth tripod is for lending out to my photography students. How's that for overkill?
But what about you? 
Do you wish you could get a decent macro tripod that won't cost you a fortune? Are you ready to take some macro photos that will be the envy of all your friends?
The good news for you is that you can chose a tripod that works well with shooting close-ups and most other shooting situations or you can get a specialty low level tripod for macro only.
The "bad" news: You have so many choices that you get overwhelmed with choosing the best tripod that lets you shoot outdoor, ground-level macro photography. Just take a deep breath and relax. Read on and I am sure it you'll have a better idea on what to do when you're done reading the whole article.
Yes, I've shot some macro without a tripod, but usually that doesn't turn out to well. Macro photography requires pinpoint focusing and rigid steadiness to avoid blur and maximize sharpness.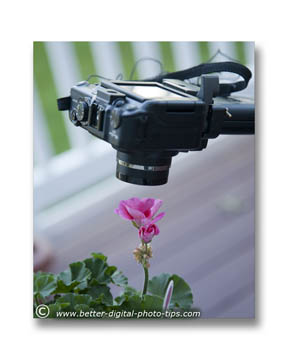 There are plenty of times when a regular tripod will do fine for macro. But the two most popular macro subjects, insects and flowers, are often quite close to the ground.
It's frustrating when your subject is low to the ground and you want to shoot at ground level and you're ill-equipped. You miss out on taking that great photo because you can't get close enough or can;t get the right angle.
It's no fun when don't have the right equipment to get great shots of the subjects that you enjoy photographing. The right tripod is an invaluable tool to get your camera in just the right position.
the best tripod for macro photography
What choices do you have for a tripod for outdoor macro photography? You can divide your choices into three types that would work well for you when you need a tripod and your shooting close-ups outdoors.
short tripods
There are a ton of mini tripods out there that might be a good fit for you. So dang easy to carry anywhere, but limited uses
no center pole
Pricier, but extreme function and quality come with it. Good for ground level or table top level shooting. Great for uneven terrain too.
rotating center pole
Versatile for use as a standard tripod use too. Center column makes it easier to adjust camera position
advantages and disadvantages of the different macro tripods
Here are the advantages and disadvantages of these three types of tripods. These comparisons are going to help you decide what type of macro tripod is best for your needs.
1. mini tripods
Very easy to transport anywhere. Can be used as a tabletop tripod too.
Simple to use and can get very low to the ground.
Very limited maximum height.
Usually can only support point and shoot cameras or small DSLR cameras without long lenses.
---
2. tripods without a center column or with a very short one
Versatile to use as a macro tripod as well as a tripod for landscapes, portraits, and general use.
Very short or absence of center column means it's ready for macro use immediately.
Not easy to change height easily-you have to change leg lengths or leg angles.
Usually involve a bigger investment due to superior design and meterials used to make them.
---
3. tripods with a tilting or reversible center column
Extremely versatile for traditional, sideways, and macro photography applications.
Does not require removal of center column to work well.
Must have a pan-tilt-swivel or ball head to aim your camera in the right orientation.
Can be unstable if you have center column extended too far away from center of tripod.
---
You need a good versatile tripod head if you shoot with a tripod that has a tilting center pole like the one shown above. Otherwise you'd be stuck shooting all your photos with your camera stuck in a vertical "portrait" orientation.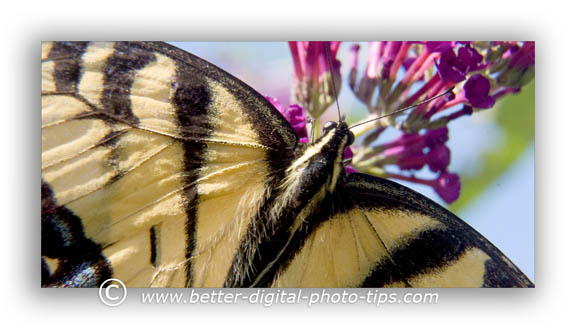 characteristics of a good tripod for outdoor macro photography
It's important to know what capabilities you need to have in a tripod that's going to be used for shooting close-ups outdoors. Shooting macro outdoors usually means getting down low to the ground with your camera.
Wide legs
Sturdy
Low minimum height
---
One of the readers of this site just invested in a Vanguard Alta Pro 263 sold on Amazon. I haven't tried this one out yet, but it's versatile and reasonably priced.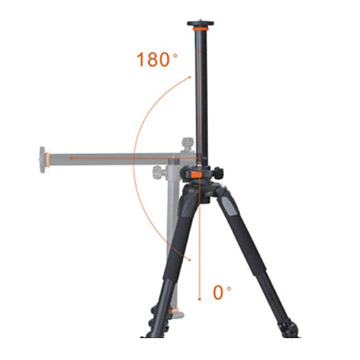 Center Column Rotates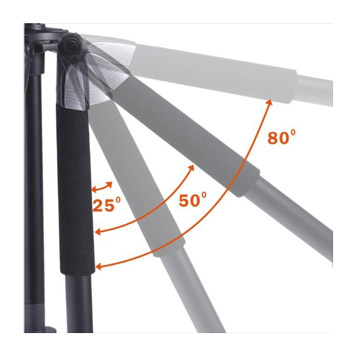 Multiple Leg Angles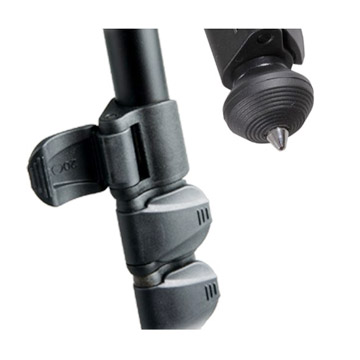 Flip-lock Levers
Here's the link if you want to read a few of the reviews.
As of today when this article was posted, 100 % of all reviewers gave this tripod a 4 or 5 star review.
That's pretty good proof it's a good buy! It's not cheap, but tripods should last as long as you are active as a photographer.
If you buy a cheap tripod and have to replace it in a few years, how much did you really save on it?
---
recommended outdoor macro tripods
Here are some honorable mentions.  There are always compromises when you choose one tripod over another.  Maybe that's why I have 6 of them. Here are three that could serve your needs as a tripod for outdoor macro photography.
Great choice for both macro photography and other types of shooting. The center column has Instant Swivel Stop-n-Lock.
Recommended if you want a mini tripod. Pricier, but a much better performer than its competition.
Recommended if you have tons of money to blow. Buy this and you definitely have a tripod that will last you a lifetime.
other outdoor macro photography equipment
general benefits of using any tripod
Better depth of field because you can use a smaller aperture and slower shutter speed.
You can shoot nighttime photos and time-lapse photos.
You can shoot selfies with your DSLR.
Tripods will give you smoother vibration-free videos.
You have a weapon to use to ward off an attack by a wild animal when you're hiking out in the natural world.  Seriously, that is a benefit.
Get more accurate focusing when it's so critical with macro photography.
You can use your tripod to support an extra flash or hold a light reflector or diffuser in place.
factors to consider when choosing the best tripod
Weight capacity of tripod
How much the tripod weighs
The feet and the type of end tips
The number of leg sections
Maximum height
Minimum height
The length of the center column
The type of tripod head
The best tripod for outdoor macro photography isn't necessarily the best tripod for dslr photography in general. If you are using a point and shoot camera, you can can get away with using a really light tripod for macro photography. If you found this article titled "Tripod for Outdoor Macro Photography" useful, please share it with a friend.
This article was written to help you find best tripod for macro photography, in other words a low level tripod for macro photos.
Keep shooting. Keep improving. Keep learning.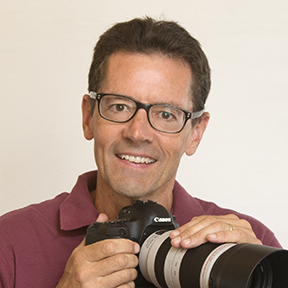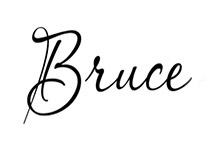 ABOUT BRUCE LOVELACE
Bruce is the publisher of this website. He is the author of the book "Improve Your Photography Instantly."  Read more on Bruce on his Bio Page. He's been known as The Traveling Photographer ever since 1994. Or read more about this website.
View some of Bruce's photos on Instagram.   Visit the Facebook Page. Watch him on YouTube.  Bruce runs photo workshops for kids and adults, and provides one-on-one photography coaching.
---
---