What Is An L Bracket For in photography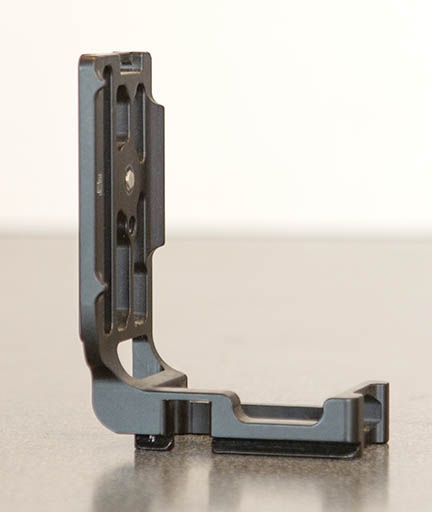 My "L" Brackett


Okay, so you've come across the term for this mysterious piece of camera gear and you're wondering what is an L bracket used for in photography. This post will show you how an L bracket is used and help you determine if it's something you need or not.
An L bracket is an "L"-shaped" bracket that mounts to the bottom of your camera and lets you switch back and forth between portrait and landscape compositions on your tripod. The L bracket attaches to a quick release plate that is mounted on your tripod. It saves you time and gives you a steady way to shoot both vertical and horizontal photos.
Sometimes called an L plate, these brackets eliminate a few issues for you and also have several benefits when you use one with your camera.
Why use an L Bracket
There are several benefits to using an L brackets.
Without an L bracket, switching between a horizontal composition to a vertical composition while using a tripod can throw off your entire composition. And you can create an unbalanced tripod set-up with your camera swung over to one side.
A shaky, unbalanced tripod could lead to blurry photos, or worse yet, a toppling over and camera damage. Using an L bracket will keep your camera centered above the center pole and take advantage of the designed sturdiness of your tripod.
If you shoot portraits, landscapes, or macro photography, you'll like the benefits of composing variations in compositions of your subject using both "landscape" and "portrait" orientations.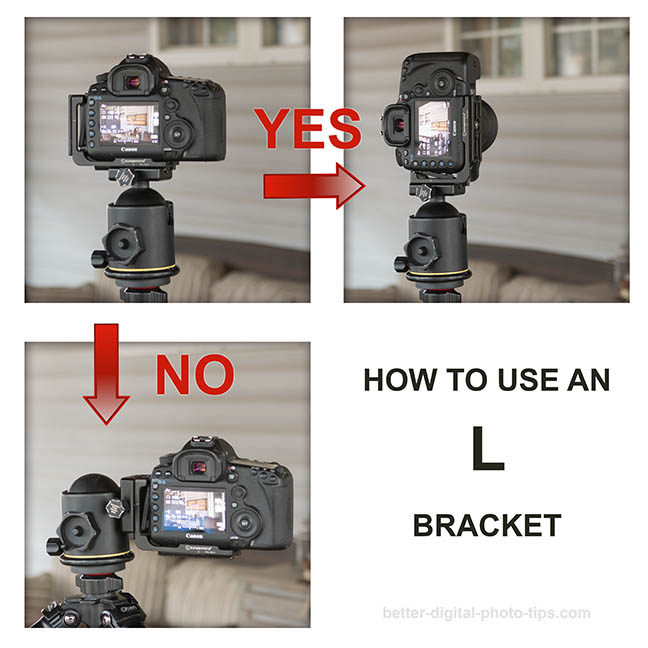 ---
how to mount or attach an L bracket on tripod

This video below, which I shot using a standard quick release plate on a second tripod, shows you how the L bracket mounts to your camera and how your camera then attaches to your tripod.
>
It wasn't that long ago when I started using an L bracket for shooting both portraits and landscapes. Here is my history with using L brackets. 
REASONS YOU SHOULD use AN L-PLATE ON YOUR CAMERA
BALANCE. L brackets let you mount your camera securely in either a vertical or horizontal orientation centered on top of your tripod head. This is the most balanced way to use a tripod.
SPEED. It's easier to switch your camera back and forth between the two positions. Faster switching mean less time wasted on adjustments and a better chance of not missing the shot you're after.
PROTECTION. This is the least likely reason to buy one, but they do actually add a little bit of protection to the side and the bottom of your camera. L brackets act similarly to the way an automobile bumper does.
SLIPPAGE. With an L bracket attached and your camera mounted on top of the center post, you won't get any camera slippage when shooting vertical compositions. All the weight is supported on top of the tripod head.
cost of camera L plates
Camera  mounting L plates come in a large range of quality, so the price range is varied too. Generally, many are priced between $40 and up to $100 for high end models. You can get universal camera L brackets for as low as $20.
I purchased a Sunway L bracket (about $40) made specifically for my Canon DSLR and have been quite happy with its performance. Check out the range of typical prices below at Amazon.
As an Amazon affiliate I receive a small commission from qualifying purchases, at NO added cost to you.

types of camera L plates
There are 4 types of camera L brackets for photography. There are universal, custom, adjustable, and hinged L brackets. Universal L brackets are designed to fit most camera models. They are usually the most affordable to get.
Custom designed L brackets are made to precisely fit to your specific camera model and are the most stable L brackets you can buy. They cost more than the universal brackets, but are still quite reasonably priced. The third type of L bracket is pictured below, adjustable L brackets.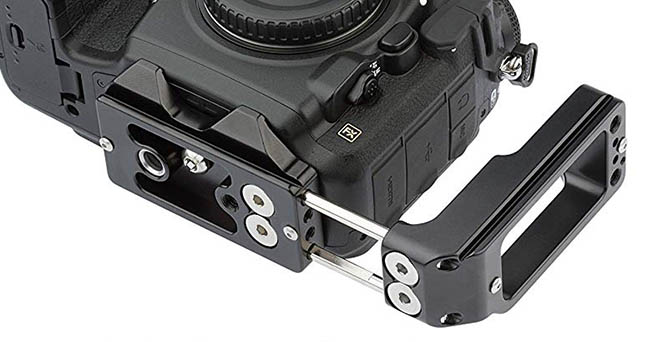 Adjustable L Bracket


Adjustable L brackets are a recent addition to the mix. Although I don't NEED one, I'm very intrigued with this idea. I shoot with two different sized DSLR bodies and an adjustable bracket would be able to be used on either one of them.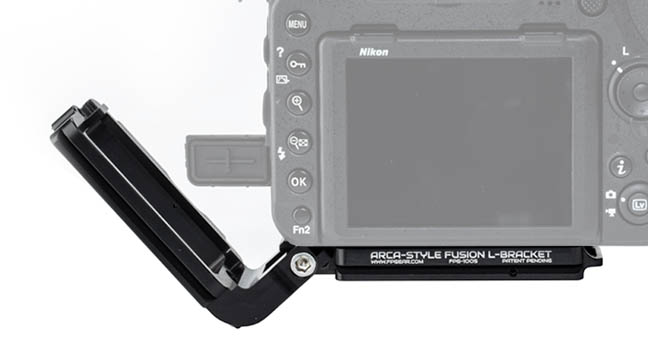 Hinged Camera L Bracket


The hinged, tilting bracket is another interesting twist to L bracket design. It allows you to unlock the side support to give you full unencumbered access to the ports on the side of the camera. What I don't understand at all is how this would be helpful if your camera is mounted in a vertical position.
Pros and cons of L brackets 

Although I use my L bracket for about 90% of all the photography I do, these accessories are not perfect, so here's a list of the pluses and minuses of using an L bracket for your photography.
advantages of using an L bracket
LOOKS. Okay, perhaps this is a bit frivolous, but I'll start off that way. L brackets look cool. Face it, although we say we don't give a darn about what our gear looks like, it's a similar situation as using a battery grip. There are situations where we don't NEED one, but it makes you look like a serious photographer and we all do like to look good, don't we?
SLIPPAGE. We mentioned this earlier as a reason to use an L bracket, but it's worth repeating. Even when it's not obvious, the tiniest amount of slippage with lead to unsharp photos. Rather than be forced to overtighten the mounting screws and knobs of your tripod, it's better for your camera to be directly centered above yout tripod legs and use gravity to your advantage, not your disadvantage.
PANORAMAS. Shooting panorama videos and still photos with your camera in a vertical position doesn't work if your camera is mounted on the side of your tripod head. You need the lens to be centered over the turning axis to avoid distortion.
DURABILITY. There made out of metal and should last a lifetime unless you intentionally beat the crap out of it. You should only ever have to buy one for your camera.
DISADVANTAGES of using an L bracket
WEIGHT. Not a big deal in my book, but the average L bracket weighs between 1/3 and 1/2 lbs. 
COST. Most L brackets cost less than $50 with many coming in between 20-$50. Not a ton of money in the grand scheme of things, but we all like to keep our gear costs under control.
BULK. Bucking the trend of many photographers trying to downsize, adding an L bracket to the base and side of your camera does add to the overall dimensions of your camera. It's likely not enough to be a deal breaker unless your camera bag is already over stuffed with equipment.
PORT ACCESS. L plates can make it hard to access the ports on the side of your camera. That's the main reason I chose a bracket made specifically for my camera. When you're looking at a certain bracket, make sure the one you choose won't interfere if you want to use any of the ports on the side of your camera.
why i use an L bracket now.
I didn't use an L bracket for my my photography for ages. From the time I started shooting seriously in the in the mid1970s until about 4 years ago, about 45 years, I didn't take advantage of using an L bracket.
I know that sounds crazy, but it's true. I didn't even know what an L bracket did until a few years ago when I read an article written by a talented landscape photographer that I follow. Once I started using an L bracket I was hooked. Now, I never shoot portraits, landscapes or macro photos without using my L bracket mounted to the bottom of my camera.
I like the added stability, the quick changes between shooting vertically and horizontally, and more recently shooting pano videos.
Keep shooting with passion!