12 camera tripod accessories


(

cool gadgets FOR YOUR TRIPOD

)
You've got your ideal tripod. Now, what useful camera tripod accessories can help you with your picture taking activities. Having the right accessories for your tripod can make certain tasks possible and other photography tasks even easier to accomplish. This article provides you with a list of 10 useful accessories. You'll get some ideas on how to get the most out of your tripod by adding a gadget or two.
Traditional accessories for tripods, and sometimes monopods, may include the typical clamps, tripod heads, adapters, cases, and quick release brackets. There are also some very interesting gadgets that can be used in very specific types of digital photography and video. Let's dive in, first with the important basics.
---
basic tripod accesssories
Almost all tripods already come with a tripod head of some sort, but if you're not thrilled with the head that your tripod came with, you should take a careful look. It's the single most important accessory your tripod has, its head. Just like you without a head, tripods can't function.
1.

tripod heads

You want to know what goes on top of your tripod. A tripod head. Yes, your camera goes on top too, but the tripod heads are the single most important consideration. They're the connection that enables you to get the results you want when using your tripod.

Pistol grip, pan and tilt, Ball, and Gimbal tripod heads
You want to have the right kind of tripod head attached to your tripod legs to match the kind of photography you are doing. Ball heads give you ultimate flexibility in changing  orientation and shooting angles in a compact and lightweight design. The larger the head the more weight they can support AND the smoother the movement of your camera.  
Larger DSLR cameras with long telephoto lenses are too heavy for small ball heads, like the one in the video and in this photo.
They are not that useful as good tripod accessories for shooting video.  Pan and tilt heads with long screwdriver type of handles work much better for shooting video and for shooting macro photography. When shooting video you want to be able to smoothly follow our subject and a long handle is a must. When shooting macro it's much easier to make a minute change in your camera angle to get just the right composition.
Here's more on different tripod heads, their features and which is the best for different types of photography. 
2.

tripod quick release mounts (camera tripod mount plates)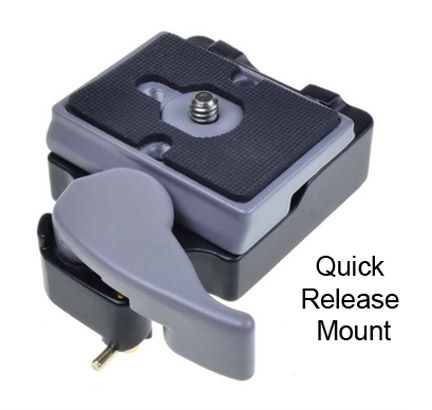 Quick release mounts are likely the single most popular tripod accessory sold on the market today. In fact, nowadays it's hard to find tripods that don't come with a quick release system of some kind.  If you are shooting in situations where you go from hand-held photos to tripod-mounted photos in a short time span, a quick release camera mount system is quite useful.  
I've got these gadgets for my Bogen, Manfrotto and RocketFish tripods and I wouldn't want to go without them ever again. It's one of those gadgets that saves you a little time and we all like to save time, right?  
They are all different in design and size, so it is important not to lose the mounting plate other wise your quick release will be worthless without buying a new one. More about choosing the best quick release tripod attachment.
Watch this video if you are just starting your search for a tripod. It's for beginners who don't really know what a quick release tripod mount is or how it is used. This one is a little different than most accessories of this type. It will show you one particular system that uses a thumbscrew to attach the mount to your tripod. Most quick release systems employ a simple lever to release the camera from the tripod.

3.

Tripod shoulder strap

For those times when you have to transport several things at once, a tripod strap will free up one of your hands and take a load off of one of your arms. Small tripods can often be attached to your camera bag, but it's a big advantage to have a strap if your hand are full or if you have to carry your tripod for any significant distance.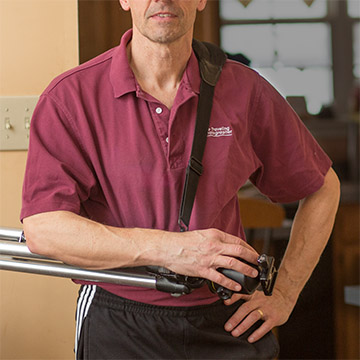 My Favorite Tripod Strap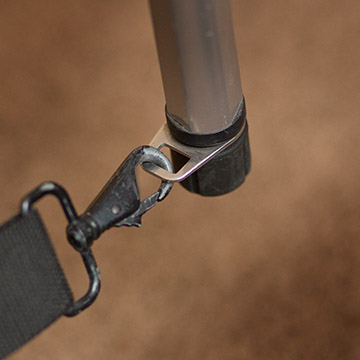 Attached to Center Pole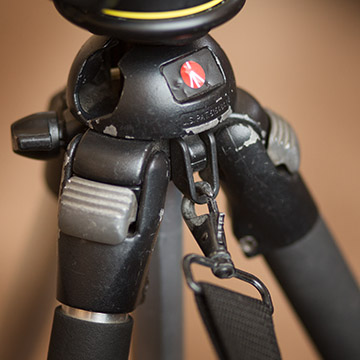 Attached to Tripod Top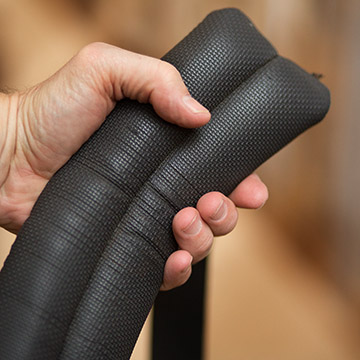 Super Cushion Padding
Look for a wide camera strap with a high quality padded section. The width will spread out the weight over a larger area and the thick cushion will make it so much more comfortable. The downside of a thickly padded strap is that it does not store as compactly as a flat as cloth strap will.
You can see, in the advertisement below, that the popular tripod straps come with cinchable loops, rather than the spring-loaded clasps, to attach the strap to your tripod.
As an Amazon affiliate I may receive a small commission from qualifying purchases, at NO added cost to you.

4.

tripod bags and cases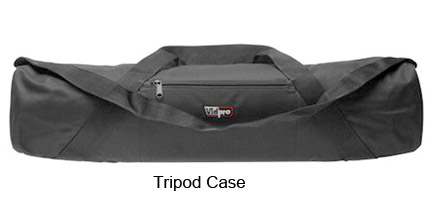 Tripod cases are good for keeping your tripod clean and protected from damage when storing or traveling. Some are quite thin and in reality offer very little protection from impact damage, but are good for keeping your tripod's mechanisms clean and make it handy to carry your tripod.
Other's are thickly padded and are good for you to have if you're shooting activities dictate more protection from impact. A few only have short handle straps and this makes no sense to me.
Make sure to get one with an over the shoulder strap. That will free up both hands to carry your camera case or anything else you want. 
---
Not so obvious camera tripod accessories
Some accessories for camera tripods are much more specific to either the type of camera you're using or the type of photography you are doing.
5. Cell phone bracket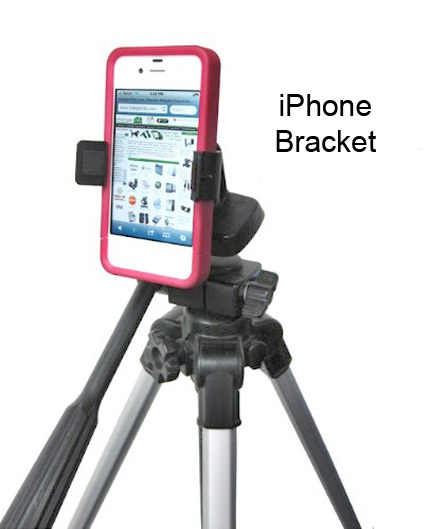 You have 2 reasons on why you'd want to mount your cell phone camera to a tripod. First the quality and smoothness of your videos morphs from shaky and amateurish to professional looking instantly.
Secondly, one of the biggest shortcomings you suffer from even best cell phone cameras is the blurry photos that they produce.  
The newer cell phone come with plenty of pixels jammed onto a very small sensor with adequate lenses to produce sharpness, but these features won't help you with blur caused by camera movement.
The blurriness usually comes down to a slow shutter speed or motion blur of the camera.
The best way to combat this shortcoming is to use a tripod.  You'll also need an app such as self timer or a remote shutter trigger.
Either one of these accessories will help you avoid camera shake when you take your photo.
6.

handlebar camera mounts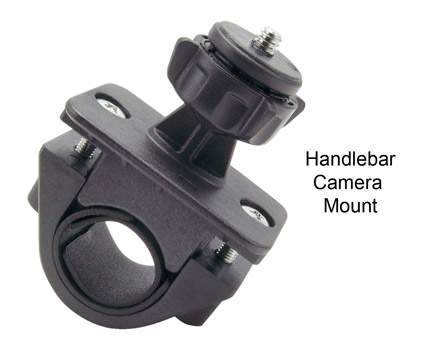 The handlebar camera mount has limited uses, but could be useful if you want to shoot hands free (which is the only way to shoot video or still photos while riding a bike or motorcycle). They can attach to any leg of your tripod, including the center pole and come with a variety of options for what you want to attached to the clamp.
Whether you're shooting with your cell phone, a point and shoot camera, or a small DSLR camera, these are very easy to use, very affordable, and take up very little room when you store them.
7.

L Brackets

L brackets are a rock solid way to mount your camera on your tripod in both a horizontal or vertical camera orientation. They screw into the 1/4 inch threaded hole on the bottom of your camera and then mount onto your tripod. I purchased an off-brand one made by SunwayFoto and it works just fine.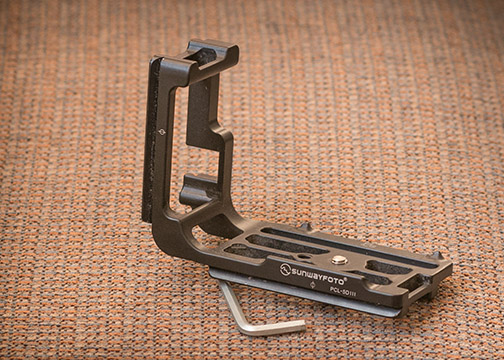 L Bracket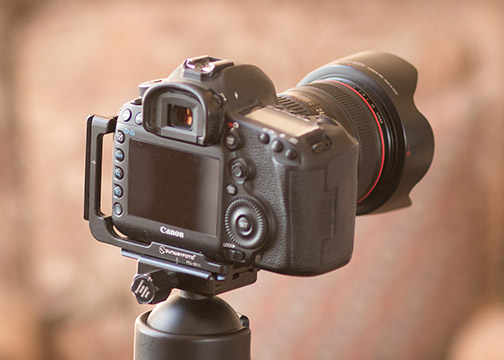 Horizontal Orientation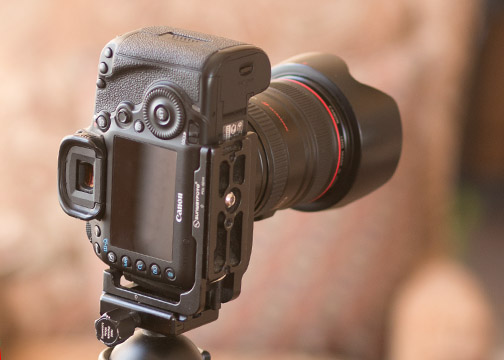 Vertical Orientation
You'll find them useful if want to keep the center of gravity on top of your tripod. You can rotate your camera to a vertical shooting position with a ball head, but small adjustments become more awkward and you've shifted the center of gravity away from the tripod's center column. Watch this short video and you'll see what I mean.
The most important thing to pay attention to when you're looking at L brackets is the compatibility. Some are sold as universal, meaning they'll fit to most cameras.
That, to me, is a recipe for disaster. DSLR and mirrorless cameras come in all sizes and shapes and each needs a specific design when it comes to matching it with the right, tight-fitting bracket. Here's a complete article on choosing and using L Brackets.
8.

tripod weights and pouches

Not surprising, many photographers think that using a tripod will automatically give you razor sharp photos every time without any worries. Usually they do, but if you have an unusually light tripod or you're shooting in windy conditions, the sharpness of your photos will suffer from the minute movement of your tripod.

You actually need to improve its stability by making it heavier. Enter the tripod pouch. Attach it to the legs of your tripod, fill it with any objects (rocks, beer bottle, weights) and it will weigh down your tripod and give you a more stable situation for sharper photos. I don't use a tripod pouch. I just use a plastic bag and hook it to the tripod center post.
---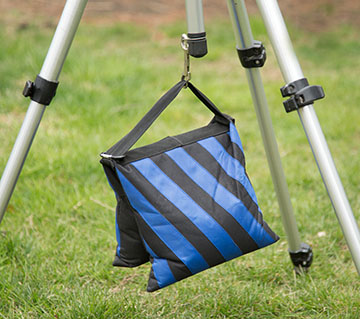 Sandbag Weight
A second way you can weigh your tripod down for added stability is to use a sandbag weight. You buy these camera tripod accessories when they're empty They are designed for you to add sand to them once they arrive at your doorstep. I recommend you use something other than sand. The sand particles are so small that the bag bound to leak at least a little bit through the zippers.
It's better to fill them with small pebbles or marbles, or any other heavy object that is the right size. They're good for stabilized shooting in wind and also if your tripod legs are sitting in the running water of a stream or the ocean.
I use them to weigh down my background stands and keep them stationary when I'm shooting sports teams and there are a bunch of energetic young athletes running around. You could also use them as muscle building workout weights when you're done your photo shoot.
---
9. one of the coolest camera tripod accessories:  A video tracking gadget
The SoloShot, a fun camera tripod accessory that empowers you to follow a subject automatically without human intervention. I've watched several videos on this accessory and it has limited uses, but it could be a great accessory for certain situations.
Two of the most prominent uses are for following an athlete on the field of play and also tracking a surfer as he or she negotiates along a wave. I'm not sure if they've worked out all the kinks with this accessory at this point. It's a lot of money to spend on a product that has gotten such mixed reviews:
SoloShot Automatic Cameraman
10. pole clamp
Pole clamps are very versatile and can be used on one of your tripod legs, your tripod center pole or even a light stand.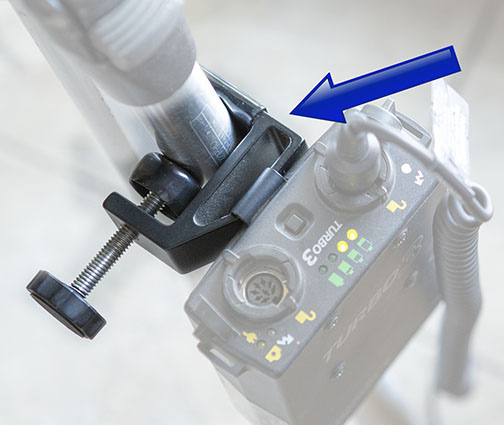 I use this clamp to hold my speedlite flash battery


I use one of these pole clamps to hold an auxiliary battery for my flash gun to the leg of my tripod. You can use it to attach a weight to your tripod leg to add stability and get sharper photos. Another use would be to attach a small camera bag to hold any other accessories you might need during your shoot, such as filters, lens tissue, batteries, or memory cards.

11. tripod Extension Arm
If you want to add function to your existing tripod consider adding a tripod extension arm. Although the illustration of the tripod extension bar below is set up for shooting video, these tripod accessories can be use for still photography too.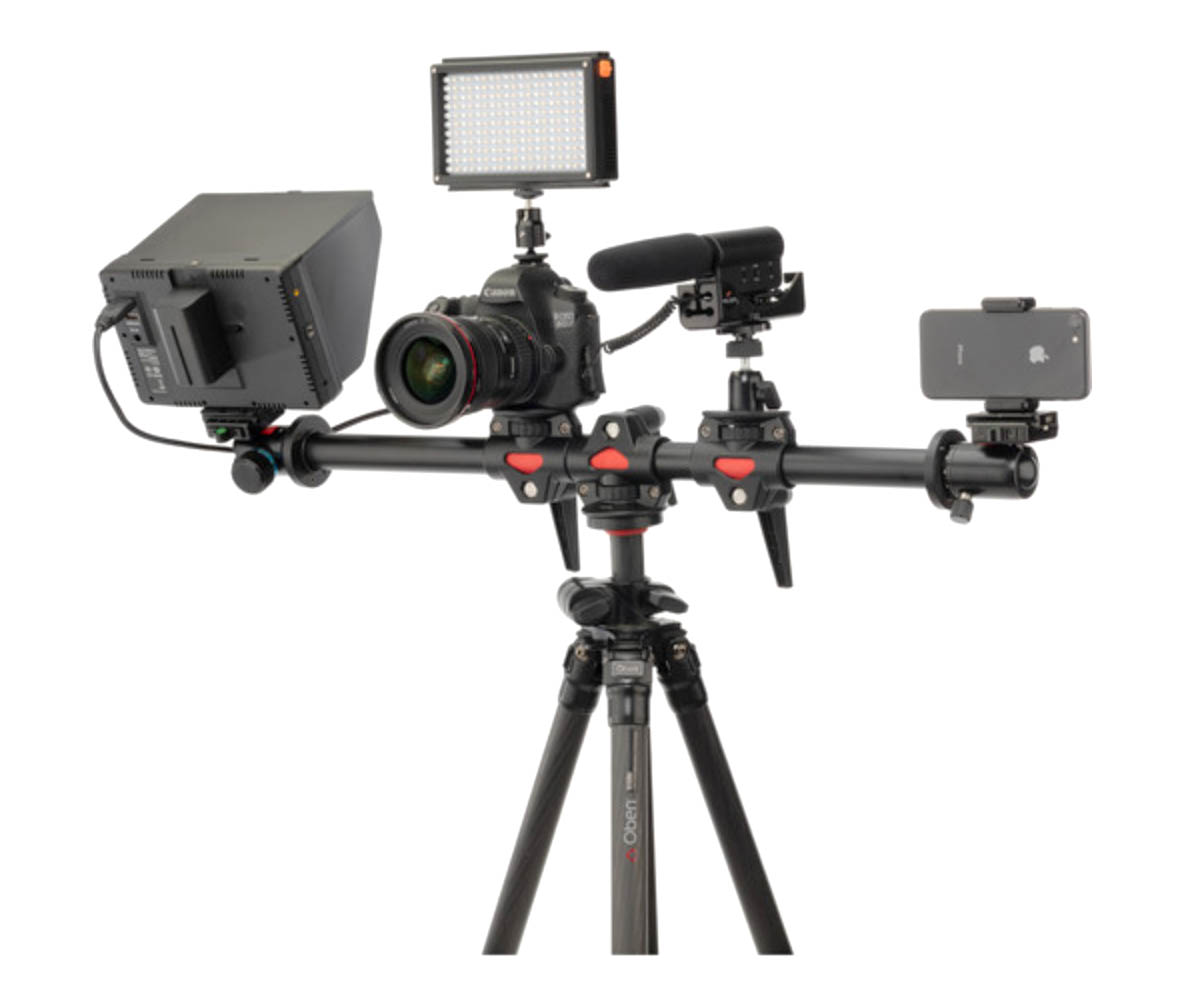 Rather than be forced to use additional tripods and have the tripod legs interfere with each other, a tripod accessory arm enables you to mount everything on a single tripod.
best features of tripod accessory arm
UNIVERSAL: compatible with tripods that have a 3/8 inch mount. That gives you a stable connection.
VERSATILITY: Use for 2nd camera, lights, tablet, cell phone, or other accessories. You design it to fit your needs.
STURDY: Thick cross bar and ratchet levers on top mounts for tight, motionless photography.
ESPANSION: Two 3/8x16  side mounts on ends so you can add weight or accessory as a counter balance.
As an Amazon affiliate I may receive a small commission from qualifying purchases, at NO added cost to you.

12. Wimberley Plamp
Have you ever needed a third hand to hold something while you're taking a photo. Whether you use it to hold your subject or hold another accessory, I've found the Wimberley Plamp to be a lifesaver in a few unique situations.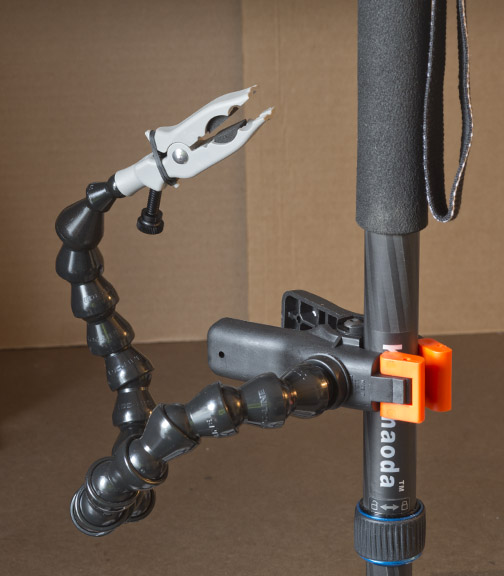 The versatile Photographers Clamp is called the Plamp


You can use the Plamp (review) to hold objects for you and free up your hands. It's a rather unusual looking apparatus, but you can use one in a variety of ways, including some that are not related to photography at all.
It's great for holding a delicate flower in just the right spot, even when there's a gentle breeze blowing. I've also used the Plamp to block the direct sun from hitting my lens and causing light flare as shown in the photo below.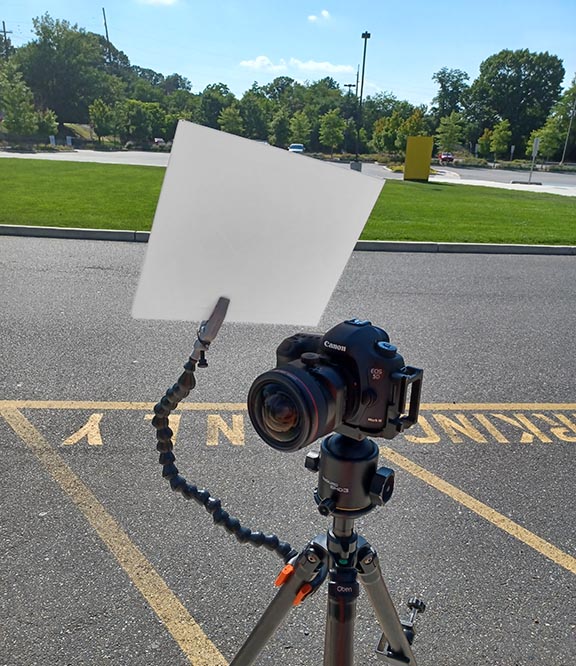 Tripod accessory that prevents lens flare


Additional the Plamp can be used as an accessory that bounces light back into the shadow areas of your macro photos.
---
great place to read reviews on specific camera tripod accessories
No matter where you buy your camera accessories, a great place to read consumer reviews on photography accessories is Amazon.  Amazon sells so much of so many things, I look at it as if it's a search engine like Google, except it's for finding reviews on products. 
I hope this post has inspired you to take better photos.
The information on this site is free for you to read, enjoy, and learn from. There is no membership fee to pay to gain access to to the hundreds of articles and thousands of photos that I've taken to illustrate the articles.
Can you help me keep it going? Please "pay it forward" by sharing the articles and photos (not stealing them) so that others may enjoy them too. Have a blast with your photography.
The more you shoot, the better you get.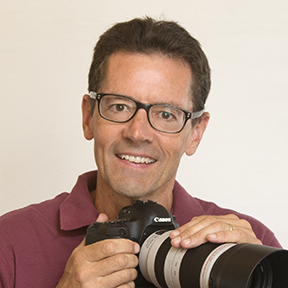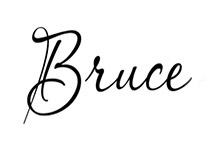 ---
---