amaryllis photo assignment
My wife gave me an amaryllis photo assignment.  One of her good friends from college gave her a Amaryllis flower bulb as a gift and my wife wanted me to photograph it as it bloomed.
I've dabbled a bit with some macro photography of flowers but never had the pleasure to photograph one of these particular beauties before at this time of year.
The timing was perfect as it started blooming just a few days before Christmas.
This was my favorite photo of my wife's amaryllis.  It was the closest perspective I took and, with a little help using Nik Color Efex Pro software, I made it a bit more abstract.
It is a busy time of year, so my goal was knock this assignment off of the honey-do list in 15 minutes of photography.  Mission accomplished, although I spent close to an hour editing the photos and then writing this post.
The amaryllis photo below was my second favorite.  This is not a typical angle to take with flower photography, but I thought the patterns and lines of the green and red colors was interesting.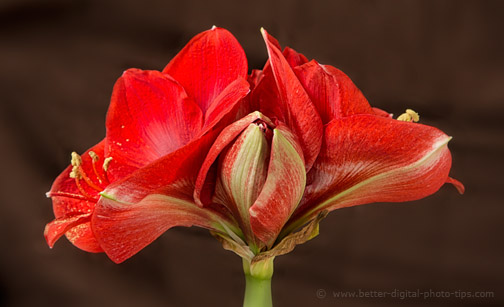 Side view of amaryllis
I did not use a fancy background and I used no artificial lighting.  We have a two story window in our dining room and I often use this area of my home for a variety of photo set-ups. I use this as a nice soft broad light source when the sun is NOT streaming in. 
For macro photos I often used a piece of folded cardboard, wrapped in aluminum foil to bounce light into the shaded areas of the flower.  Of course a tripod is a must camera accessory for this type of photography.
The brown background was our couch, far enough away to go somewhat somewhat our of focus.  I added to the blur by using a little Gaussian Blur in Photoshop.
The background in the photo below is the top surface of a hope chest that sits in our dining room.  There is a pane of glass that sits on top of the wicker, but I chose an angle that produced no glare on the glass.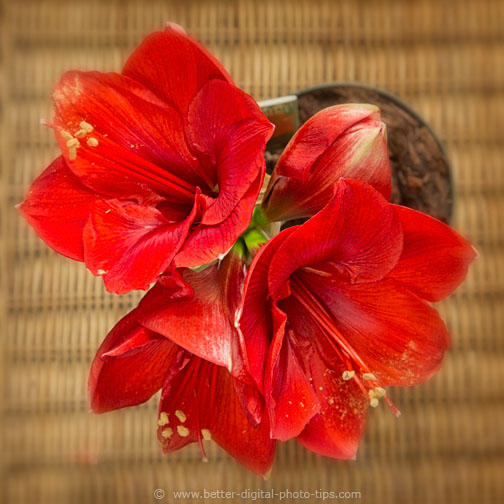 This overhead view shows how this plant groups its blossoms in all directions.  The slightest vibration caused the anther to release their magic yellow dust.
The flower bloomed so fast that it would have made a great subject for time-lapse photography. In the photo below I attempted to emphasize the contrast between the blooming red flowers and the green bud starting to sprout and join the party.
worst photo from my amaryllis photo assignment
This amaryllis photo was my least favorite.  I know pro photographers are not supposed to show their photos that come up short, but this web site is all about learning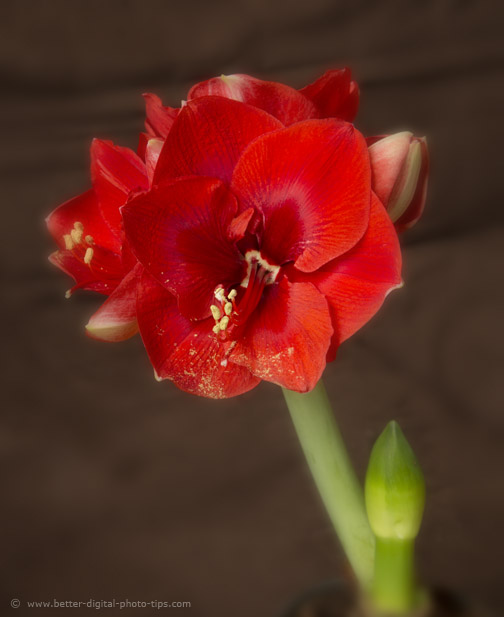 Amaryllis and bud
I tried to create some visual interest to the image by shooting the stem at an angle, but I wasn't happy that the blossom and the bud don't seem to contrast or connect significantly.
Ah, live and learn.
Keep on shooting!
Bruce