macro photography tutorial

simple macro equipment
This article is a macro photography tutorial for anyone with a point and shoot camera. If you are starting with a dSLR for your macro photography equipment, you still might find some good macro photography tips here.
There are also several links at the end of this article to related articles with tips and techniques, lighting, ideas for advanced and beginners in macro photography.
It is always a great idea to practice your close-up photography indoors, because it is easier to control the lighting, background and subject movement.

The photos above show the basic set-up I used. I use two large 32 inch by 40 inch white foam core boards that are readily available at art supply stores.
They act as great reflectors, are firm, lightweight and easy to carry. I normally use them for my portrait photography-you can use much smaller ones for macro photography.
The middle photo shows the "equipment" I gathered before I started my shoot: Canon g11-point and shoot camera, Canon 580-ex external flash, mini tripod, alligator clamps and clothes pin, duct tape and camera manual.
I chose a $100 bill, daffodils, and a broken seashell as my subjects. The third photo simple shows how close the camera gets to the pink hyacinth and its still not close enough to be a true macro photograph.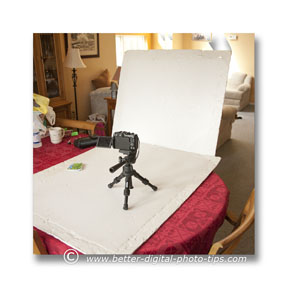 This set-up on my dining room table is simple and quick.
Note the foam-core board on the table doesn't show in the photos; it only some adds fill light up from the table surface.
There is a triple-wide window behind me, so the existing lighting is very soft, but also very flat and non-directional.
I started the macro photography session with a pink hyacinth, but was not pleased with the results; so I switched the subject of my macro photography tutorial to a $100 bill. (So perhaps this is a hundred dollar idea, instead of a million dollar idea).
My Canon G11 really struggled with focusing so close and set on Macro, so I referred to my camera manual on how to use manual focus. Look at the difference in sharpness of the two photos above of the $100 bill.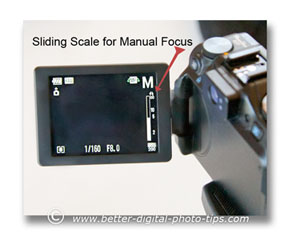 I found the manual focus easy to use.
The sliding distance indicator on the video screen of my camera was extremely helpful.
The folks at a Canon made the g11 with an included magnified snapshot (not shown)on the screen, which really helps with manual focusing.



It has a scale that starts with feet, then switches over to inches when doing your macro focusing at super close distances.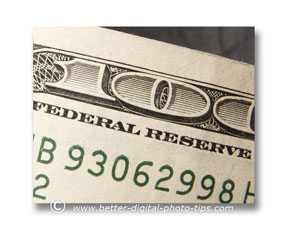 I am only mention this briefly about lighting in this macro photography tutorial.
I'll simply say that the little built-in flash on point and shoot cameras is absolutely no good for macro photography.
---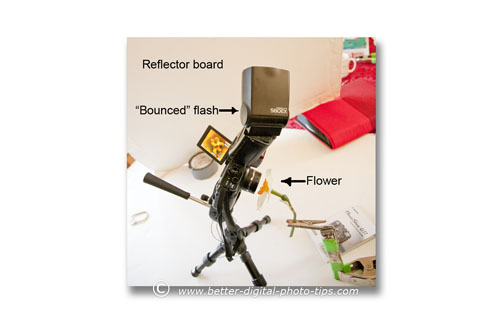 I used an external flash mounted on top of my Canon G11 and "bounced" it off one of my large 32x40 inch foam-core boards which was on the left side of my set-up.
I set the camera self-timer to 10 seconds so that the camera had plenty of time to settle before the exposure was made.
With electronic flash, any movement would have been frozen by the quick exposure, but it is always a good practice when using a tripod to use a remote shutter cord or the camera's timer.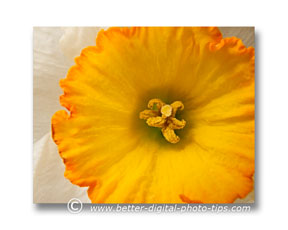 The large surface of the foam-core reflected the flash from above, slightly behind, and to the side of the camera.
You can see how this directional, but soft macro lighting brings out the texture and the detail of the inside of this daffodil.
I draped a black cloth over a foam-core that became my background in this photo of the broken seashell.
You can see that this provides more contrast for the seashell to stand out.
The lighting from above and to the right brings out the texture of the ridges in the shell.
I included the clothespin in the photo to give you some perspective on how small the seashell was.
macro photography links
Macro Photography Tips. The macro photography tutorial above was written while using my point and shoot Canon camera. You may also be interested in these outdoor macro photos taken with my Canon 5d DSLR.

Macro Photography Technique. If you are not suing a point and shoot camera like the one used in this macro photography tutorial, here are other options to think about for macro equipment.
Macro Photography Lighting. This article has some beautiful examples of good macro photography lighting.
Happy Macro Shooting!
Photo TipMan
Back to Macro Photography

Back from Macro Photography Tutorial to Digital Photography Tips Home Page