backup photos with an external hard drive with passport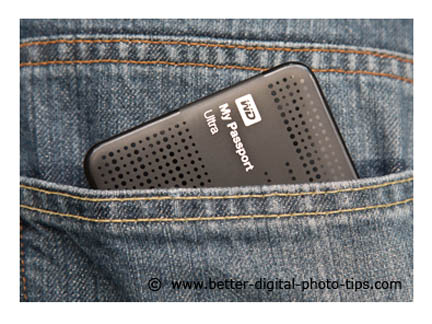 Western Digital "My Passport"
Fits In Your Pocket
I now backup photos with an external hard drive made by Western Digital, called the "My Passport". It has the same dimensions as your travel passport-it's just a bit thicker. My computer savy son told me WD (Western Digital) makes reliable products. 
That was good enough of a recommendation for me so I started and ended my search for a more portable hard drive than my old Maxtor.
---
I read the reviews and got a good deal on Amazon. I've always wanted to be a photographer and not get too overwhelmed, not a computer geek.
I never wanted to spend a lot of time learning about computer hardware and software. Unfortunately you do need to know a little bit about computers, backing up to external hard drives or backing up using an internet service.
Photography is really now a technically driven industry and hard drives have joined the category of digital camera accessories. Here are reviews and opinions of others on external hard drives:
---
best size external hard drive to backup photos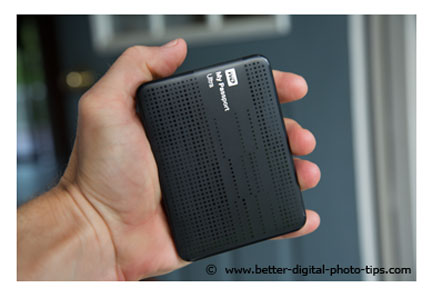 I like small and this particular model, the WD Passport is easy to carry.
You can backup your photos via USB and store it in a safe location.
The cost difference between getting just enough memory and getting too much hard drive space is incrementally small.  As an example at the time of this article writing, it was only an additional 50% more money to get 100% more capacity.
It's part of our human nature, our conservative-survivalist thinking that causes us to underestimate our future needs.  In general as time goes on, digital photos get larger and more people are turning to video to capture the moments we want to preserve.
It's better to get a little too much memory than regret it and get caught with a full backup hard drive. Here is a short video, showing the opening of the "WD My Passport"  It shows you what you get with it. It is quite simple and quite easy to handle.  It's powered by the USB connection to your computer, so you don't need to worry about plugging it into a wall outlet.
Western Digital makes quite a few options for backup.  They even offer "personal cloud" devices that are suitable for businesses.  Here is the link to their site:  www.wd.com/  I prefer to keep things really simple.  That's why I chose the My Passport option to backup my photo and documents. 
I keep all of my photos and all of my documents and backup data from programs within  "My Documents" folder on my C drive of my computer.  It's then quite simple to drag and drop that folder to my Passport drive and safely store that drive in a fireproof safe in the basement. If you found this article called "Backup Photos With An External Hard Drive" useful," please share it with a friend.
Happy Shooting!
---
---
Leave Backup Photos with an External hard Drive - Go to Photography Tips Home Page