how to backup photos with an external hard drive and keep THIEVES out
This post will show you how to backup photos onto an external hard drive. You can avoid the risk of having your privacy invaded on the cloud. Prevent hackers from copying your photos or video online, and stop them from stealing your personal data. This article includes a safe and simple 4-step method of backing up your photos.

If you don't trust using  "the cloud" and don't want to save your private documents and photos on some computer server somewhere else in the world, using a simple, small external hard drive might be appealing to you.

Files saved on the cloud are susceptible to being copied or stolen, even with security measures in place. If they're transmitted from one computer to another over the internet, you're at risk. Even if the computer server where they're stored uses encryption, hackers will try and succeed at intercepting.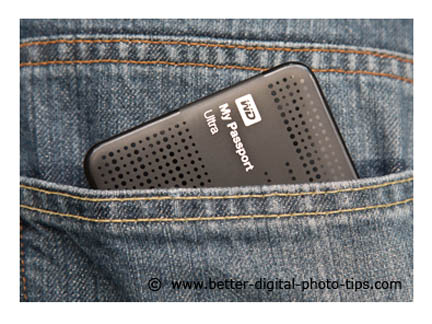 Portable USB Hard Drive
Fits In Your Pocket
How to backup
You can backup photos with a portable external hard drive. These handy devices now have the same dimensions as your travel passport-it's just a bit thicker. You can carry them with you or store them almost anywhere that's safe.
There are several reliable brands and memory prices keep coming down, so they're very affordable. My computer nerd son told me that Western Digital makes reliable hard drive, so that's the one I bought. 

That was good enough of a recommendation for me so I started and ended my search for a safe, reliable portable hard. I had used a Maxtor hard drive, but that needed to be powered up with electricity and wasn't as simple to use.
simple 4-step photo backup
Find the right hard drive.
Connect it to your computer with the USB cord.
Select your photos and other files.
Copy and paste to your new portable drive.
Rather than use the uncertainty of saving your precious photos to somewhere on the cloud, you can make your own copy on a separate portable drive. Store it somewhere else in your home or a trusty neighbors house.
It's really smart to select a somewhat "remote" location rather than right next to your computer. We use one of those  fireproof safes made by Sentry Safe and keep it in our basement.
Then, ust pick a time interval like once a month or once a week to do your own backup.
how i chose the best hard drive for backup
I read the reviews and got a good deal on Amazon. I've always wanted to focus on photography and avoid getting bogged down with the technology side of it. I like the simplicity of this photo backup system.
I never wanted to spend a lot of time learning about computer hardware and software. Unfortunately you do need to know a little bit about computers, whether it's backing up to external hard drives or backing up using an internet service.
Photography is really now a technically driven industry and hard drives have joined the category of digital camera accessories. Here are reviews and opinions of others on external hard drives.
---
best size external hard drive to backup photos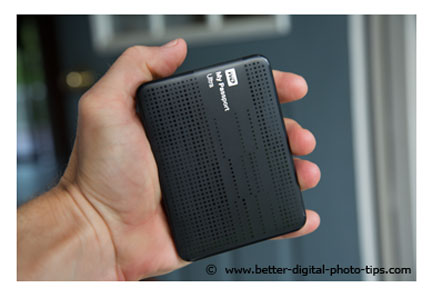 2 terabyte drives are cheap.
I like small and this particular model, the WD Passport is easy to carry.
You can backup your photos via USB and store it in a safe location.
The cost difference between getting just enough memory and getting too much hard drive space is incrementally small.  As an example at the time of this article writing, it was only an additional 50% more money to get 100% more capacity.
It's part of our human nature, our conservative-survivalist thinking that causes us to underestimate our future needs.  In general as time goes on, digital photos get larger and more people are turning to video to capture the moments we want to preserve.
It's better to get a little too much memory than regret it and get caught with a full backup hard drive. Here is a short video, showing the opening of the "WD My Passport"  It shows you what you get with it. It is quite simple and quite easy to handle.  It's powered by the USB connection to your computer, so you don't need to worry about plugging it into a wall outlet.
Western Digital makes quite a few options for backup.  They even offer "personal cloud" devices that are suitable for businesses.  Here is the link to their site:  www.wd.com/  I prefer to keep things really simple.  That's why I chose the My Passport option to backup my photo and documents. 
I keep all of my photos and all of my documents and backup data from programs within  "My Documents" folder on my C drive of my computer.  It's then quite simple to drag and drop that folder to my Passport drive and safely store that drive in a fireproof safe in the basement. 
final remarks on backing up your photos to your own hard drive
Estimated from various sources, these statistics on public sentiment about cloud storage show what consumers are concerned about when it comes to storing there photographs and other important files on the cloud.
You have to determine which backup system that you're most comfortable with. I use both cloud-based and a personal portable backup systems for my photography. That's overkill for you, but I'm a control freak when it comes to preserving my images. Here's where you can learn about how to make your photos last longer.
I hope you found this article helpful. For more specific posts on a topic, you can use the search box below, or scroll down below my signature for related topics.

Search for a new topic on this site: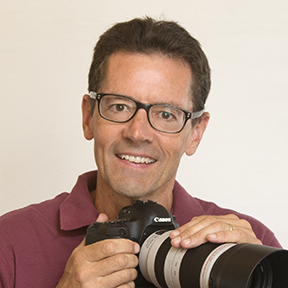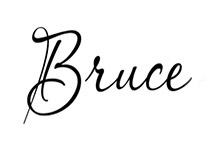 ABOUT BRUCE LOVELACE
Bruce is the publisher of this website. He is the author of the book "Improve Your Photography Instantly."  Read more on Bruce on his Bio Page. He's been known as The Traveling Photographer ever since 1994. Or read more about this website.
View some of Bruce's photos on Instagram.   Visit the Facebook Page. Watch him on YouTube.  Bruce runs photo workshops for kids and adults, and provides one-on-one photography coaching.
---
---