video monopod
(Why you need a monopod for video

)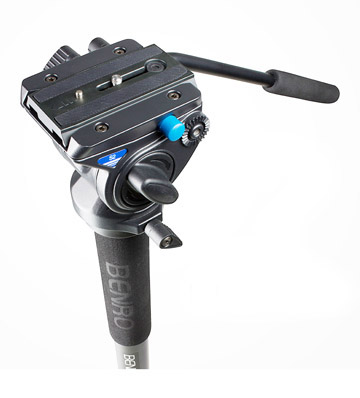 Video Monopod Head


Do you need a special monopod for shooting video?
This post will take a look at what a video monopod is and how monopods are used for shooting video. What do they cost? Monopods that can be used for videos with regular cameras range in price from around $15 for the cheapest ones all the way up to $269 dollars for top end models.
---
A video monopod is an effective tool to dramatically improve both the sharpness of still photography and the smoothness of video. The main thing that distinguishes a monopod that's designed specifically for shooting video is the fluid head. Fluid heads with long adjustment arms are the smoothest of all. Additionally, higher quality monopods have feet which make the monopod work even better.
Is there really such a thing as a monopod made specifically for video ?  Of course any monopod will add some stability to your shooting whether it's video or still photography. There are a few monopod features that are more useful for shooting video.
Some monopods come with three fold-able legs or feet that may help provide more balance for when your hands full. These legs can keep things in place while you make adjustments to your camera. They also are useful for keeping your side-to-side panning movements smooth and horizontal.
There are many manufacturers who market their monopods as video monopods. Often this just means that they are heavier or include a slip-on quick release mechanism to secure your camcorder or video camera.
While it is true that these monopods will reduce shake and steady your video footage, if you are looking for the next step in improving your video, then you may want to consider using a monopod with a fluid head, folded legs and perhaps even a fluid ball cartridge as its base like the Manfrotto 561-bhdv.
BENEFITS OF SHOOTING VIDEO WITH A MONOPOD
1.  The primary reason to use a monopod for video work is stability.  A steady camera makes watching any video a much better experience.  
In the early stages of home videos, many of our videos (mine included) had a lot of camera shake. That was before Image Stabilization, tripods and monopods were employed.
2.  Smoother tracking.  When attached to a monopod and combined with a long handle and fluid head you can get simply but fluid camera movement that follows a track and adds what I call "visual interest."
3.  A third benefit, of course, is the support of the weight off you hands and arms.  Extended video and still photography shoots can give you some muscle fatigue, particularly for larger video camera and DSLRs with long lenses.
HOW TO GET TRACKING SHOTS by using A MONOPOD
The following video show how you get smoother tracking shots by using a monopod for your video clips.

Here is another excellent video, on Vimeo, on shooting video and using a specialized monopod with feet, the Manfrotto 561bvdh:   http://vimeo.com/69972568. Watch it. It's only 3 minutes long and you will get some simply outstanding tips on getting smooth video with a monopod.   It does a great job of showing you exactly what to do and the resulting video you'll get.
The video is done by a professional videographer, but the technique can easily be used by beginning videographers like you and me.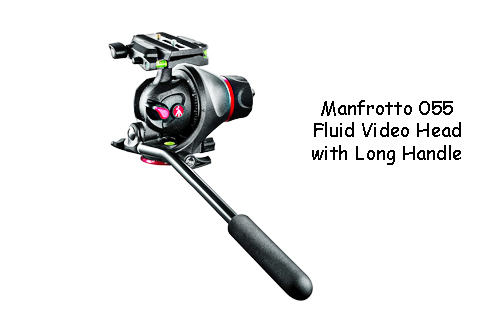 For the ultimate control when shooting video, there is the $300+ Manfrotto 055 Fluid Video Ball Head. Normally, this accessory is for use on a quality tripod and not a monopod. The long "screw-driver" handle isn't needed when using a monopod.

A long handle does make it easy to smoothly pan side to side and tilt forward and backward precisely.This prevents  jerky, uneven movements.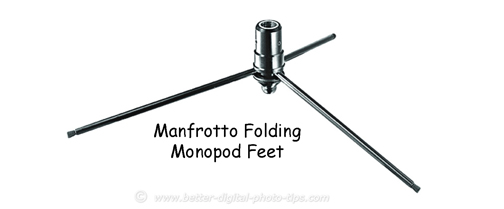 Longer folding feet like the Manfrotto pictured above, will be more stable than the monopods that only have one foot or have very shoot feet.
Just by looking at the construction Manfrotto 561bhdv folding feet below, you can tell that the monopod will cost more and perform very well.
The Manfrotto 561bhdv has a unique fluid ball in it's base cartridge that makes it a great monopod for shooting video.
We all have individual preferences for certain pieces of photography equipment. Often we buy what feels right to us not only based on specifications but also on an intangible notion that it's just the right fit.
My first serious purchase of photography equipment was in 1977 when I was a 17 year old. It was a 35mm professional SLR made by Minolta.
It had several exposure modes including aperture priority, shutter priority and manual. At the time that was a relatively new advancement in camera design and I just loved the versatility.
It was a "state of the art" camera and I got many years of photography out of it. Here's my point. You can buy a simple monopod and get benefits in stability for video and digital still photography. Or you can invest a little extra and buy a monopod that will work well in more situations.
It is sooooo easy to change the height of you monopod during a photo shoot. With one hand on your camera, you only need one hand to adjust the one leg of the monopod. It's one of the overlooked advantages over using a tripod where you usually have to adjust all 3 legs to make a significant change in height.
video monopod links:
It depends on the type of photography you do. Here are some thoughts on using a monopod or tripod that might give you a new perspective when considering what to do for a video monopod: Monopod Vs Tripod Battle.
Here is one that is extremely well designed by one of the premier manufacturers of quality photography equipment: Manfrotto 561-bhdv
Stay inspired.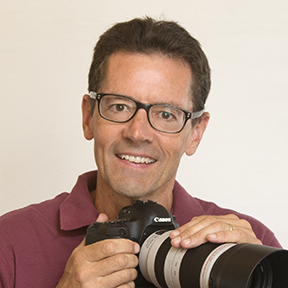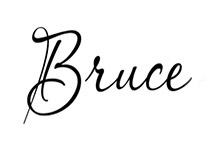 ABOUT BRUCE LOVELACE
Bruce is the publisher of this website. He is the author of the book "Improve Your Photography Instantly."  Read more on Bruce on his Bio Page. He's been known as The Traveling Photographer ever since 1994. Or read more about this website.
View some of Bruce's photos on Instagram.   Visit the Facebook Page. Watch him on YouTube.  Bruce runs photo workshops for kids and adults, and provides one-on-one photography coaching.
---