best gopro pole
The number of GoPro pole choices is staggering.
These accessories are just one type of camera gadget you can get for a GoPro camera.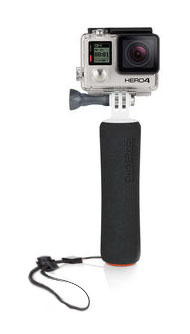 The GoPro Handler
GoPro selfie sticks, as they are sometimes called, come in a wide variety of designs and price ranges.  The Gopro company has several mounts.
The GoPro Handler is a short, floating hand grip. It has a short thick, steady grip.
The 3-way grip can be used as a short camera grip, and accordian-type of extension arm, or as a tripod.  Both of these GoPro Monopods can be used in the water.
Companies like QuikPod, GoPole, and CamKix offer poles for GoPro and they all have great features that are going to make using your GoPro a blast.
which is the best gopro pole
?
Here's my advice before you start reading all of the GoPro stick reviews.  Take a minute and get yourself to a quiet place. No, really.  Get away from your smartphone and your computer and sit in a quite place and, with pen and pencil in hand, write down the features that are most important to you.
If you're a beginner or simply not sure what to look for, try going to a site like
Amazon
where there are a ton of reviews from consumers who have already purchased and used one of these poles.
---
the smatree gopro pole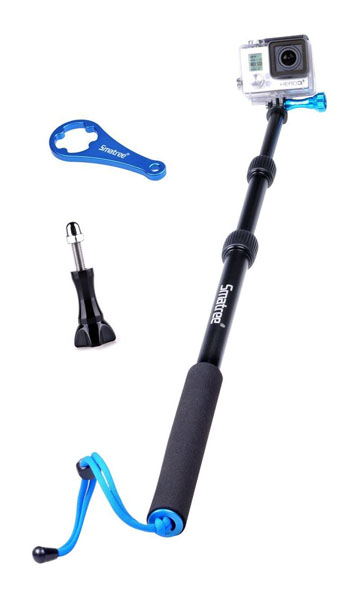 SmaPole S1 for GoPro
The SmaTree SmaPole S1 is fairly affordable and received a 4 or 5-star rating by almost 98% of reviewers.
That's pretty impressive.
This is the S1 pictured on the right.
The S2 is a little higher in price and added a Wifi remote trigger.
The biggest complaint about monopods for GoPro cameras in general is usually about the camera joint.
The SmaPoles don't have an issue of the camera joint locking down properly or of being unstable.
Smatree also makes a lot of other GoPro accessories so they are experienced and know what GoPro enthusiasts are looking for.
The other thing I like about these poles is the outstanding customer service for KUMU-the parent company who makes these monopods.
The few people who do have issues with the SmaPole sticks get good care of quickly when there is a problem.
---
the camkix gorpo monopod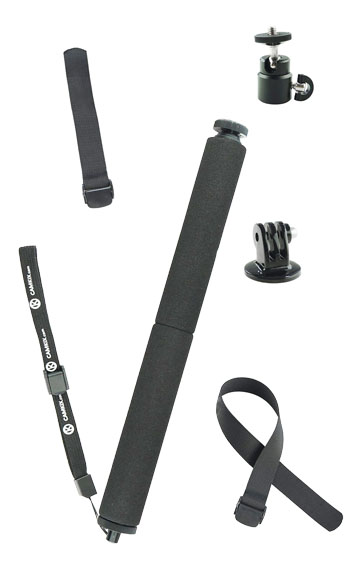 CamKix GoPro Pole
The best selling CamKix monopod also has a good number of positive reviews.
The photo on the right shows all of the components that come with the CamKix pole.
Over 86% of reviews on this stick were 4 or 5-star ratings.
It has a nice extension range of 14-40 inches.
It has an extra long wrist strap.
Has several mounting variations possible
It does NOT come with the remote trigger.
The twist lock extension and retraction movements are quick and easy.
The customer service people at Eco-Fused, who market the CamKix are also extremely responsive to buyers concerns.
links to gopro pole product reviews
Smatree® SmaPole S1 - Reviews by buyers on Amazon
GoPro Handheld Pole by CamKix -Reviews by buyers on Amazon
Have a blast!
Bruce
Return to Digital Photography Tips Home Page