camera monopods

 monopods for video, still cameras and walking sticks
Koolehaoda Monopod
Are you confused about the different camera monopods? I was too.
There are video monopods, monopods for digital cameras, walking sticks, hiking monopods and now the newest kid on the block, the selfie stick monopod? 
There are monopods that are designed for specific types of uses and then there are a few that are designed to have several uses.
This article will help you understand the different uses for each type of monopod.
There is definitely a limited opportunity to use them interchangeably with some caution and compromise.
Each has a definite intended use, but there is some overlapping versatility in certain situations. One obvious difference can be seen when we compare the monopod tips below.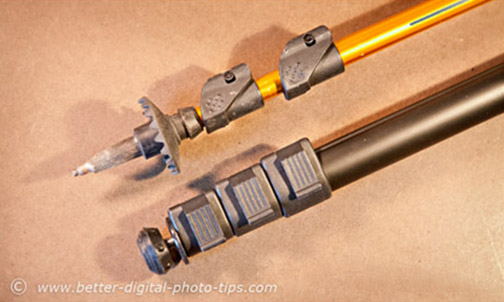 Tips are very different for walking sticks and monopods
The camera monopod on the bottom in the photo has the retractable round rubber tip.
In most situations for photographers the rubber tip is going to be left extended to reduce the chances of the leg slipping on the floor or the ground.
The walking stick monopod comes with a much longer and sharper point to dig into the trail while hiking. Photography monopods usually have a much thicker pole than a walking stick monopod.
camera monopods and handles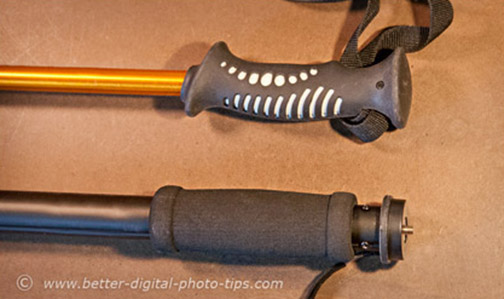 Handles for Camera Monopods and Walking Sticks
The handles are also quite different.
The grip on a walking stick is contoured to fit the hand more securely in the event that you are supporting a good portion of your body weight to maintain your balance over rugged terrain.
Traditional monopods made specifically for walking do not have a mounting screw on top to secure your camera.
You certainly can rest your camera on top of a walking stick for stability in a pinch, but you must use caution.
You can't let go of your camera or your monopod which sure makes it a real challenge to make adjustments to your camera settings, eh?
If you are walking in the woods, you may be able to use a tree to rest your camera against. Combined with monopod support underneath your camera and you have multiplied your stability.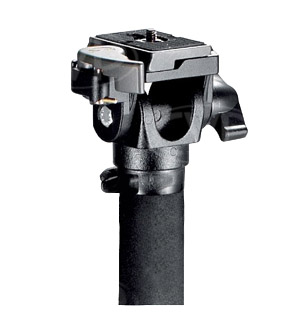 Fluid heads are a more desirable option to have on video and camera tripods than just a simple mounting screw.
This adds a bit more weight to your equipment but gives you added versatility.
Hikers can walk and use camera monopods with fluid head attached but it does throw off the weight and balance. This will make it your monopod-walking stick a little top heavy.
This fluid head is compact and does not have the typical screwdriver-type of handle that gives you finer control over panning and tilting movements.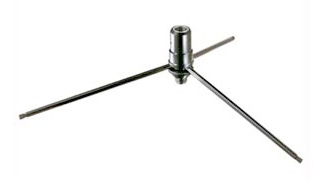 Many monopods that are marketed as video monopods come with the short folding "feet."
I call these pseudo tripods because of the three short legs.
They are a good compromise between a monopod and a tripod are very popular with videographers.
A big advantage to the video monopod with the 3 feet is the ability to follow side to side motion in a more even manner.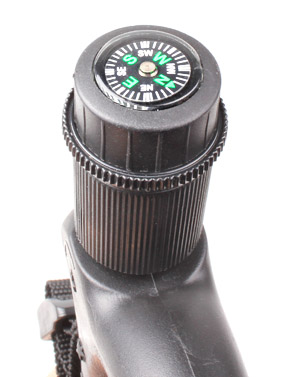 The best monopods for the serious hiker come with an optional compass.
It is extremely convenient to have the compass screwed onto the top of your walking stick monopod.
Modern hikers are now using GPS systems to navigate their way through the woods.
Perhaps there is something about using a traditional compass when you travel through the woods that is more natural.
One final tip: Remember that camera monopods are designed to support the weight of a camera and many are not safe to use to support a good percentage of the weight of a human being.
---
related camera monopod articles
Best Monopods. Make sure you decide on what features and options you want before you look for the best monopod to buy.
How to Use a Monopod. There are a few specific tips and techniques to get the most out of your monopod.
Monopod Tips. This article starts with a video on when to use a monopod and then gives four ideas on how to get the best results with monopods.
Monopod Advice.  For shooting video, retractable feet and an adjustable fluid head is the top notch way to go.
Versatile monopods that act like or combine with tripods and are good for hiking. You have a few options if you want to travel light and be fully prepared for any kind of subject when you're out on a photo shoot.
---
---
| | | |
| --- | --- | --- |
| | | If you liked this article please share it with a friend. |
Even if you are already experienced on how to use a monopod, you can pick up additional tips and ideas by reading the above articles. There are dozen of these articles relating to camera monopods. Take advantage of them while you are here.
Happy Hiking
Happy Shooting
Bruce
Back from Camera Monopods to Monopod Reviews
Return to All Accessories for Digital Cameras

Back to Digital Photography Tips Home Page