review of the koolehaoda monopod
This review of the Koolehaoda monopod includes larger than life photos so you can experience a larger than life review of this accessory.  All kidding aside, let's take a look at this monopod to see if it's any good. This 65 inch carbon fiber monopod is versatile to use in a variety of photographic and video situations.

Koolehaoda monopod without feet
first the quick review of the koolehaoda monopod
The Good, the Bad, and the Ugly (There is no ugly.  I just like Clint Eastwood movies.)
the good
Very Light
Affordable
Versatile
the bad
Not as well-made as a $300 Manfrotto
No fluid head included for video
Won't handle heavy pro cameras well

Koolehaoda Carbon Fiber Monopod

It is a good, middle-of-the-road monopod that should satisfy the needs of many still and video photographers. Monopods with feet add stability for still photos.  You can get silky smooth in and out video camera movements by using two of the three feet as contact points with the ground.
the longer review of the koolehaoda monopod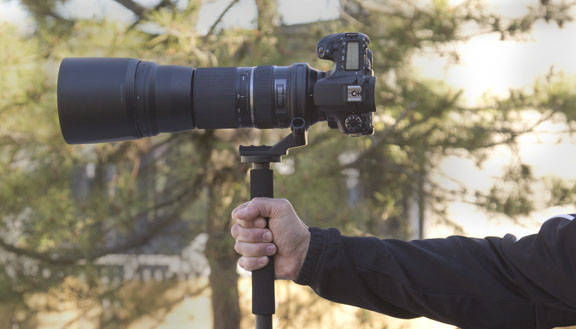 Tamron 150-600 lens with Canon 70D and Koolehaoda Monopod
WEIGHT. It's light as a feather.  Okay I exaggerate but when I pulled it out of the packaging I almost giggled. Weighing in at only about 13 ounces (without the feet attached), initially I though I received the wrong item. You see I picked it out after an extensive search, reading reviews and opinions on several web sites. I knew its size and weight numbers, but until you actually have it in your hands, it's tough to know exactly how the weight, or lack thereof, feels.
PRICE. You'll like the price tag. Carbon fiber poles are usually priced pretty high.  That plus the fact that it comes with the feet makes it a good value for you.
VERSATILITY. You can use it as a stand alone monopod for sports or wildlife photography.  Just screw on the feet and you've got a good base for shooting stable video and smoother panning. Additionally, the quality of the folding feet was impressive for an accessory coming in at this price point.  They feel solid in your hands, click smartly into position, and screw on securely with a 3/8 inch bolt.
negative comments about the koolehaoda monopod
A few of the buyers who reviewed this monopod didn't realize that you can adjust the tension on the ball and complained that it was either too loose or too tight.  The monopod comes with a hex wrench to adjust the tension.
If you have already used a monopod extensively then you'll likely agree that your user experience with a monopod like the Koolehaoda depends quite a bit on exactly how you are using it.  
It is far superior to the $15 models sold by Dolica and Amazon in terms of the workmanship, materials, and functionality.  It is not nearly as rock solid as the best monopods by Manfrotto or Gitzo.

Minimum vs. Maximum Koolehaoda Length
Here is the product description that every review of the Koorhoada monopod should include.
Product Description
Here are
Reviews of the Koolehoada Monopod on Amazon
I have one final comment to to dd to my review of the Koolehaoda Monopod. Although it has three legs that can somewhat lock into position, I recommend that you never wander away from your monopod with camera mounted on top.
If you are on a level, flat, hard surface you can briefly take your hand off, but the slightest wind or tilt and disaster is only 2 seconds away. The 3 mini legs add stability, but monopods with feet are not intended to be left unattended. They can topple over and cause severe damage to your camera.
I hope you found this monopod review helpful. You can search for other posts on this website in the search box below, or you can scroll down to related articles below my signature
Search for a new topic on this site:
---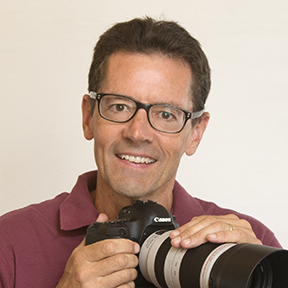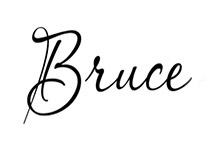 ---
---
---