think tank airport airstream review
I though it would be a good idea to write a Think Tank Airport Airstream review since I recently bought one. The big question everyone wants answered, is the Think Tank Photo Airport Airstream rolling camera bag worth it?
I've been looking for just the right photography luggage for several months and invested hours and hours watching You-tube and scouring
Airport Camera Bags on Amazon.
There are several features that I had to have in order for me to shell out my hard earned cash for another addition to add to my collection of bags, backpacks, and cases to hold the right amount of camera bodies, lenses, gadgets and accessories.
best features of a good travel photography bag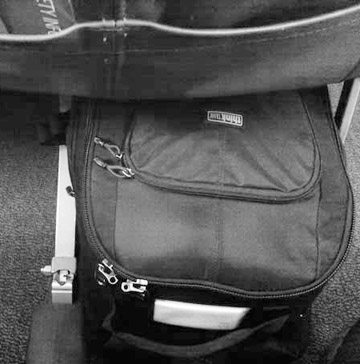 Fits under seat
on the plane


SIZE. Your travel bag must be small enough meet the size requirements of the airlines to be a carry-on.
MOBILITY. It m

ust be easy to transport.

PROTECTION. All camera bags must protect my valuable camera gear from damage and theft.
CAPACITY. The camera bag m

ust be large enough to fit all of my necessary equipment for a serious photography excursion.
---
Here is a short video, showing an up close look at the inside and outside of this bag or you can go straight to Youtube to watch in a a new browser window :

Youtube:  My Think Tank Airport Airstream Review
 think tank airport airstream review - best features
The Think Tank Airstream appeared to meet the first three of my personal requirements listed above.  Based on the specs and many reviews and opinions of other photographers I purchased it from Amazon.
Now it had to be tested for its ability to hold the gear I was taking on my travel photography adventure to Alaska.
The first arrangement I used was with lenses attached to my two Canon DSLR bodies. This gives you access to cameras that are ready to shoot in an instant.
This  was a good arrangement and leaves me room to spare for a few more small accessories.
---
I confess I have a concern about storing lenses on bodies while traveling.
This is the new layout with my lenses and two camera bodies separated.
I did a third arrangement with my Canon 400mm f/5.6 included; it fit fine but was just a little too snug for my liking.  
Lenses like this and the 100-400 zooms will fit, but this is a case that is not designed for large super telephotos.
---
As a reader of this
Digital Photography Tips
website you can receive a
special gift
for any order over $50 with ThinkTank. It's a good deal for you. The consumer reviews of their products are very high. Here is the link to their web site:
ThinkTankPhoto
---
---
think tank airport airstream - what i would change
There is no such thing as a perfect bag, but I do like this bag quite a bit.  If I designed it myself, what would I change?
A SHOULDER STRAP would be great for situations where the rollers can't be used and you need to carry the Airstream a fair distance.  The handles are strong and well-padded, but for a wimp like me with a bad back, shoulder straps would make this task a bit easier.
Perhaps I am nitpicking. There are travel bag designs without the telescoping handle that will give you addition room inside travel camera bags and they have shoulder straps instead of rolling wheels. 
LARGER LAPTOP POUCH.  This is more perhaps a sign that I need to get a smaller laptop, an iPad or an Android table rather than lug around my over-sized Dell. 
Think Tank Photo does offer a low divider set which is an optional way to store a small laptop internally within the travel bag with rollers. 

This bag is categorized as a small bag.  It is specifically made to easily fit both under an airline seat or above in the overhead storage areas.  It is significantly smaller than the Think Tank International model, which also meets international carry-on requirements. 

One of its intentional design features is to have it appear as if it just an ordinary piece of travel luggage. Many camera backpacks look like they may be designed for camera gear and thus more subject to theft.
Pros and cons of the Think Tank Photo Airport Airstream camera bag
Here is my opinion of the main pros and cons of my Think Tank Airport Airstream travel bag with rollers.
PRO
High quality materials used throughout.
Well thought out design with many features.
Satisfies carry on rules of the airlines.
Serious protection for your gear.
con
Price. It's a big investment.
No option for a shoulder strap.
Not enough room for a large laptop
It's a little pricey, but there is no doubt a lot of thought and effort went into making this a high quality bag with the traveling photographer in mind. Despite the steep cost, I recommend the Think Tank Photo Airport Airstream bag with rollers as well worth the money.
---
As a reader of this
Digital Photography Tips
website you can receive a
special gift
for any order over $50 with ThinkTank. It's a good deal for you. The consumer reviews of their products are very high. Here is the link to their web site:
ThinkTankPhoto
---
See more related articles listed below my signature or use the search box below to search for other topics on this website.

Search for a new topic on this site:
---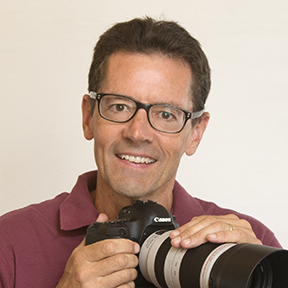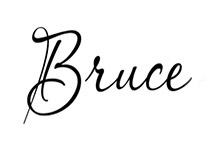 ABOUT BRUCE LOVELACE
Bruce is the publisher of this website. He is the author of the book "Improve Your Photography Instantly."  Read more on Bruce on his Bio Page. He's been known as The Traveling Photographer ever since 1994. Or read more about this website.
View some of Bruce's photos on Instagram.   Visit the Facebook Page. Watch him on YouTube.  Bruce runs photo workshops for kids and adults, and provides one-on-one photography coaching.
---
---
As a reader of this
Digital Photography Tips
website you can receive a
special gift
for any order over $50 with ThinkTank. It's a good deal for you. The consumer reviews of their products are very high. Here is the link to their web site:
ThinkTankPhoto
---
---