rocketfish reviews
rocketfish  tripod CARBON FIBER rf-trp-

47

c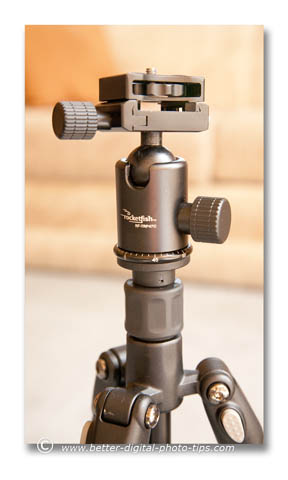 Rocketfish Tripod


If you have read any other Rocketfish reviews on something other than carbon fiber tripods, you may have gotten mixed reviews.
If you have read any carbon fiber tripod reviews, you'll see there is quite a price range of options. I was looking for a sturdy, light-weight tripod for doing travel photography.
I already had a Sunpak MiniPro Plus as well as my larger and heavier Manfrotto which I use exclusively for my portrait photography.
I purchased a Rocketfish RF-TRP47C carbon fiber tripod and I love it. They're discontinued now, but the  market is flooded with good alternatives.

cheap tripods
Handle makes it easy to carry. It's the top seller by a landslide. It's half the price of the Dolica tripod.
It collapses to only 24 inches. The center pole can be removed and used as a monopod for video.
The most solidly built of the three top tripods under $50. The tripod ball head is smaller and lighter.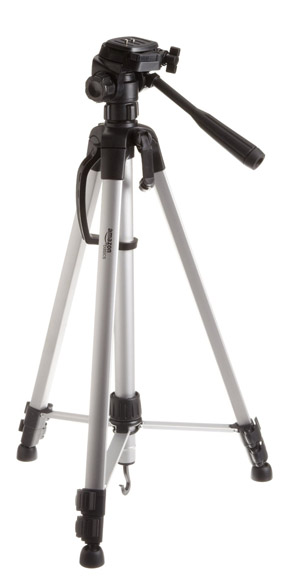 Basics 60 Inch


Incredibly Popular
Extremely Highly Rated
Read the Reviews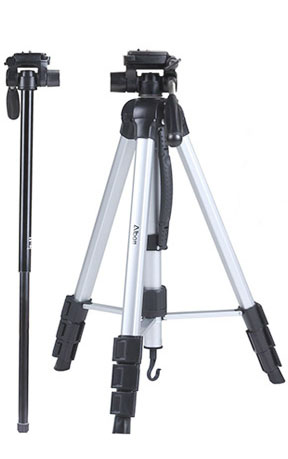 Albott 70 Inch Tripod


Absurdly Affordable
Very Popular Combo
Read the Reviews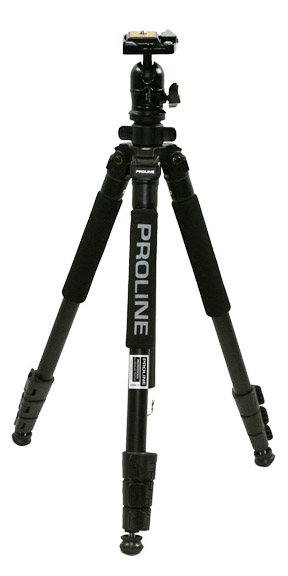 Dolica 62 Inch Tripod
PROLINE Ball Head Design
Top Quality
Read the Reviews
---
I read a lot of carbon fiber tripod reviews as well as non- carbon fiber tripod reviews, but originally stayed away from tripods that didn't have either a pistol-grip ball head or pan-tilt head with screwdriver type of handles.
Both of these tripod heads shown below have their own individual advantages.  They are much heavier that the simple ball-head of the model Rocketfish 47C.
One of the must-have features of my soon-to-be-acquired tripod had to be its ability to fit in my carry-on luggage along with my digital slr and lenses when I am flying to my destination for travel photography.
I occasionally get to watch the luggage handlers load the suitcases into the belly of the airplane, so the percentages of damaged and lost luggage is no surprise. That is why I carry my photography equipment on board with me when I fly, so there is not much of damage or loss.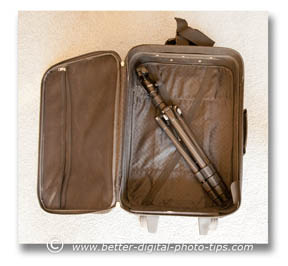 Tripod fits in luggage


The Rocketfish carbon fiber tripod 47c was a perfect diagonal fit in my carry-on luggage.
Some of the other Rocketfish reviews were not so kind about the leg-screwing tightening mechanism.
I found them easy to work, quite secure and importantly lightweight.I also enjoyed several other features about this Rocketfish.
Each leg has a convenient release button that allows it to be set at a different angle.
This is ideal for photography in rough terrain or when it's not possible to have all three legs supported at equal distance from the center.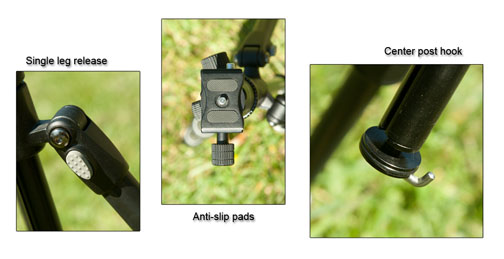 I have used this feature many times while doing nature photography of rocky terrain and waterfalls. I also like the anti-skid pads that are securely attached to the quick release plate.
The quick release plate has its own ingenious catch mechanism that prevents the camera from sliding off the tripod if you forgot to tighten the quick release knob.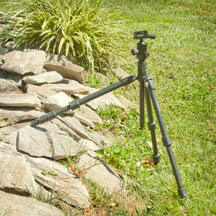 The third feature is small but also quite handy.
The center post has a small hook on the bottom which could temporarily hold an external spare battery or equipment sack while your working.
The final photo shows that the Rocketfish 47c Carbon fiber tripod, despite its small size was able to securely hold my Canon 5d with a 70-200 Canon lens.
Notice that I had to angle the tripod by setting the legs at different heights to overcome the lopsided balance from the heavy camera and long lens combination oriented vertically and upward.
It is rated to hold up to 15 lbs with a maximum height of 47". This in my mind is its only shortcoming. (No Pun Intended) It is not the absolute best tripod for taking portraits of tall, adult-sized people while standing.
In those situations you may want to just hold your camera at eye level or if you still need a tripod you will want to have a tripod with a bigger maximum height.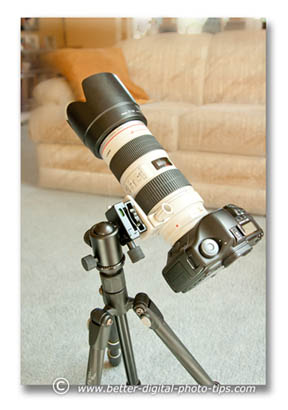 It's folded length is only 20" and weighs just over 2 1/2 lbs.
Based on it's sturdiness, light weight, price and intelligent features, this is one of those Rocketfish reviews that that I give 5 stars out of 5.
This carbon fiber tripod, the Rocketfish model 47c was only one of this particular model listed on Amazon when I wrote this article. I just loved it since they day I bought it. You can get more information and reviews about Rocketfish tripods here.   Rocketfish no longer makes tripods
where to find the best rocketfish reviews:
I found about the Rocketfish line of products by accident.
You can get more information and reviews about compact tripods here:
Travel Tripod
Keep shooting. Stay inspired!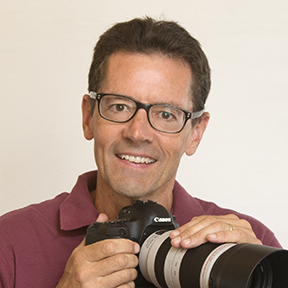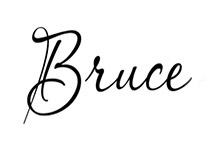 ---