vacation photo tips
Turn your good vacation pictures into great vacation pictures by learning a few simple Vacation Photo Tips. These are not revolutionary ideas and they aren't sexy or exciting, but they'll help you improve your vacation photography!

Keeping things simple is often the most effective way to get the best results.  Here are the 5 main tips for better vacation photos I want to share with you my friend.
be prepared before you shoot vacation photos
There is no worse photo mistake then not having enough memory and batteries for your entire vacation of photography. Take twice as much memory and batteries that you think you will need.
Know your camera. Make sure you understand the different features and camera settings to use. Don't wait until you go on vacation to learn how your camera works. Experiment with your camera ahead of time and analyze your photos.  Basic camera instructions.
Learn a few

p

hoto composition

 tips

on this web site before you go.
Travel to your destination on the web before you actually go. There are a lot of good travel  sites about almost every single travel destination you can imagine.  
I often buy a book or two to take along with me when I go on a travel shoot. The good ones have maps, historical information and photo opportunities. I have found these to be a very valuable source for vacation photo tips to take with me when I travel.
Here is a link to Amazon guides on travel photography. You can also refine your search to specific guides on travel photography in a certain region or sometimes even a specific destination:
Travel Photography Guides
back up your vacation photos
Have a system in place to back up your photos. I take my laptop with me and after each day of photography, I upload the photos to my computer.
Some people plan ahead and use internet access at locations during their vacation. This eliminates the hassle of taking your laptop computer with you. You can use online backup services or upload to your own website if you have one.
A third option is to take a portable HyperDrive Memory Card Reader. They currently sell for a few hundred dollars. They are the size of cell phones, have a ton of memory and your camera memory cards slide directly into them for an easy, quick upload.  

Here is an additional article on the best photo backup system.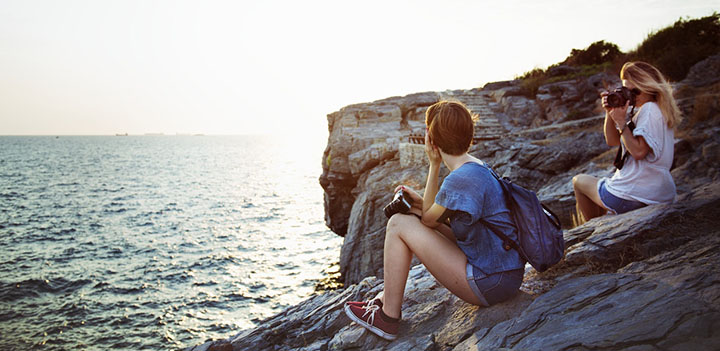 tell a story
This is one of the most forgotten vacation photo tips. Start with the idea that you are telling a story.Begin with your preparations and a few photos of your traveling departure. Take a few mundane photos throughout journey, including pictures of signs, photos of your hotel, campsite or transportation. These are great to use as you transition from one location to another or from one activity to another.
Include people in your vacation photos. That may be people you are traveling with or it may be people involved in your photograph that you don't know. Just follow these rules when you photograph people: How to Photograph People. You must be respective when photographing people you don't know.Take some photos where people are the main subject of your photograph. Also, take some where the main subject is the scenery and the people just add a little visual human interest.
Shoot a bunch of variety. Take close-ups and distant wide views. Take your pictures at different times of the day. Change your angle when you photograph a subject. Move in or out. Move left or right. Even move up or down if possible.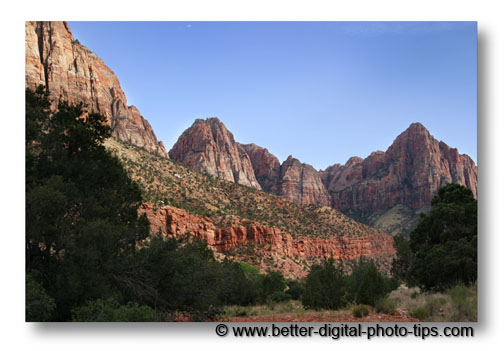 keep a vacation photo journal
Keep a small notebook to record a few details of your photography. That should include the obvious time, date and location.
Your journal of your vacation pictures should also include a few notes on your experience when the photo was taken. What impressed you when you decided to take the photo? You may want to include a few technical notes like camera settings or lighting conditions.
Your note will not only help you remember your fun times, but also be a great addition to the photos when you get home. You'll be able to add notes in your photo scrap book or slide show.
most important of the vacation photo tips:  have fun
Don't let the photography become so important that it ruins your fun. Vacations should be fun and so should your photography. Avoid a few photo mistakes by preparing ahead of time. You still may get a few bad vacation photos like I do. But you can edit them out later and you'll be left with some great vacation pictures.
The theme of this web site is to have fun learning how to take better photos. You vacation is supposed to be fun. Learning a few vacation photo tips will help you have a great time during your vacation and afterward as well. You may also be interested in Fenway Park Pictures or Pictures of Boston.
Knowing a few basic rules of composition ahead of time always helps too. During a recent day at the US Tennis Open is Flushing, NY, I used a few Photography Composition Tips that I'd like to share with you. Happy Shooting!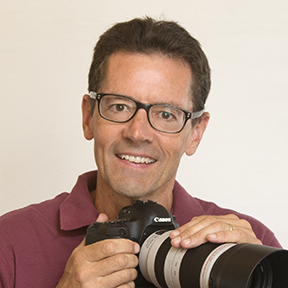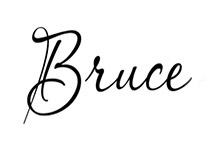 ABOUT BRUCE LOVELACE
Bruce is the publisher of this website. He is the author of the book "Improve Your Photography Instantly."  Read more on Bruce on his Bio Page. He's been known as The Traveling Photographer ever since 1994. Or read more about this website.
View some of Bruce's photos on Instagram.   Visit the Facebook Page. Watch him on YouTube.  Bruce runs photo workshops for kids and adults, and provides one-on-one photography coaching.
---