pictures of boston You've never seen before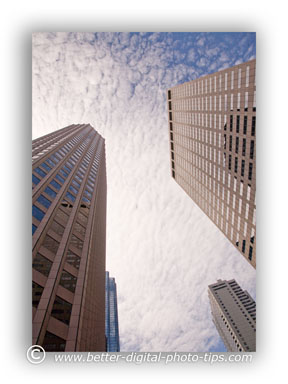 Boston Skyscrapers
Do you enjoy looking at unusual pictures of Boston? My self-directed Boston Photos assignment was not as productive as I wanted in such a short time.
My two sons and I only had a few hours to tour the city and capture a few photos of Boston.
We were supporting my wife's loyal participation in the Susan G. Koman 3 day walk to fight breast cancer.
I had a few desired stops in mind and we had to plan our schedule around the designated "cheering stations" that the walk-a-thon organizers allowed supporters to cheer on the dedicated walkers.
Just around the corner from the historical Faneuil Hall, this first photo taken amongst a few of the sky scrapers of downtown Boston. The clouds were in a unique pattern and the reflections from the massive glass panel windows were interesting.
We were waiting for our guide to start the tour of the Freedom Trail, which is a walking tour I highly recommend.
A mix the old and the new with pictures of boston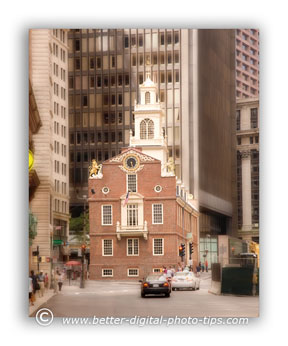 "Old and New Boston"
There are only about a dozen or so of the original historical buildings remaining from the revolutionary times of the United States.
This photo on the left is the original King's Old State House.
I used a little of the blur retouching tool in Adobe Photoshop to separate it from the surrounding modern skyscrapers.
I liked this distant perspective, so this is one of the pictures of Boston where I used my 70-200 mm zoom lens at full zoom. You can see just the top of this building in the photo below, to the right. It was an impressive building a few hundred years ago. Now it is dwarfed by it's tall standing neighbors.
Getting the right exposure was challenging. If I had just let my meter pick the right settings, the buildings would have been badly underexposed.

I knew because of the strong, brilliant light from the sky, that I needed to adjust my camera settings to overexpose by one f-stop.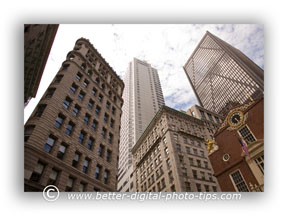 This was where the Boston massacre became legend. We listened to our tour guide and how this event was sensationalized through the use of the "media", an artistic drawing at that time.
Another of our must see attractions was Fenway Park, historical home of the Boston Red Sox. A few photos of Fenway park can be found in this article: Fenway Park Pictures.
Of course we had to visit Harvard. We first met up with Jim, one of my son's college buddies and ate at the Fire and Ice restaurant on Church street. From there, it's only a short stroll to the prestigious halls of Harvard.
I've always wanted to be able to say I've been to Harvard. These side by side photos of these archways show why it's fun to explore a little when you are looking to take some interesting photographs. Only taken a few minutes and a few yards apart, the photos from each side of this arched wall provided contrasting perspectives and lighting.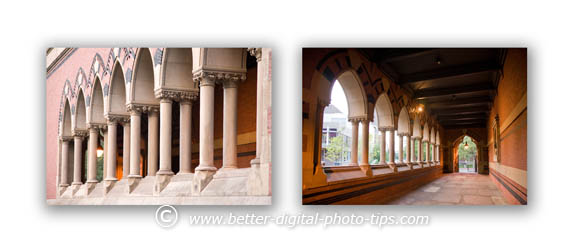 If you are interested in photography and interested in Boston you might enjoy taking a peek at some of these on Amazon:
Photography Books on Boston
where to take pictures of the boston skyline
Each city has a unique feel and characteristics, and Boston is no different. Public parks and bridges usually give you a good location for a great view to photograph. Here are a few suggested places that work well as vantage points to photograph the Boston skyline.
bridges
BOSTON UNIVERSITY BRIDGE
HARVARD BRIDGE
LONGFELLOW BRIDGE
ZAKIM BRIDGE
other spots In Boston MAss
BEACON HILL
COPLEY SQUARE
PUBLIC GARDEN
SKYWALK OBSERVATORY
My best tip on taking photography of Boston is to have fun while you are finding new ways to become a better photographer. Sometimes we focus so closely on the task at hand, we forget to enjoy the process.
If you enjoyed this photography article on pictures of Boston, please share it with someone. 
Shoot more photos. Keep your passion for photography alive!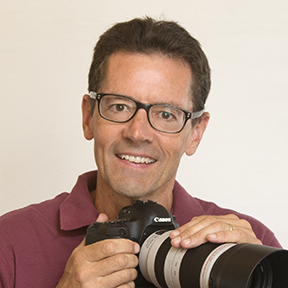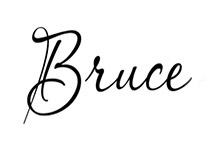 ---
---
---