travel photography tips
learn by visiting these travel spots through photographs
Many of these travel photography tips are provided in a series of articles written from travels to a wide variety of destinations in the U.S.A. and some abroad.
As always, it is my mission for the entire website to provide useful digital photography tips, and in this section pass on some tidbits on how to take great travel photos, using actual locations and existing lighting situations.  The resulting example photographs are combined with comments used to illustrate a photographic technique or two.
If you are an advanced photographer and you are taking a trip with the main purpose of getting images to sell or use for purposes other than your own enjoyment your methods of preparation will be quite different than those who are just taking a vacation and want some nice photos.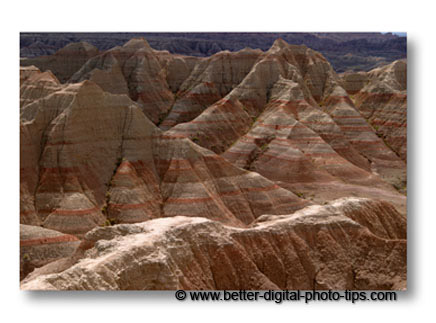 As one example, the photo above does not have a center of interest.  Usually it is a good idea to have a plan before you click and determine what you want the photo to say.  In this scene, the light did create some nice highlights on the ridges and brought out the texture of this unique geological formation.
My goal was just to record this fascinating scene as I saw it so I could refresh my memory whenever I wanted to enjoy it again.
travel photography tips for vacation
Usually when people vacation the main purpose of traveling is for relaxation and fun.  It's often not your main goal to get great award-winning photographs while traveling. So the first tip may seem obvious, but it really is easy to forget.
Have fun.  Enjoy the process.  Keep it in the front of your mind that you want to have a fun experience and not be so focused on the photography that it interferes with enjoying the scenery.
Here is an article with 5 specific steps to use for vacation photography.   These may appear simple and obvious but these tips are good for both pro and amateur photographers to consider to make sure everything goes as planned:   Vacation Photography Tips.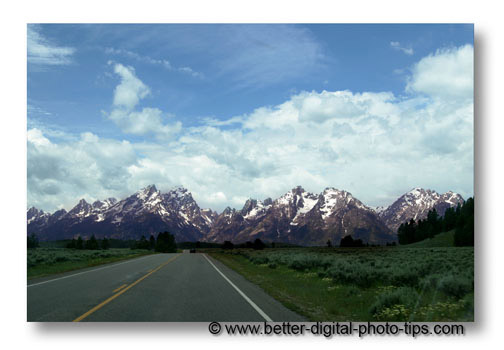 a few of my own travels
I only had a few hours to capture a few Pictures of Boston. I concentrated on the buildings during an historical tour of the mix of the "old and the new" Boston.
This also included a guided tour of Major League Baseball's most famous ballparks and a few Fenway Park Pictures.
Charlotte NC photos. During a recent business trip to Charlotte, North Carolina, I had a few hours of free time to photograph some of the buildings in the downtown area. In the article are some ideas about composition and lighting.
Photos of the Loyalsock Trail. Do you enjoy travel photography while hiking? I've had the opportunity to hike and backpack through the mountains in northeast Pennsylvania.
An Article From a 3-Day trip to Maine's Acadia National Park.  With only 3 days available to photograph this national treasure, it was a challenge to capture the personality of this unique location.
Penn State Patterns. I gave myself the assignment of concentrating on patterns during a recent photography visit to Penn State University, nestled in between the mountains in State College, PA.
travel photography equipment
One of the biggest issues for me personally when I am doing travel photography is what equipment to bring. How many horror stories have you heard about the airlines losing someones luggage?
For that reason I used to keep my photography equipment with me as carry on luggage when flying to my destination.  I recently upgrade by camera bag situation and bought a specialized travel bag, a Think Tank Airstream.
The other consideration is the bulk and weight of your camera gear while walking, hiking, biking or driving to your photo opportunity.
Best Camera Bag for Travel. Why I chose the bag I did and close-up detail photos showing the quality and design. 
Carbon Fiber Tripod-Rocketfish Reviews. I was able to fit my carbon fiber Rocketfish in my carry-on suitcase on our recent flight to California, San Fransisco and Yosemite Nation park. This article is why I love my Rocketfish Carbon Fiber Tripod for travel photography.
Enjoy these travel photography tips and happy shooting!
Bruce
Back from Travel Photography Tips to Digital Photo Tips HOME page
Places you can get good prices on travel photography equipment: