Pattern Pictures of Penn State University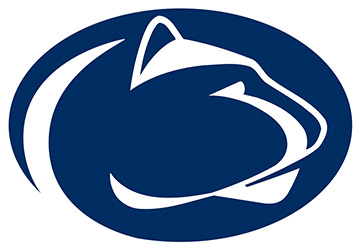 Penn State Logo
Here's your photo challenge: Take some unique pattern pictures at Penn State University. Use this post to improve your photography and get a new appreciation for the photo opportunities at PSU.
My self-imposed assignment produced some interesting images despite the poor weather conditions. And I decided to make no references to former football coach, Joe PATTERN-O.  Oops!
If you're a visual geek like me, you know your hyper awareness of the world around has it's drawbacks. You get easily distracted by objects in your environment and get caught drifting away from conversations with the people you are talking to.
I blame it on attention deficit, but it's really more of a visual fascination with the elements that make up the world around us.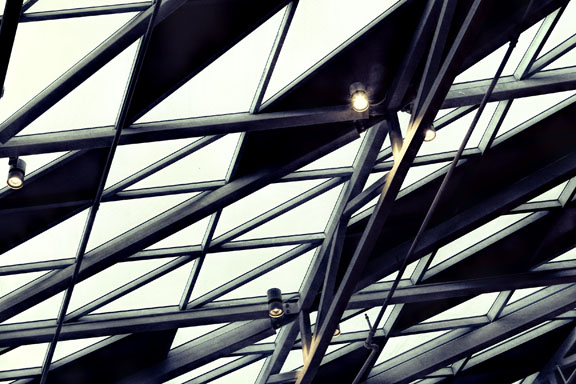 Penn State Student Center Ceiling Pattern
The diagonals and the contrast of the ceiling/roof caught my eye as soon as I entered this building. I included the lights in the frame to add a few points of interest to break up the patterns from all of the triangles and rectangles.
Penn State is a large campus and bikes are a popular mode to get from one place to another. My visit was between semesters and this empty bike rack provided some interesting repeating shapes and contrasted with the grooves and seams in the concrete.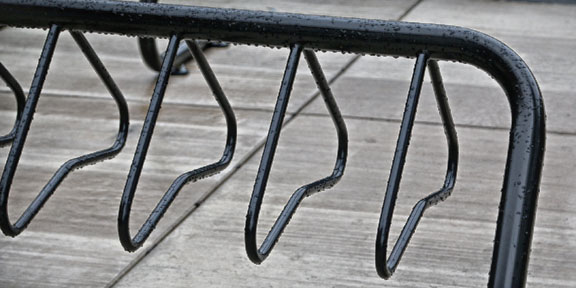 Bike Rack - Penn State
This photos was an attempt to capture the contrasting repetitions between the slate roof and the bricks. For me, this image came up short. I think it was one of those cases where it needed to have a center point of interest.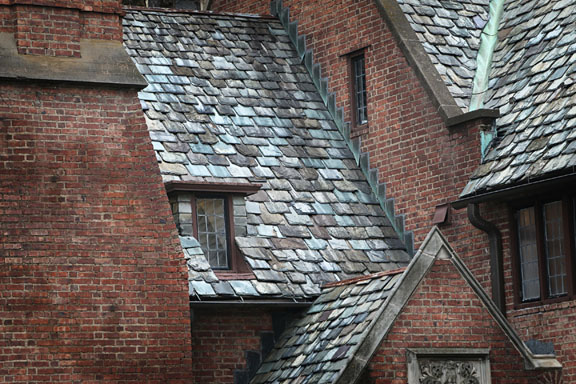 Slate Roof and Brick - Patterns at Penn State
While I was shooting patterns and textures at Penn State, I needed some food and beverage. You've got to maintain my energy levels, right? There are a few micro breweries around town.
The artwork on the ceiling at this establishment caught my eye. Nothing earth shattering here, but I enjoyed the design.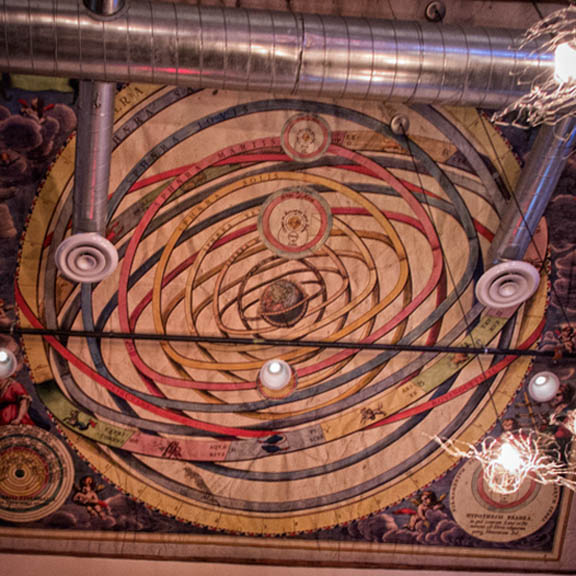 State College PA Brewery Ceiling Pattern
I've been having some fun with Topaz Texture Effects software and included a few samples from my Patterns at Penn State photography excursion.
TEXTURES APPLIED TO Pattern Pictures of Penn State
The Old Main building has quite a history behind it on the Penn State college. I chose the Topaz Texture filter named 1950s Print and applied it to the original color photo within Photoshop. 
I purposely chose a location to emphasize the lamp which I thought had an interesting design to it.  I still get a kick out of controlling perspective to emphasize certain parts of an image.
The side of this building reminded me of a face of a robot. I often avoid symmetrical compositions, but in this case I thought it worked.
Initially I saw this as a monotone, but the the rust from the iron railings broke up the idea of going in that direction. I used "Detail Extractor" in  Nik Color Efex Pro to enhance the details in the stone.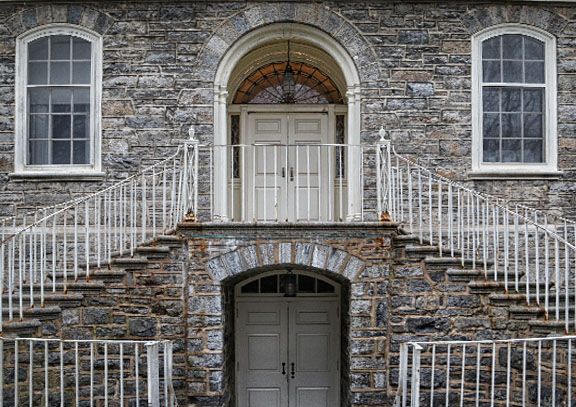 Stone Facade and Railings - Penn State
It was a damp weekend with a boring white sky so I kept the sky out of almost every single photo I took. Wet surfaces give you an opportunity to look for interesting reflections.
I liked the simplicity in the composition and the similarities within the color scheme.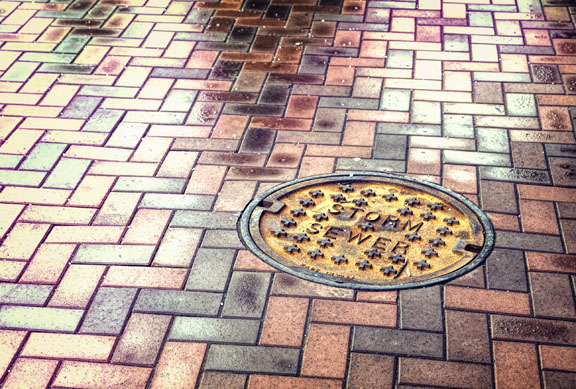 Storm Sewer Lid and Bricks
No visit to Penn State is complete without a visit to the Official Nittany Lion Statue. The lighting was flat and the background was cluttered and unattractive.
I used a filter in the software called "Oily Hand" and muted the background to improve the photo a bit.  I did like the textures in the stone brought out by the software.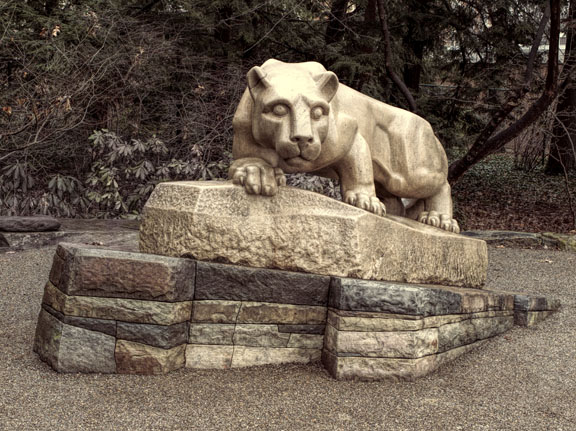 My journey to Penn State produced no award winning images and won't bring me any personal recognition as a talented photographer. I did it just for the fun of it. It's always good to practice your Photography Composition.
Even as adults, it is beneficial to go just out and play.  That's the prime message. Enjoy your photography. Give yourself an assignment with a theme or a style of photography and just go explore.
Have a blast!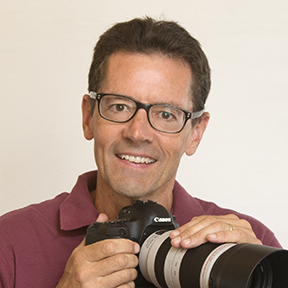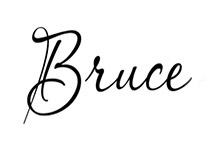 ABOUT BRUCE LOVELACE
Bruce is the publisher of this website. He is the author of the book "Improve Your Photography Instantly."  Read more on Bruce on his Bio Page. He's been known as The Traveling Photographer ever since 1994. Or read more about this website.
View some of Bruce's photos on Instagram.   Visit the Facebook Page. Watch him on YouTube.  Bruce runs photo workshops for kids and adults, and provides one-on-one photography coaching.
---