best travel photography book on yosemite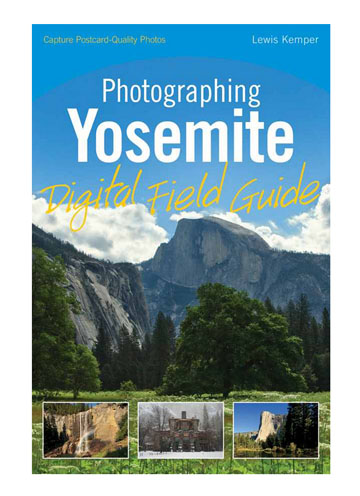 Lewis Kemper
The best travel photography book on Yosemite, at the time I took my trip there in 2011, was Photographing Yosemite by Lewis Kamper.  It's still is an excellent book because the opportunities for you to capture these amazing photos for the locations are still the same.
You aren't staying there for an extended time few weeks, so you won't have a lot of time to just wander around and look for great locations. This book is a great shortcut for you to plan what specific spots you're going to photograph during your travels to Yosemite. I also had very a limited time available during my visit to photograph as much as I wanted. This was the perfect guide to get great photos of Yosemite National Park photos during my visit.
I needed a guide that would give me some good tips on photographing the main attractions during my way-too-brief visit.  This book was quite helpful to browse through before my trip and was a nice size to carry along with me.
The best component of this book for me was the "Where Can I Get the Best Shot" feature for each of the 29 photo opportunity subjects that the book covered.  Each of these 29 locations was covered separately and each had a map to show the location of the subject as well as the best vantage points to photograph it.
The author of "Photographing Yosemite," Lewis Kemper, has been photographing North America and its parks for over 30 years.
His list of published photo is way too long to list.  He teaches workshops, has published DVDs on Photoshop, and is a contributing editor to several magazines.His web site is www.lewiskemper.com Here's the link to read other photographer's review on this Yosemite book:
Photographing Yosemite Digital Field Guide
I did my usual research on
Travel Photography Books
on Amazon and this book was the easy choice at the time. Now there is a great new book about photographing Yosemite, but more about that in a minute.
views of half dome - yosemite
The highlight of my trip to Yosemite National Park was the 13 mile hike to the top of Half Dome. The two of the photos below happen to have been taken from locations that were not specified in the book, but were from the vantage point of the specific trail we hiked.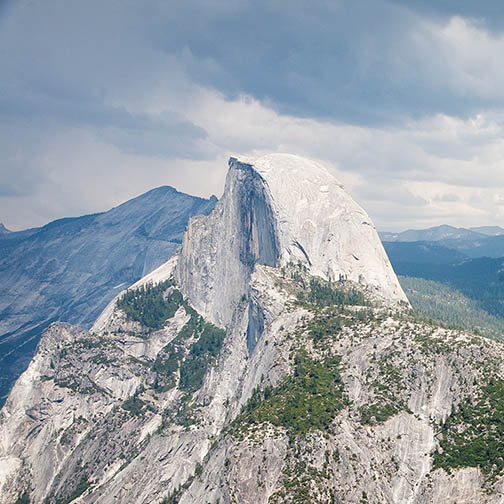 Half Dome -From Glacier Point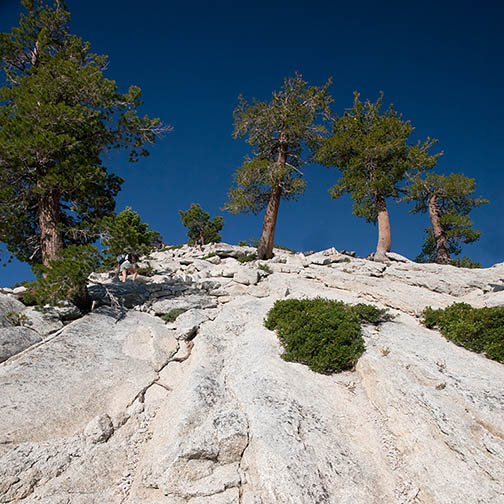 Approach before the climb to the summit of Half Dome
the new best travel photography book on yosemite
The Photographer's Guide to Yosemite by Michael Frye is a revised, updated remake of a book written by Michael in 2000.  Michael Frye has lived in or near Yosemite National Park for over 30 years and his knowledge of this photographic treasure is extremely extensive.
His Yosemite photos are spectacular and you can visit his website and gawk: www.michaelfrye.com/ The book has earned 100%  4 and 5 star ratings.  That's virtually unheard of in the world of on-line product reviews. The only complaints about the book are related to the printing and binding, not the content itself.
To only get 4 and 5 star ratings and still have a few issues with the quality of the binding is pretty remarkable.  I am an Amazon review junky.  I buy and research products on Amazon as a hobby and it says a lot about a product to receive reviews like this Yosemite book did.
---
(I used the Rule of Thirds to when I composed this shot from the top of Half Dome.)
---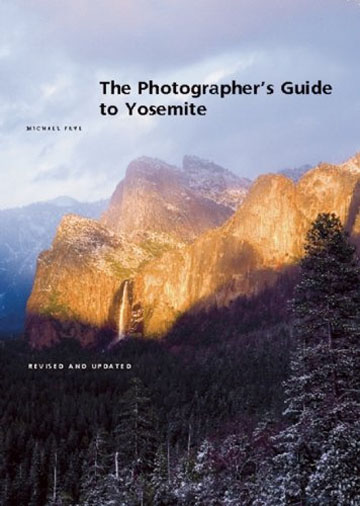 Michael Frye
The Photographer's guide to Yosemite by Michael Frye has detailed maps, best time of day and best time of year information covering over 35 photographer's desirable photographic locations.
This book is worth buying even if you aren't going to visit Yosemite National Park and do any nature or landscape photography because of the over 100 magnificent photos. Here is the link:
The Photographer's Guide to Yosemite
Both of these books are great for the Yosemite beginner and the repeat visitor.  The park is so immense with so many photo opportunities.  These books give you the specifics, almost a paint by numbers format, to get the photos you want in a shorter amount of time.
My own fantasy is to be able to return to the park at several different times of the year.
Despite the eternal characteristics of the mountains and the rocks, Yosemite is a constantly changing landscape, altering our perceptions and our photographs with the changes in the time and days throughout the year.

A good photography guide book is the best digital camera accessory you can get before you take a trip to a vacation spot for the first time.  I knew that my time was very limited so I had to focus on the main attractions and shoot them in an efficient way.
A good part of the reason I chose to become a photographer was my fascination of  photos of Yosemite taken by Ansel Adams. My mother gave me Ansel's autobiography as a young boy and i was hooked on this special place. I chose portrait photography as my specialty rather than nature photography for my career, but I have an equal passion for making photographs of the natural world as well.
Whatever travel photography book on Yosemite you choose to get, ask yourself, should I wait any longer to take my trip?  
Whether you only travel there through the captured images in a good travel photography book or go in person, just do it! Have a blast!
---
Back from Yosemite Book to Digital Photography Tips Home Page
Best Digital Photography Books