photos of the loyalsock trail
With a fully packed backpack and a torrid walking pace, I still managed to grab a few photos of the Loyalsock Trail while backpacking in North Central Pennsylvania.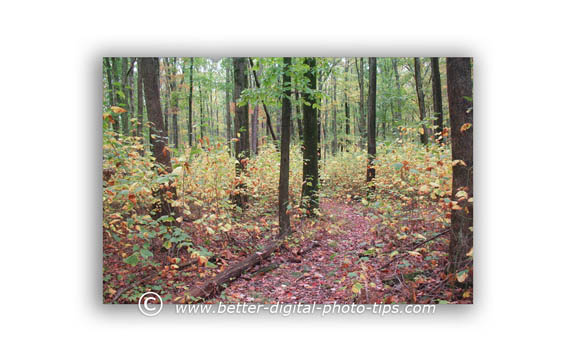 I wanted to travel extremely light, so I left my heavier Canon DSLR at home and grabbed my wife's Canon PowerShot 620 camera.
I really enjoy nature photography and would have liked to carry a tripod, two camera bodies and several lenses.  This was more of a focus on a physical challenge and a mission to cover many miles in a short time.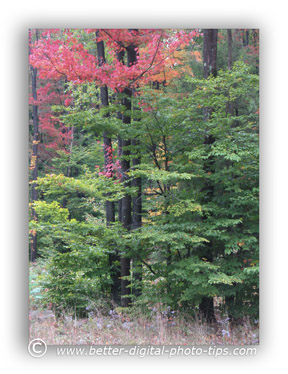 We had originally planned 3 nights and four days in the wilderness.
Every single item's size and weight had to be considered carefully before stuffing it into our backpacks.
Unfortunately, packing enough food, clothing and water were a higher priority than camera equipment.
As you can tell from these photos of trail, I often looks for textures and patterns when I do nature photography.
In the photo at the top, what caught my eye was the 3 waves of color: the green leaves at the top, the yellow leaves of the undergrowth and the reddish color of the ground and fallen leaves.
don't make any common photo mistakes with your photos of the loyalsock trail
One of the photo mistakes I made was not fulling checking the camera before my trip. One of the tips for taking digital photography that I listed on the Beginners Photography Tips is to know your camera before you go on your nature photography shoot.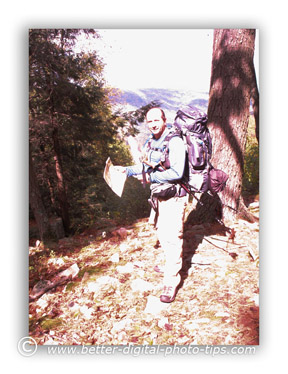 Many of the early photos were overexposed, because I did not fully understand the settings on this particular digital camera. We had hiked up a steep slope to the breathtaking view provided by Smith's Knob.
I had my subject stand in the sunlight, so that he and the distant valley behind him received equal light from the sun.
My wife's Canon Powershot camera was set onshutter priority, but somehow had been set to add 2 stops of exposure.
This resulted in blown away highlights and weird color shifts that I couldn't even improve in Adobe Lightroom.
Fortunately I often look at the camera's histogram to check for proper exposure. I was able to set the camera properly for the remainder of our Loyalsock hiking adventure.
Whenever I use a camera that has the option to shoot "raw" unprocessed photos, I use that feature.
This allows you to make all of those processing decisions afterward and can also help you compensate if you don't nail the exposure when the photo is taken.
Our adventure was focused on backpacking and not on nature photography. We survived the slippery,steep inclines carrying our heavy loads, the cold nights and had no dangerous encounters with the bears.
I look forward to returning to the Endless Mountains and planning a nature photography trip focused on getting great photos of the Loyalsock Trail.
Have Fun!
Bruce
Leave the Photos of the Loyalsock Trail and Return to Nature Photography
Go to Digital Photography Tips Main Page