photos of the loyalsock trail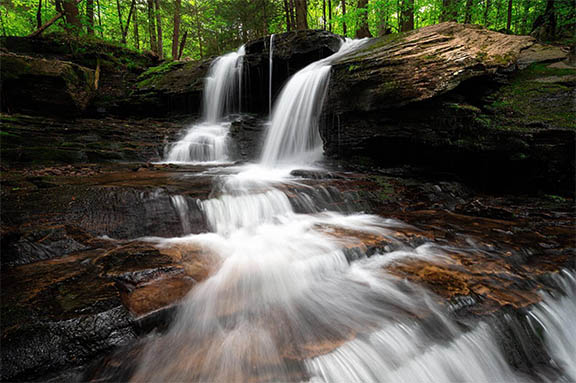 Loyalsock Waterfall photo by fellow photographer Mike Ridall


With a fully packed backpack and a torrid walking pace, I still managed to grab a few photos of the Loyalsock Trail while backpacking in North Central Pennsylvania. This article has a few of those photos along with a few ideas on how to photograph the Loyalsock Trail.

---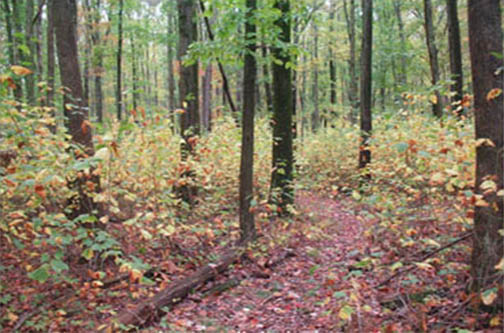 I loved the 3 levels of color


I wanted to travel extremely light, so I left my heavier Canon DSLR at home and grabbed my wife's Canon PowerShot 620 camera. This was my first mistake! The sensor is so small...and no way to shoot RAW.
I really enjoy nature photography and would have liked to carry a tripod, two camera bodies and several lenses.  This was more of a focus on a physical challenge and a mission to cover many miles in a short time.
We had originally planned 3 nights and four days in the wilderness. Every single item's size and weight had to be considered carefully before stuffing it into our backpacks.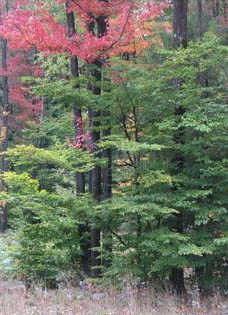 Unfortunately, packing enough food, clothing and water were a higher priority than camera equipment. As you can tell from these photos of trail, I often looks for textures and patterns when I do nature photography.
In the photo at the top, what caught my eye was the 3 waves of color: the green leaves at the top, the yellow leaves of the undergrowth and the reddish color of the ground and fallen leaves.
how long is the loyalsock trail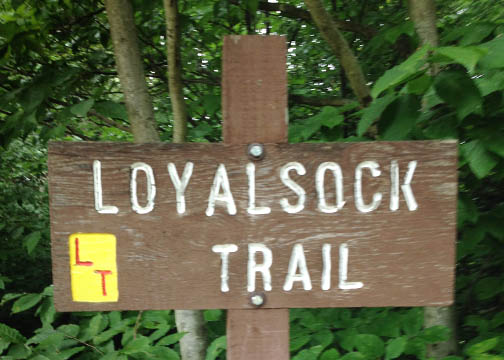 Visible Trail Marker


The Loyalsock trail is 59 miles long. It features a large variety in terrain that includes waterfalls, ponds, streams, damp areas with lots of moss, and areas full of pine.
It's perhaps one of the more challenging hiking options in the tri-state region. The elevation change goes between 10,000 and 12,000 feet. There is also a loop option on the Loyalsock Trail that is 22.9 miles.
---
where does the loyalsock trail start
Most people  hikers start the Loyalsock Trail with the more difficult section on the west end where the trail has more hills to climb and descend. The western end trail head is 15 miles northeast of Williamsport, PA. Hikers like to end the trail on the eastern end where it is more scenic in World's End State Park.
To access the Loyalsock trail on the western end of it, go 7 miles north of Montoursville on Rt. 87. To access the trailhead on the east side, it's 8 miles northeast of Laporte, 25 miles west of US 220.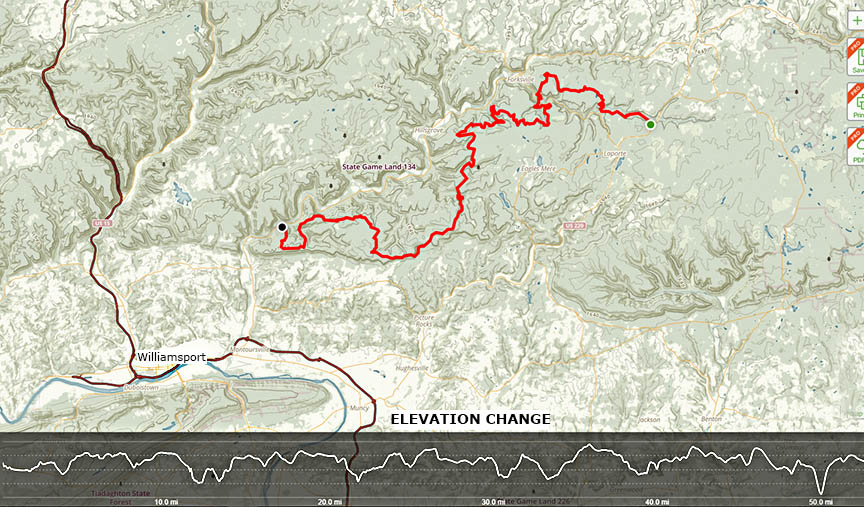 You can start the Loyalsock Trail from Route 42 on the west or from Route 220 on the east side.


The bottom section of this map shows you the continuous up and down elevation changes that make the Loyalsock a challenge to hike and to photograph.
Video on Photographing Waterfalls on The Loyalsock Trail
If you like hiking and you enjoy snapping a few photos while you hike, you'll enjoy this short video.
tips on when to hike and photograph the loyalsock trail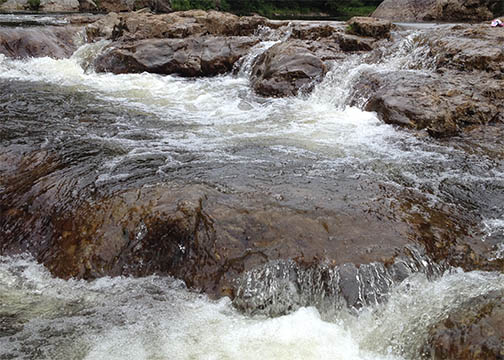 Loyalsock Creek


Each season has its own unique photo opportunities, based on recent weather conditions. Generally, photographers like to take the photos of the Loyalsock trail when the fall colors  peak in October.
It's the most popular time. Visit  http://www.leafpeepers.com/contents.htm (and other similar sites) to check the exact timing for peak colors.
If you don't mind the cold and prepare yourself properly, winter offer some unique chances to capture snow and ice photos. You get enhanced views through the leafless trees in April, massive amounts of green everywhere in late May.
The Summers are hot and humid and the trails are more heavily traveled both by day hikers and by through hikers.
After snowmelt or big rain storms you have opportunities to capture overflowing creeks and small waterfalls.
Warning: check hunting season dates with Loyalsock State Forest: 570-946-4049 and wear brightly colored shirt, jacket, or hat.
Avoid common photo mistakes with the loyalsock trail
Not preparing before you head out to photograph the trail is the biggest mistake. That includes putting just a little though into exactly what equipment you want to take along. Here's a checklist of what to do.
Check your camera's memory card and carry a second card for back-up.
Include a spare battery when you pack up your gear.
Make sure you have a lens that can shoot extra wide compositions. Here's a guide to choosing the right lens.
Plan ahead how you're going to carry your gear securely, but also so that you'll have easy access to your camera as you hike. Read up more on camera backpacks for hikers.
One of the mistakes I made was not fulling checking the camera before my trip. I used the wrong camera setting on a photo of my friend on the Loyalsock. One of the vital camera tips that is listed on the beginners photography tips is to know your camera before you go on your nature photography shoot.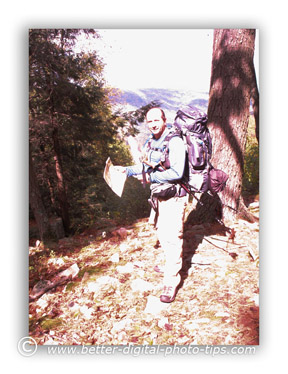 Badly Overexposed


Many of the early photos I took were overexposed, because I did not fully understand the settings on this particular digital camera. We had hiked up a steep slope to the breathtaking view provided by Smith's Knob.
I had my subject stand in the sunlight, so that he and the distant valley behind him received equal light from the sun. My wife's Canon Powershot camera was set on shutter priority, but somehow had been set to add 2 stops of exposure.
This resulted in blown away highlights and weird color shifts that I couldn't even improve in Adobe Lightroom. Fortunately, I often look at the camera's histogram to check for proper exposure. I was able to set the camera properly for the remainder of our Loyalsock hiking adventure.
Whenever I use a camera that has the option to shoot "raw" unprocessed photos, I use that feature. This allows you to make all of those processing decisions afterward and can also help you compensate if you don't nail the exposure when the photo is taken.
Our adventure was focused on backpacking and not on nature photography. We survived the slippery, steep inclines carrying our heavy loads, the cold nights and had no dangerous encounters with the bears. I look forward to returning to the Endless Mountains and planning a nature photography trip focused on getting great photos of the Loyalsock Trail.
Stay inspired. Keep shooting!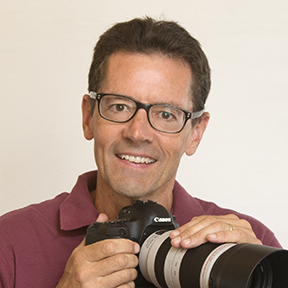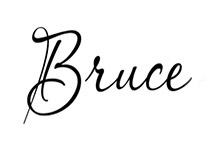 ABOUT BRUCE LOVELACE
Bruce is the publisher of this website. He is the author of the book "Improve Your Photography Instantly."  Read more on Bruce on his Bio Page. He's been known as The Traveling Photographer ever since 1994. Or read more about this website.
View some of Bruce's photos on Instagram.   Visit the Facebook Page. Watch him on YouTube.  Bruce runs photo workshops for kids and adults, and provides one-on-one photography coaching.
---