storm photos expedition
Are you interested in Storm Photos? Are you amazed by the immense power and mystery of the weather and her magnificent storms like I am?  Although I have very little experience with photographing thunder and lightning storms, I find the photography of storms fascinating to look at and challenging to succeed with.
This post will give you some tips on photographing storms as well as the ultimate method of how to get photos of dangerous storms. let's dive into the storm photo tips. 
best camera settings for storm photography
This is where a DSLR shines over a simple point and shoot camera or a smartphone's camera. You can adjust your camera settings as you shoot. You'll have to pay attention to your LCD screen and adjust a setting to avoid over or under exposure.
1.  SHUTTER PRIORITY. Whether you're shooting storms at night or conditions that are generally dark you should set your camera's exposure setting to shutter priority.  This is done for 2 reasons. You need to control the length of time the shutter is open to catch the action you're looking to photograph.
Secondly, the length of your exposure time you decide on will vary. If you want to capture lightning strikes, the longer you leave your shutter open the more likely you'll catch that lighting in a photo. You can easily adjust your exposure depending on the exact conditions when you shoot.
2. MANUAL FOCUS. Turn off the autofocus and focus on something near infinity. Don't set it by turning your lens barrel until it stops-actually focus on something at a great distance.
If you include objects in the foreground that you want in focus too, you may have to change the focus point as well as watch your depth of field.
storm photography ACCESSORIES 
You need more than just a camera to help you take photos of storms. Let's take a look at the gear that is necessary and the gear that is just plain fun to use for your storm photography.
 STURDY TRIPOD. Although you can shoot daylight storms without a tripod if it's bright enough, a tripod will give you sharper photos in darker conditions and are a must have accessory for nightime photos of storms.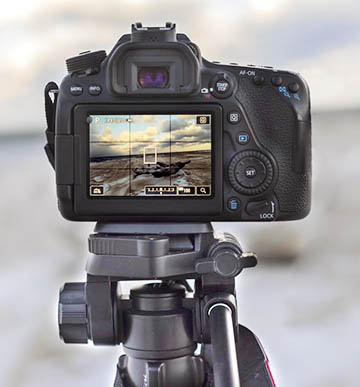 REMOTE SHUTTER RELEASE. Whether it's an attached cord or a wireless shutter trigger, you don't want to add any blur to your photo from camera movement.

RAIN PROTECTION. You need to protect yourself and your camera gear.
WIDE ANGLE AND TELEPHOTO LENS. Just one general purpose zoom lens with wide and telephotos will work fine. Most storm photos are shot with wide angle, but you can get some great closeups of storm clouds and lightning bolts if you can zoom in close too.
One of the slickest accessories for photographing lightning storms is an automatic trigger that activates your camera's shutter automatically when lightning strikes. It takes the guesswork out of timing your photo.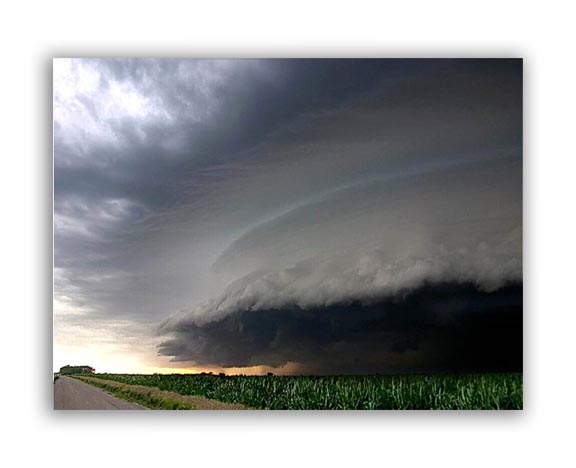 The Approaching Storm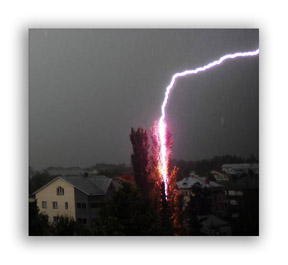 Photo by Aixcracker


Storm photography can be one of the most challenging but also most fascinating kind of nature photography. It often takes some patience scouting the right location and timing your exposures just right. Both of these two sample images were emailed to me to use as sample storm photos without any credits. I don't know who took them, but I think they both really capture the power of nature.
One of the best tips for taking nature photography is to always have your camera with you. Sometimes that's easier said than done. I shoot professional portraits for a living and I use Canon DSLRs. I don't want to lug around large cameras and lenses, so I just recently bought a Canon G11.
It's a little too big to fit in most pockets, but quite a bit smaller than my Canon 5D and 20D. I really wanted the features and quality to get great nature photographs with the G11 that the pocket-sized, point and shoot cameras can't quite match.
The two most important features for me were the zoom lens and the ability to shoot in raw mode. Shooting raw gives me complete control on processing the images the way that I want. I can also go back and process them differently in I want to achieve a different effect.
Below, I've included a video of storm photos taken by Warren Faidley. If you can, watch and listen on a computer hooked up to a surround system. It is quite a magnificent way to view and enjoy nature photography when you are inside, safe, warm and dry.
Often it's a matter of being in the right place at the right time. Like anything else, if you make it a point to constantly look for something, you will notice more opportunities to capture it with photography. Our minds can only process a very tiny percentage of the visual information that is presented to us through our eyes. We all have the ability to "focus" (no pun intended) on capturing a certain kind of photography subject.
storm photos video:


Photography by Warren Faidley, a known, full-time storm chaser, journalist and weather adventurer.  His web site is www.stormchaser.com.  
WARNING:  Some of this storm photography is stunning!
Another one of the tips for taking photos of storms is to use a few rules of composition such as the rule of thirds , leading lines, balance.

Taking great storm photos could become a lifelong hobby in and of itself. We live on an amazing planet and digital photography has made it easier to capture a unique variety of nature photographs.
best way to get great storm photos
How do you get to take pictures of a photogenic storm? You need to start with finding a great storm to photograph. Storms are monstrously beautiful yet can be a destructive force where you can put your life in danger if you're smart with your storm chasing endeavors.
You can watch your local weather forecast and have great success, but that can be hit or miss. It makes sense to embark on a storm chasing adventure with someone who has significant  experience in chasing storms.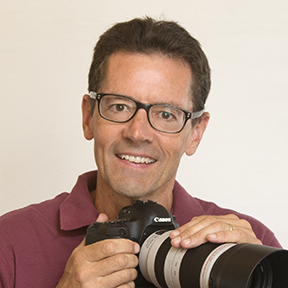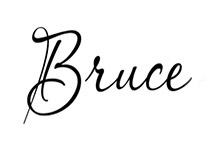 ---