best monopod for under

100

dollars

cheap monopods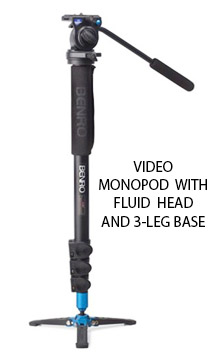 Looking for the best monopod for under 100 dollars? You have a lot of cheap monopods to choose from.
Whether you are shooting video, stills or both, it has a definite impact on how to answer this question.
Professional video monopods come with both a real fluid head and a 3-leg base. The cheapest ones are not under $100.  They are little more than that. To make it easier for you I divided this post into two sections.
---
1.  Recommendation if you already have an adjustable head, like a fluid head or ball head
2.  If you only have allocated $100 toward the purchase of a good monopod and you don't have an adjustable head you can use on it, you may have to spend less on the monopod. This will give you some extra money to buy an adjustable head.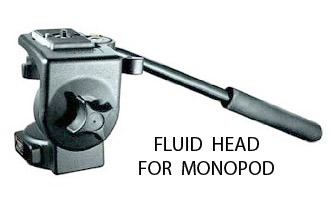 You're probably wondering why you would even need an adjustable head?  
I covered that topic a bit in this article: Monopod Advice, but monopods without any possible adjustments to camera angle limits their versatility. 
If you are shooting a fair amount of video, or if you will ever shoot at an upward or downward angle, you need to have an adjustable head on top of your monopod to improve its function. Otherwise you'll be very limited on how you use your monopod.
---
best monopod for under 
100

 dollars - not including an adjustable head

There are many good monopods out there in Monopodland, but I narrowed down to these because of the outstanding reviews they received by so many buyers.

I combine my own experiences with the experiences of as many other photographers as possible to form my opinions.  I research the specifications and performance of cameras and accessories from a variety of sources.

The most informative source I've found is Amazon because they get so many more reviews from buyers than the other on line camera retailers.



THE SIRUI P-

326

6 SECTION CARBON FIBER MONOPOD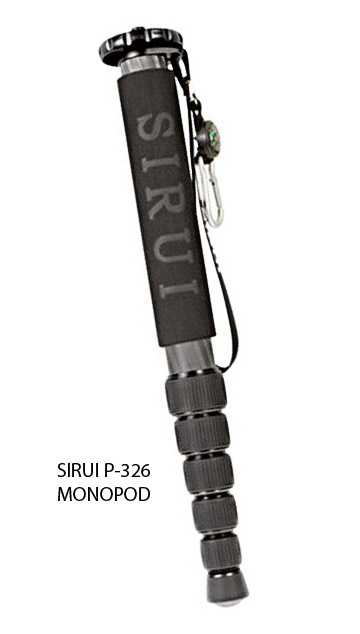 High Ratings
Having a reversible screw in the mounting plate adds to the versatility of good quality monopods.
Minimum folded size is only 16 inches which makes it small enough to clip on your waist belt. It's high grade carbon fiber and weighs a ridiculously light amount, it's less than one pound.
Has twist locks that are more durable.  If you have large enough hands you can literally unlock all of them at once.
Good as a walking stick too, it comes with a carabiner clip and compass. Here are some of the advertised features:
Light-weight 8X carbon fiber in 6 sections
Reversible 1/4"-20 & 3/8"-16 screw on the mounting plate
Wrist strap and hand grip for comfortable hold and insulation
Silicon twist lock enhances durability
SIRUI P-326 6 Section Carbon Fiber Monopod
---
best monopod for under
100
dollars - including an adjustable head
Spending a little less on a monopod gives you a little room to purchase an optional ball head to give your monopod a little more functionality.  You can go altogether without an adjustable head but you'll have to limit your angle quite a bit.
Sports photographers favor the simple monopods without adjustment heads so they can make lighting-fast reactions and re-positioning.
MANFROTTO

680

B MONOPOD

4

-SECTION
The 680B made by Manfrotto is about $30 less than the Sirui Monopod mentioned above.  
This gives you leftover money to invest in a small ball head.
It doesn't fold down as small as the 6-section Sirui and it's made of aluminum instead of carbon fiber.
The camera/head platform is quite large to give you a secure mount. The Manfrotto 680B could be considered the best monopod for under 100 dollars.  Here are the advertised features:
Quick action leg lock system
Sure rubber grip
Maximum Height 60.0" (152.4 cm)
Folded Length 20.0" (50.8 cm)
Load Capacity 22.00 lb (9.98 kg)
Male Thread Size 1/4"-20 & 3/8"-16
Leg Lock Type Flip levers
Manfrotto 680B Monopod 4-SCTN Replaces 680 (Black)
Here is a link to all of the top rated monopods on Amazon, many of them being under 100 dollars:  MONOPOD PRICES.
combinations of tripods and monopods
How about getting a tripod and a monopod together? You can also own a tripod-monopod combination for under 100 dollars. You can explore variations of these here: Tripod-Monopod Combo.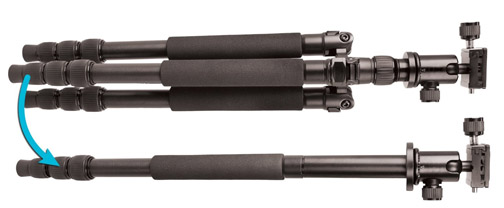 Duo Flex Tripod and Monopod Combo
Under 100 Dollars
There are a lot of choices for the best monopod for under 100 dollars. If you're looking to improve your photography and video capabilities, these affordable monopods are a worthwhile accessory to invest in.
Shoot more Photos. Watch Less TV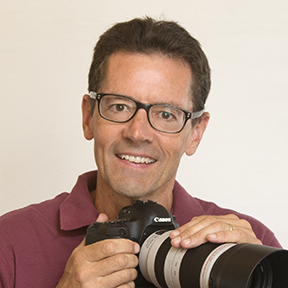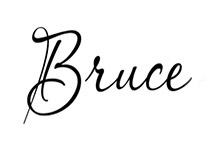 ABOUT BRUCE LOVELACE
Bruce is the publisher of this website. He is the author of the book "Improve Your Photography Instantly."  Read more on Bruce on his Bio Page. He's been known as The Traveling Photographer ever since 1994. Or read more about this website.
View some of Bruce's photos on Instagram.   Visit the Facebook Page. Watch him on YouTube.  Bruce runs photo workshops for kids and adults, and provides one-on-one photography coaching.
---
The Monopod Under 100 dollars That I Have