5

tips for taking digital photography


Boring But Effective Ways To Immediately improve your photos

Looking for the best tips for taking digital photography? Want a few simple ways to cut down on camera mistakes and taking bad photos?  Here's the deal.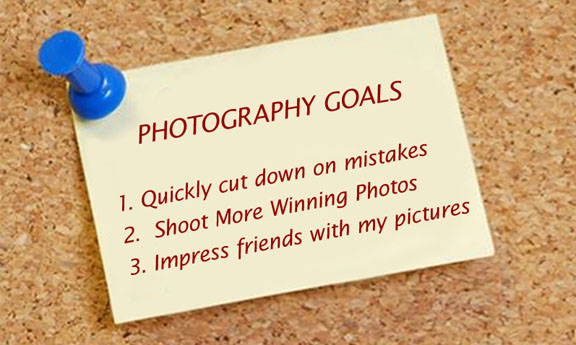 These are the basic tips to start with. They're not going to excite you or knock your socks off, but sometimes mastering the basics is the best way to supercharge your abilities.

This article will help you improve your photos by using 5 simple tips on digital photography.
This might be the most boring -
AND MOST VALUABLE  article I've ever written!
There are also many links to advanced photography tips as well, all over this web site, waiting for you to devour. These pages are dedicated to sharing valuable digital photography tips with you.
Search around these pages for photography tips and you'll find information on photo lighting, photo exposure, rules of photo composition, digital camera settings, portrait posing and much much more.
Or, feel free to ask me a question directly.
Make sure to bookmark this website is as one of your favorites because I am adding more articles with photography tips all the time.  Okay. So, here are the important but no so exciting 5 commandments.
1.

know thy digital camera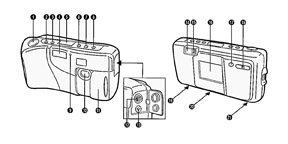 Not too thrilling!
Different cameras have different features and function that will affect how you approach your photography and how your images come out.
It sounds boring but reading your camera's instructions is very important. Even if it's a super quick flip through, you'll likely come across a feature or an idea that surprises you.
You will at least get a basic understanding of your camera settings and which to use in certain situations.  It will also give you some ideas of the capabilities that you may have never thought about.
You probably want to start taking pictures right away. That's only natural. I am the same way when I buy a new camera. Taking better pictures is your goal and you need to learn camera features and settings that will work in your favor.
2.

have lots of digital memory

One of the biggest shortcomings with digital photography is that it's too easy for you to just leave your photos on your memory card.  Rather than copy them to your hard drive and/or back them up another way, it's easy to put that task off for another time.

That's not all. We tend to leave our photos on the camera's memory card and don't do anything with them. The 2nd downfall comes when we end up with a full memory card and we want to take additional photographs or shoot some video on a full card.

Don't fall into that trap. Make it a habit to copy the photos from your camera and consider a good backup system to use right away for the important ones you don't want to lose.




Memory cards are so big now that it may take you a long time to fill up a card.

Now that memory cards are so affordable, it's a crime to not be prepared with an extra memory card or two.

Digital Camera Memory Update
It's November 2012 and 32 Gigabytes of Digital
Camera Memory on Amazon
for $50.
OOPS.
It's March of 2013-It's even cheaper now!
*** Update #3 (7/2015) :  32 Gigabyte cards are now only $15
Update#4 (5/2016):  32 Gigabyte cards are now less than $10.
3. shoot a lot of photos using variations Gives You Better Photos
This sounds like an obvious tip for taking better photos, but it is easy to forget.  Make it your mental focus to experiment with it as a habit. Trying taking digital photographs using different camera angles, distances AND lens zoom settings.
Trying zooming your digital camera lens in and out. Move to your right or to your left. Hold your camera for a horizontal composition; then try a vertical composition.
Change your camera settings for the same subject. See how it changes your picture. Take the time to compare your photos afterward.
There are many tips for taking digital photography that are basic and many tips that are advanced. But you will learn the most by doing and experimenting and then evaluating you own digital photography.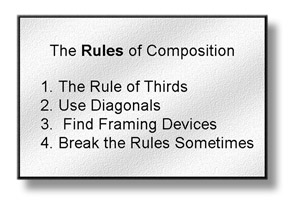 4.

Use composition tips To Quickly Improve Your Photos

A. Read over a few basic Photo Composition rules.

B. Use the Rule of Thirds. It's the easiest composition rule to use.


C.  Use diagonals to make your photos instantly more dynamic.


D. Find framing elements to emphasize your subject. 
E. Use leading lines. 
These are all valuable ideas that will help you take better photos.



5.

read about photo lighting

Start by just taking a second to Look at the lighting. Observe the light, where it is coming from and how it is affecting your subject. This is the quickest and esiest way to just become aware of lighting.

Becoming a lighting master takes the longest amount of time. I've been a professional photographer for over 25 years and I am still learning photo lighting. There are however, a few basic things that are easy to learn. Direction of light, fill light and flash photography are great places to start.

One of the photography situations that can be a lot fun to experiment with lighting is with taking digital photos at night when it's dark. You can look at the display screen on your camera and make a few adjustments to get a variety of results.

Take a quick glance at the 4 Elements of LIghting. You will get a better basic understanding of lighting if you are aware of these 4 elements.  Use these tips for taking digital photography from above and you're sure to start getting better photos.
The results you get from night photography are often surprising because the exposures are so much longer than the usual daytime photos. It's a unique type of of photography and worth playing around with.
In addition to following tips for taking digital photography you can learn a lot when you challenge yourself by trying new kinds of photography. It can be quite powerful to learn from the photography mistakes you make.
Here is an article on the most common Photo Mistakes that people make.
links related to tips for taking digital photography:

Buyer Reviews on Digital Photography Books on Amazon
There are three main categories when getting tips for taking digital photography: Lighting, Composition and Exposure. I included lighting and composition in the list of 5 tips above.
I did not include exposure because a large number of photographers rely on auto-exposure with modern digital cameras.
There are now hundreds of articles on this web site, covering basic digital photo tips and as well as advanced tips in photography. Here are some useful links below:
Photo Composition. This article gives 10 tips on photography composition and include sample photos that illustrate each point.
Photo Exposure. Photography exposure tips are covered pertaining to shutter speed, aperture and ISO. Sample photos and an explanation of the exposure triangle.
Photography Lighting. Photo samples with a variety of lighting conditions and many links to specific articles on photography lighting tips.
3 Advanced Tips in photography. Before you study advanced photography tips, you may want to consider these general tips, which you can apply to anything you want to improve in your life.
You can also visit the Digital Photo Tips SiteMap to get more tips for taking digital photography. The best way to learn digital photography is to practice. Ask anyone who has become a master photographer and they'll tell you how many photos they've taken.
Get the right equipment, use a few tips for taking digital photography, and shoot, shoot, shoot.
Have a blast!
Bruce
p.s. Of all the digital photography tips I can share, it's most important to have fun with your photography. Photography has been my passion for almost 50 years and I hope to inspire you to enjoy creating interesting photographs as much as I have.

If you like any of these digital photography tips, please share them with someone you care about.
Back from Tips for Taking Digital Photography to 
Digital Photo Tips Home Page
Best Websites For Camera Reviews