posing families of 3, 4, 5, and more
Guide for BEGINNER portrait photographers
Posing families is a skill that can take many years to master, but a few simple techniques can make a big difference in the quality of your family portrait poses. 
This guide will get you off to a great start with your family posing.
In this pose of 3 people I directed the mom and dad to lean in to show the affection that this young family has for each other.
Forming a triangle shape with their heads is a great way to pose 3 people.
posing young families of 3
4 GENERATION pose - 3 adults and 1 child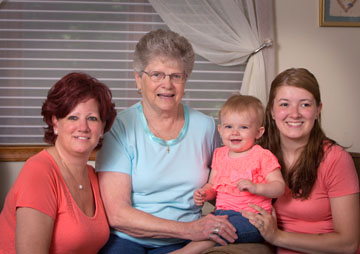 This 4 generation portrait need a pose that would handle 3 adults and one small child. 
You can adjust the seating so that the level of their heads goes down, up, down, up, as your eye travels from left to right.
how to pose a family of 5
Posing families of 5 people where there are 2 adults and 3 young children can be done in several ways.
Once again, posing the family so that their heads are nice and close gives you a real nice intimate pose for a family.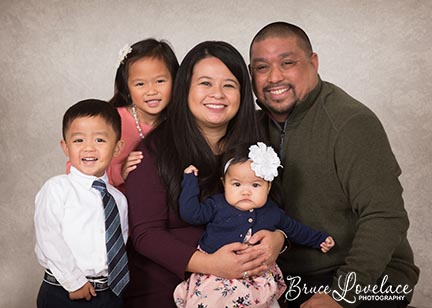 family pose for 6 people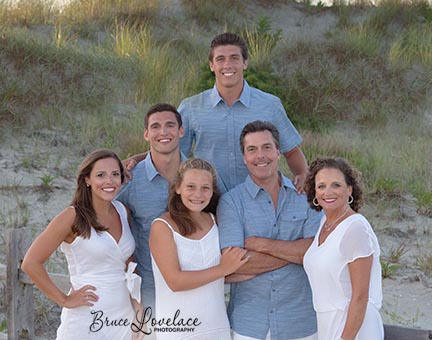 When you have 6 people in the family, you can always make a pyramid pose.
Looking at head heights, place 3 people in the bottom row, two people in the middle row, and have one person in the third row.
Alternatively, for an even number of people-see the pose of 4 people above-you can use the up, down, up, down pose.
posing families of 9 people
Outdoor family portraits, like the one below can present special challenges in terms of lighting and finding a location.  The more you practice, the more experience you get in similar situations.
Similar to how you would pose a sports team with 9 players, arrange the shot with 4 people in the back row and 5 people in the front row.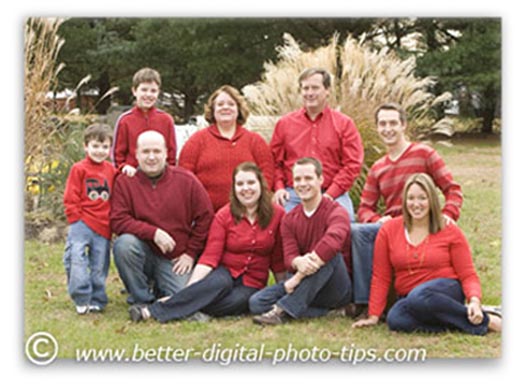 In this family portrait pose above, my client wanted to have the photograph be appropriate to enjoy all year long as well as a bit festive for the upcoming Christmas holiday.
She chose red shirts and jeans as a good choice for the portrait clothing. I chose this location in her back yard because of the tall ornamental grasses and more distant evergreen trees as a good background for this family portrait.
I designed the pose to be low to the ground so the grass would show as the background. The ground was a little damp, so my subjects that were down on the ground were sitting on plastic bags, that were tucked underneath and out of site.
It was a cloudy day so the photo lighting was a little too flat from overhead, so I added some fill light by placing a very large white reflector in front of my subjects, just below the camera's view.
Large family posing indoors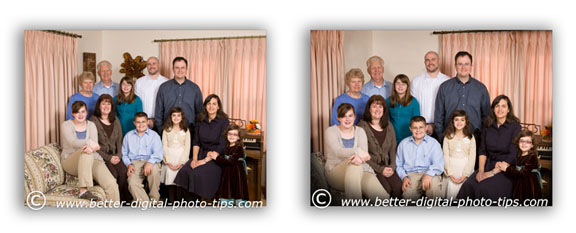 I really enjoy posing families outdoors when I can, but it was too windy on the day this family got together for their family portrait.
In this pose I kept the individual families grouped together within the entire group photograph. Sometimes it is difficult to remove artwork or other objects that are mounted on the wall, so it is desirable to retouch the photos after the photography session is done.
Look at the two side by side photos carefully. Can you tell what three photo retouching techniques I used to improve this family portrait?
I removed the two wooden wall hangings by using the "clone" tool in Adobe Photoshop.
I cropped in closer to have my subjects take up more of the photograph and eliminated a few distracting elements form the edges of the image.
I darkened the bottom and surrounding edges to center our focus more on our subjects and less on the home environment of the family portrait pose.
Sometimes when doing group photography, you have to adjust the pose because of clothing choices made by your subjects. If the color of one of your subject's clothing stands out a bit, it preferable to place them somewhere near the middle of your portrait.
Keep shooting. Keep learning. Keep improving.