family portrait ideas

(5 creative family photo ideas)
These creative family portrait ideas will help you make more impactful family portraits.
Whether you're shooting your own family photos or you're being hired to photograph a group of people, use these tips to create great family portraits.

Find a unique location.
Follow a theme.
Use software creatively. 
Make it homey.
Design it close.
---
The first step is to ask questions. Where does the family like to visit? What hobbies do they have and what do they like to do? In addition to planning clothing, ask your subjects what's important to them and you can come up with a list of new family photo ideas.
1. find unique locations
Think of unique spots to photograph your family. Whether it's outside or inside, take a minute to think of unique locations and you'll take some unique family portraits.
In the family pose above, I traveled to a client's beach house to photograph a high school senior and his family. At this location I had to shoot this photo with the sun behind my subjects. I used a strong fill flash to help lighten their faces against the bright sky.

It was one of those family portrait ideas that came to mind very easily once we started discussing all of the possibilities.


2. come up with a themed family portrait
Search for a common theme that binds a family together. These 4 brothers all attended the Naval Academy. They were all home for the Thanksgiving weekend and made sure to bring home their uniforms.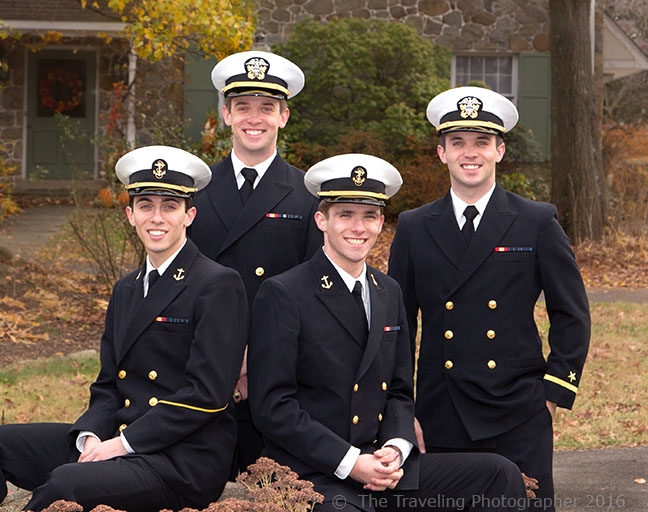 Go Navy!
The idea for this family portrait below was another easy one to think up. This mom and dad coached their three kids in soccer, so we thought it was only natural to create this soccer portrait.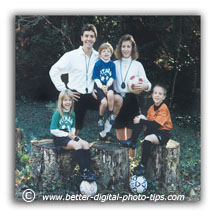 Each of the kids had their team uniforms. We dressed the coaches in matching white shirts.

If the family portrait tells a story, it becomes a little more interesting. Do a little brainstorming.
Look at the portraits in the window at your local portrait studio or at the nearby shopping mall.
This snow photo on the right took a lot of patience to pull off. We had to wait for the right amount of snow and we had to make it fit in everyone's schedule.
We chose the black, long-sleeved shirts to add contrast as well as keep everyone warm enough to pose for the portrait.
I setup my camera, composed the scene in my mind first while my subjects stayed warm in their cars. They jumped out of their cars and I quickly placed them in the composition.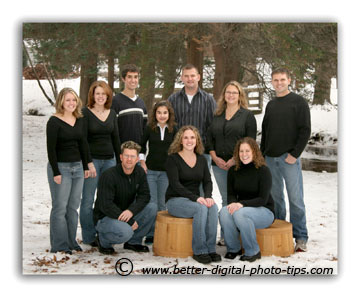 Do a GOOGLE images search for family portrait samples for more ideas.
Visit the web sites of photographers and view the family portrait sample galleries.
Make a list of some other unique ideas. Some of the other family portrait poses that I have done include: pajamas, swimming pool, baseball and "gone fishing".
The biker family below wanted a black and white portrait mounted on canvas.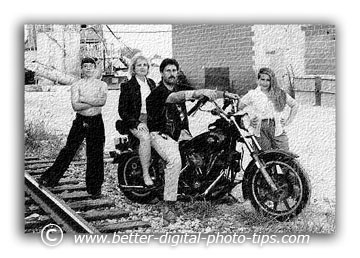 I scouted out the location behind an old cement factory. I composed the photo to include just a bit of railroad track in the corner to act as a framing device in the portrait.
The original  pose was a little static, so I made a few small adjustments.

In the last family pose adjustment I had the boy on the left place his foot up on the tracks to create just a little dynamic to this family photograph.
I also get some great family photo ideas from printed books on posing. I like to keep a few portrait photography books close by for reference.
---
Another source to use for interesting portraits is a book. Copy pose ideas from a good book written specifically about posing for group photos.   

You can get these books anywhere. This particular book on the right has hundreds of samples for groups of three or more people.
"Hundreds of samples provide inspiration and are easily replicated, allowing photographers to customize the source material to meet any type of need."
Amazon has a great selection of Books on Family photo posing.

3. get creative with editing
The next family portrait idea came from a wonderful client for the upcoming holidays. The mother of the family comes up with creative family portrait ideas each holiday for her family and this year's portrait was no exception. We've included the "Chuck Taylor" Converse sneakers in the portrait in past years and this was another unique approach.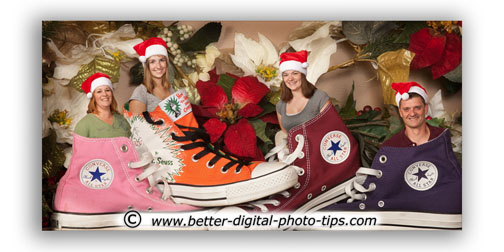 I decided to position the shoes in an overlapping manner so that the faces of my subject would not be too far apart in the pose. Completing this portrait idea did require photo editing in Adobe Photoshop. I do spend too much time doing photo manipulations, but it's always have a lot of fun.

4. home sweet home
Keep it simple and make it feel comfy by shooting the family portrait at home. I was a childhood friend of this family and they wanted a comfortable looking portrait taken in their own home. I surrounded the parents with their children and posed the kids with blue shirts on the outside to create a balance in the composition.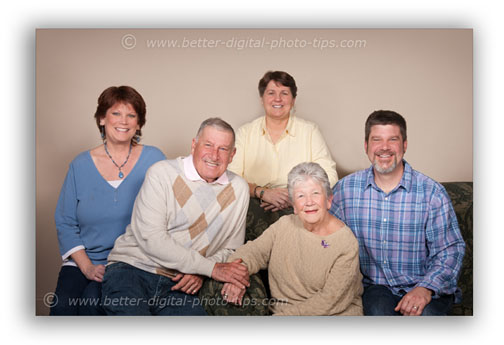 I had the father sitting on a posing stool, leaning in on the arm of the couch toward his wife. The woman behind the couch is kneeling on a small stool and the woman on the left is sitting on an adjustable stool raised a bit higher than the father.

The son on the right side of the portrait is sitting on two couch pillows on the couch. I composed the photo to not show any legs or hips of my subjects. We slid the couch away from the wall and removed a piece of artwork from the wall to simplify the background. I then did some retouching in Photoshop to darken the edges of this family portrait.
Indoor family portraiture usually involves the use of decent Portrait Photography Equipment. You can find used lighting equipment at very affordable prices.
Another way to develop a list of creative family portrait ideas is simple scout out new locations. Drive into both urban and rural locations and focus on backgrounds and themes that you could employ in your family photographs. Keep a written list in a notebook or journal.
Writing down photography ideas not only helps you remember them at a later date, but you can also add notes or details as your mind's eye gets clearer on what you want to create in your portrait.
Please add one of your own favorite family portrait ideas for all of the readers of Digital Photo Tips to enjoy in the submission box below.
5. pose everybody closely
This is a great idea for small groups and a bit more challenging to accomplish when you're photographing large groups of people. Here are two examples for posing family groups of 3 or more people.
This pose works great for sibling poses and for families. Overlap your subjects so that you can pose them with their heads close together. 
more articles related to family portrait ideas
Family Portrait Photography. What skills are necessary in family portrait photography to be one of the best? This article explores what should be considered when evaluating a good portrait photographer.
Outdoor Family Portraits and Outdoor Family Photography. Here are two articles on some of the things to consider before taking outdoor family portraits. Both have several samples to give you some ideas on what you might want to try.
Portrait Photography Books. If you'd like to have a tangible printed source of ideas in your hands, buy a good book on portrait photography.
How to Choose a Photographer. If you'd like to hire a professional to take your family portrait, you may be interested in the best way of finding a photographer. There is a lot to consider. Read about the 7 keys how to choose a good portrait photographer.
Coming up with new family picture ideas can be challenging, but it's a lot easier if we share our best photo ideas with each other. Why not help each other? Come on, what are you waiting for? If you have any creative family portrait ideas you'd like to share, feel free to submit your ideas or photos below.
Keep shooting. Keep learning. Keep improving.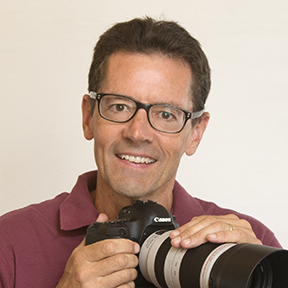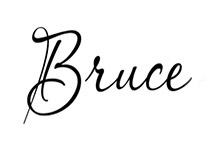 ABOUT BRUCE LOVELACE
Bruce is the publisher of this website. He is the author of the book "Improve Your Photography Instantly."  Read more on Bruce on his Bio Page. He's been known as The Traveling Photographer ever since 1994. Or read more about this website.
View some of Bruce's photos on Instagram.   Visit the Facebook Page. Watch him on YouTube.  Bruce runs photo workshops for kids and adults, and provides one-on-one photography coaching.
Give us your unique family portrait idea! Share your idea and submit a photo if you have one. We can all learn a lot from each other. This is like having an organized photography forum without having to go through any complicated registration process.


---
Give us your unique family portrait idea!
Share your idea and submit a photo if you have one. We can all learn a lot from each other. This is a great photo forum without having to go through a registration process.

Go ahead. What are you waiting for? Give us your most creative effort.
What Other Visitors Have Submitted
Click below to see contributions from other photographers...
Funny Ideas for Family Portraits Not rated yet
Here is an idea I got from a web site called: http://www.funny-potato.com. There was no photo credit, so I am not sure who the original photographer was, …
List of Ideas For Family Portraits Not rated yet
Hey fellow photographers, Has anyone ever done a family portrait with the family dressed in construction worker clothes? I like a lot of these family …