portrait photography lighting tips
(

how i got hooked and how to light portraits

)
Great portrait photography lighting is more of a topic for an entire book and not just one article on a web site with a few photography tips. I wrote this article so you can give yourself a jump start with some great resources and ideas on lighting portraits.
It's my mission to provide you with good quality content and inspiration to take your portrait photography to the next level and lighting may be perhaps the most vital and challenging skill to master.
There are articles on indoor portrait photography, outdoor portrait photography, elements of lighting, lighting styles and lighting equipment.
The links to these articles are below. But first I want to explain how it all began.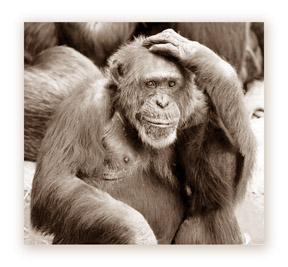 Portrait Photography Lighting is a subject near to my heart and has been since I created my first portrait when I was 9 years old.
You see what happened is that I got bit by the photography bug when my fourth grade class took a trip to the zoo.
My parents gave me a plastic camera to have a little fun with at he zoo. It was before 35mm film became popular.
Most of the photos were quite ordinary, not well composed and the lighting was nothing to brag about. There was really just one photo that really caused the impact in my mind. 
No, it wasn't a portrait of an orange monkey or a fat hippopotamus.
It was something quite a bit less preposterous.
I didn't get a great shot of a ferocious mountain lion.
And it wasn't an award winning photo of a baby tiger cryin.
A snapshot of my teacher inspired my interest in portrait lighting.
And that led to the topic to cover with this writing.
Okay, that was a bad attempt. Sorry, just having a little fun. I'll stick to writing photography articles shooting photos. I'll keep my distance from attempting poetry.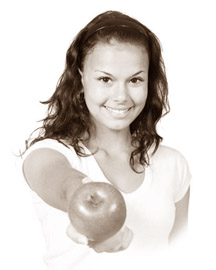 No this isn't the photo of my teacher offering me her apple.
Sadly, I don't have that photo anymore.
But, something just clicked in my brain when I first looked at those black and white prints from the zoo. I didn't know anything about photography or portrait lighting.
I didn't even know that is was great portrait lighting at the time. It just looked great for some reason.
It was only black and white film back then, but that actually can be a big advantage. You see, when you eliminate color as one of the elements in a photograph, you pay more attention to lighting. Lighting and composition become even more dominant.
I just got lucky and took a photo of someone who was in a great spot with beautiful natural outdoor lighting. I regret that the portrait of my teacher is long gone. It was one of my favorites from my childhood photography years.
I wanted to tell you this little story for a reason. It is not to bore you with facts about my childhood. Sometimes it is the little experiences and decisions in our lives that shape our destiny.
I made a decision to pursue photography, just as a hobby at first, but then it became my life's passion. I encourage you to develop at least a small passion for understanding lighting.
The mission of this photography site is to give people inspiration and instruction in all areas of photography including portrait photography lighting.
Keep a childlike curiosity with you, not only as you search for photography tips on my site but other photography web sites as well. Don't be afraid to spend a little cash on a few photography books as well, whether they are eBooks or printed books.
It is an investment in yourself and the emotional benefits to your personal development can't be measured in dollars and cents.
here are the portrait photography lighting links
Lighting in Photography. This is a simple article written to illustrate the impact the direction of the light has on bring out the features in your subject. But before you click, I have a warning. I picked a very UN-interesting subject to photograph for the article.
Photo Lighting - using mannequins to practice. The impact that the direction, quality and intensity of the portrait lighting has on the human face. The mannequins stay in the same position with the same expression.
Outdoor Portrait Photography. I do my best to find a good location with excellent natural lighting when doing family portraits outdoors. Here are 4 family portraits where the lighting was almost ideal. In three of them I used large white reflectors to improve the lighting just a bit.
Photography Lighting. A diverse mix of lighting in 5 different photos. One of the photos shows 5 different appearances of the same object due to the lighting.
Indoor Lighting-Portrait Photography of a country singer. Balancing the interior lights of this theater with the strobe portrait lighting on my model.
Photography Lighting Kits. You now have many photography lighting kits available. Digital cameras are really sensitive to low light situations and you can use non-flash lighting to super lighting in your portrait photography.
The following video was made by TheSlantedLens. 
It does a great job of explaining the 5 styles of portrait photography lighting used for indoor portraits. These include Rembrandt, Split, Broad, Butterfly and Loop lighting.
You don't necessarily have to use the same kind of lights as depicted in this video to mimic these portrait lighting styles. I learned to follow them closely while taking a portrait photography course my freshman year in college, but I rarely use them now that I take portraits for a living.
With indoor portrait photography I tend to have my models change their head position frequently and that will change the lighting style if the lights are not moved as well.
The other things that have a big impact on your portrait photography lighting is the amount of fill light that is filling in the shadows as well as the amount of diffusion that you main(key light) and fill lights have.
The amount of fill light light affects the lighting ratio as well as the contrast you will get in your final lighting set-up.
Don't get me wrong. These 5 portrait photography lighting styles are important to learn. Equipment has changed dramatically in the last 50 years, but peoples faces are pretty much the same.
If you think any of these portrait photography lighting tips are helpful, please pass it on to your fellow photography enthusiasts.
Happy Shooting!
Bruce
Back from Portrait Photography Lighting to Portrait Photography Tips

Back to Digital Photography Tips Home Page