artistic portrait photography


(

inspiration for artistic portraiture

)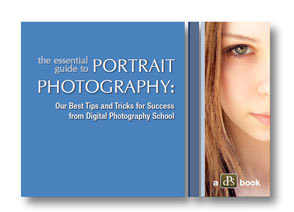 Creating artistic portrait photography is a skill that takes a bit of time for most people.
Coming from a scientific background early on in my photography career, my focus was on the technical aspects of photography and not on the artistic.
Perhaps it is a sexist thing to say, but it seems that women are more naturally inclined to create artistic portraiture.
Now that professional portrait photography has become full of terrifically talented female photographers, the level of artistic portrait photography has skyrocketed.
Wedding and portrait photography was once dominated by men. Perhaps it was more mechanical back then with a need to understand f-stops, shutter speeds and lenses. The equipment was heavy and the investment to start a photography business was substantial.
Ironically, the technological advancements in photography have made the field much more artistic
Camera and lighting equipment are lighter, smaller and very affordable. It is much easier to focus on the artistic qualities of making a photograph because cameras and software can take care of the technical stuff.
Furthermore photo editing software options expand our potential to create artistic portraits exponentially.
artistic portrait photography books
One of the ways that I have improved my technique at artistic portraiture is through a variety of portrait photography books.
That includes eBooks on portrait photography. I found a lot of inspiration in Ed Verosky's book entitled:Taking Your Portraiture to the Next Level.
This is just my personal review on his portrait photography book. It is not real long and not full of "fluff." There are over 60 pages in this book and 56 of them cover specific techniques.
Ed's style is modern portraiture, not overly-posed, static portrait posing. Most of the portrait examples are individuals, so don't buy this is you are looking for group of family portrait pose ideas.
The three main topics covered:
Tools and terminology
The five basic classic lighting styles
Creative techniques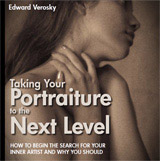 Most of the pages have photos and in most of them the subject is not doing the traditional smiling pose.
You can sense the emotion of the subject and you feel like the photographs have captured a part of the person visually.
For me, it's a great source of inspiration and posing ideas when I am stuck in a rut and want to get more creative.
One of the tips he gives and explains in detail is to "See it as sculpture" and it is something I had not tried before. On pages 59 and 60, he gives little recaps on 8 of the portraits which I found very informative on his thought process.
I wrote another detailed review on an eBook that you may really enjoy also.  It's got great information on photographing people.  You can read the review on this guide on portrait photography  here.
You can also get some additional tips by reading traditionally-printed books on portraiture. Trust me, I have a small library of photography books: Portrait Photography Books.
Happy Shooting
Photo TipMan

Back from Artistic Portrait Photography to Portrait Photography

Back to Digital Photography Tips