How to take artistic portrait photography


Creating artistic portrait photography is a skill that will take you a bit of time to master. This post will try to help you move a little faster in that direction. Let's face it. You can't become an artistic master overnight. Use these 5 tips as shortcuts to turn your average portraits into artistic portraits.
You have plenty of creativity within you. You just need a few ideas to bring out that creativity. Let's start with a question. Do you notice anything in common with this screenshot of portraits?

Screenshot of Google image search for how to create artistic portraits.
None of them are the traditional portraits with the colored background, where the subject is giving you the standard cheesy smile. The lack of color and the dramatic lighting make them more artistic right away. As you'll read next, my  portrait photography didn't start out with much of a creative slant to it at all.
Why I'm not so great at creating fine art portraits
Here's my confession. Coming from a scientific background early on in my photography education, my focus was on the technical aspects of photography and not on the artistic. My training focused on shutter speeds, f/stops, lens tilts and swings, and darkroom developing. Times have changed.
Camera and lighting equipment are lighter, smaller and very affordable. It is much easier to focus on the artistic qualities of making a photograph because cameras and software are so advanced to take care of the technical stuff.
Photo editing expand your opportunities to create and manipulate the digital details into artistic portraits. Professional photographers were mostly all men when I started my portrait business. Now that women have entered into the equation, the level of creative and artistic talent in portrait photography
"Ironically, the technological advancements in photography have made the field much of portrait photography more artistic." - Bruce Lovelace

I amy be wrong about this observation, but it seems that women are more naturally inclined to create artistic portraiture. Now that professional portrait photography has become full of terrifically talented female photographers, the level of artistic portrait photography has skyrocketed.
Wedding and portrait photography was once dominated by men. Perhaps it was more mechanical back then with a need to understand f-stops, shutter speeds and lenses. The equipment was heavy and the investment to start a photography business was substantial.
5

artistic portrait photography tips

These ideas for artistic portrait photography aren't the usual ones you'll find elsewhere on the web. These tips are really a cheat sheet. You could call them a "fake it until you make it" approach. 
---
1.

serious expressions
Shoot your subject without telling her to smile. Have you ever taken a look at a group of portraits that are labeled as artistic? The subjects almost always have serious expressions. You shoot the huge majority of traditional portraits with your subject smiling. Artistic portraits are the opposite. The subjects aren't smiling.
You will reveal more of about your subject's personality when their expression is a natural and unrehearsed. More of the person's soul is revealed when they are allowed be themselves.
2.

 keep it simple
Plan your photo so that the image has a simple subject and a simple background. The most dramatic and emotional art photos are simple. Simple backgrounds will isolate your subject and make the expression of form, texture, and composition more artistic.
3.

 use contrasty lighting
Flat lighting causes no emotional reaction in your brain when you view a dull image. Shadows evoke a stronger emotional response. It's how our brains are wired. Find or create lighting with highlight and shadow area and your portraits will look more artistic.
4.

 frame it tightly
Don't zoom out wide and include unneeded elements in your photo. This goes along with tip #2 about simplicity. Using a wide angle setting will sometimes overcomplicate your art by including too much in your image.
5.

 copy someone else's
No, don't copy their photo. Copy the idea, the style, or the composition. There's nothing wrong with trying to replicate the appearance of an image that feels compelling to you. It's nearly impossible for you to come up with an idea for an artistic portrait that hasn't already been tried.
It totally makes sense to seek out more examples of artistic portraits and try to create a similar photo, but with your own unique twist. You are a creative artist in your own right. Just as young musical artists are inspired by the musicians who have preceded them, you can find  inspiration from artistic photographers before you.
where to find INSPIRATION FOR ARTISTIC PORTRAITURE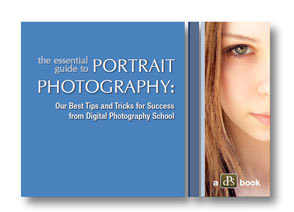 artistic portrait photography books
One of the ways that I have improved my technique at artistic portraiture is through a variety of portrait photography books.
That includes eBooks on portrait photography. I found a lot of inspiration in Ed Verosky's book entitled:Taking Your Portraiture to the Next Level.
This is just my personal review on his portrait photography book. It is not real long and not full of "fluff." There are over 60 pages in this book and 56 of them cover specific techniques.
Ed's style is modern portraiture, not overly-posed, static portrait posing. Most of the portrait examples are individuals, so don't buy this is you are looking for group of family portrait pose ideas.
The three main topics covered:
Tools and terminology
The five basic classic lighting styles
Creative techniques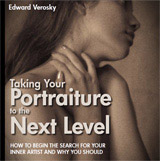 Most of the pages have photos and in most of them the subject is not doing the traditional smiling pose. You can sense the emotion of the subject and you feel like the photographs have captured a part of the person visually.
For me, it's a great source of inspiration and posing ideas when I am stuck in a rut and want to get more creative. One of the tips the author gives and explains in detail is to "See it as sculpture" and it is something I haven't tried before. On pages 59 and 60 he gives the recaps on 8 of the portraits which I found very informative on his thought process.
You can also get some additional tips by reading traditional printed books on portraiture. I've got a small library of photography books here in my office: Portrait Photography Books.
Keep shooting. Keep learning. Keep improving.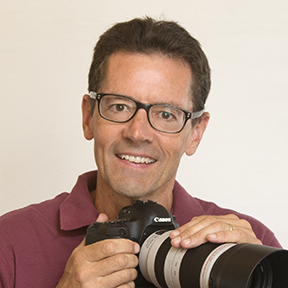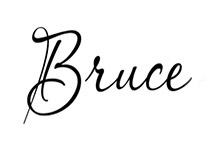 ABOUT BRUCE LOVELACE
Bruce is the publisher of this website. He is the author of the book "Improve Your Photography Instantly."  Read more on Bruce on his Bio Page. He's been known as The Traveling Photographer ever since 1994. Or read more about this website.
View some of Bruce's photos on Instagram.   Visit the Facebook Page. Watch him on YouTube.  Bruce runs photo workshops for kids and adults, and provides one-on-one photography coaching.
---