two rock solid tripods rock - best gear of the year
2022 - But not for me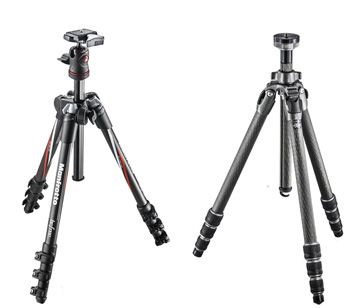 Two Quality Tripods
Gitzo and Manfrotto
The article's title stated: "Two Tripods That Rock." You'll get two tripods that are rock solid, if you choose the Manfrotto Befree carbon black tripod or the Gitzo Mountaineer tripod. 
These two steady tripods made the "Best Gear of the Year" list in the Digital PhotoPro Magazine way back in the final issue back in 2015. In my search for the perfect tripod, that same article was still on their website several years later. 
The December issue described these two accessories as popular with both photographers and and editors of the magazine. 
BEFORE YOU PLUNK DOWN ALL THAT MONEY YOU SHOULD READ THIS ARTICLE AND TAKE THE MORE SENSIBLE ROUTE.
I went in a different direction. I purchased a tripod made by Oben and this article will help you see why I chose the Oben and help you make a solid choose for your situation. You're going to find out what's good about these two steady tripods and why I chose a different tripod as the next one to buy.
Whether you're a demanding professional photographer or maybe a serious amateur with big lenses and a big wallet, these were the best according to Digital PhotoPro?
These two tripods command big price tags and grade very high on function and performance. If you're looking to reward yourself with a tripod that shines, one of these might fit the bill for you.
the gitzo mountaineer series
Carbon fiber tripods have only been around for about 20 years and Gitzo was the first company to make them. Gizo Mountaineer tripods are their all-purpose tripods. At the majority of workshops and seminars I've attended the Mountaineer tripods are popular with landscape photographers because of their sturdiness. 
The newest Mountaineers have stiffer tube legs, much improved locks, and faster adjustment to get to ground-level shooting.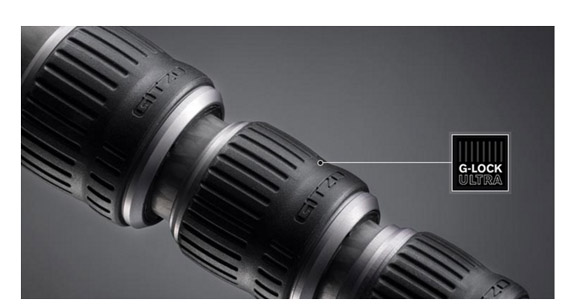 Gitzo G-Lock leg locking system
The G-lock leg locking system is one of those features that once you experience it, you appreciate the engineering and quality that goes into it.
You can find just the right size by choosing from 4 different dimensions of Gitzo Mountaineer tripods.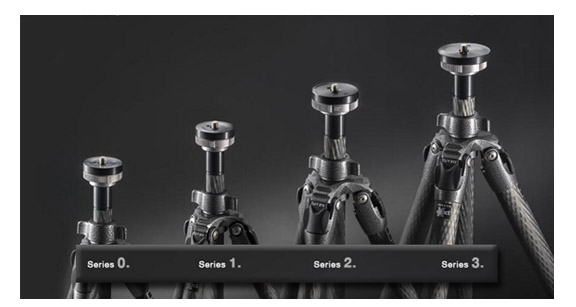 Gitzo Mountaineer Series 0, 1, 2, 3 Tripod
Even the biggest Series 3 is described by reviewers as light weight. All of the Montaineers will be rigid and give you sharp photos. Said one 5-star reviewer: Lightweight tripod that you will want to bring with you.
I didn't choose any of the Mountaineer tripods because of their sky high prices. It's a great series of tripods and is just about  perfect in all other aspects of what I wanted.
the manfrotto befree carbon
The Manfrotto Befree is designed specifically for travel photography, but that doesn't mean it won't shine as your everyday tripod too.You can fold the legs to perfectly fold around the head, making it short and easy to pack. Its closed length is less than 16 inches.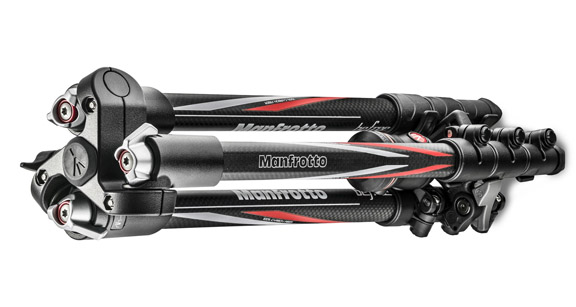 Manfrotto Befree folding legs fold around the head
You also got an interesting visual appeal as it's the first tripod to add the diagonal graphics on its legs. Of course it's good looks don't make it perform any better, but having a good looking tripod could add to your overall shooting experience.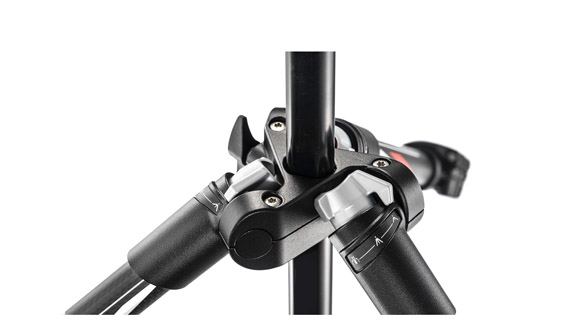 The unique 180 degree folding mechanism of the Befree tripod
The only downside to using really light tripods is that mild breezes can cause camera shake, but that is true with any brand of tripod you go with.
You get a ball head and a padded carrying case with the Befree tripods. Both Gitzo and Manfrotto have a great reputation when it comes to tripods and monopods. The Manfrotto BeFree tripods are simple not even close to tall enough for me.
They're about 56 inches tall. If maximum height is not a big issue for you, the Befree line is worth considering.
where to read reviews on these two tripods that rock
The majority of reviews I read on tripods are written by actual buyers. I shy away from the articles written by online marketers who publish camera review sites.
The buyers who write up reviews are giving you their opinions based on the experience they've had buying and using a particular tripod.
---
the rock solid tripod i chose
I'm picky about the tripods I use now. That's because I've been using them for almost 50 years. That doesn't make me a tripod expert, but it does make me an experienced tripod user. Here's a photo of the current tripods I still own. I know what you're asking. Bruce, why the heck do you have so many camera tripods?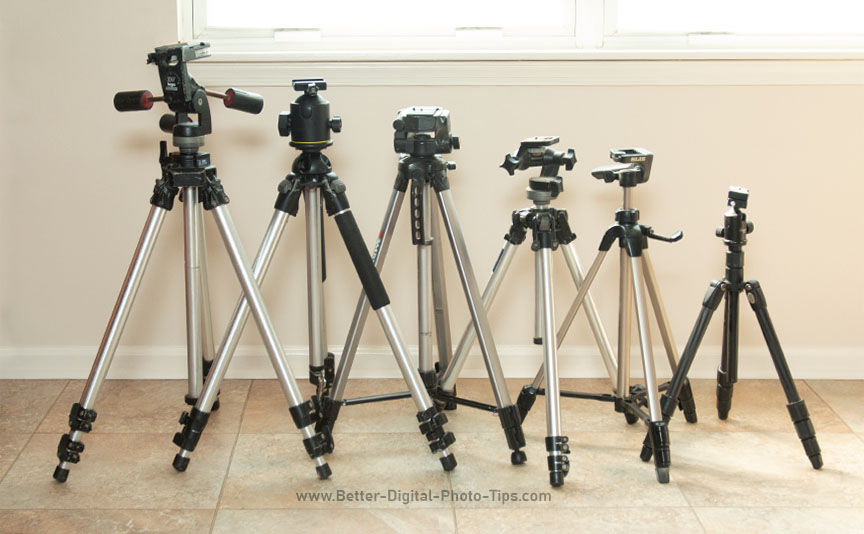 My tripod collection before 2019


This was my current collection before my new Oben carbon fiber tripod was added to the mix.
From left to right, here is the list of how these tripods came to be included in my posession. 
I still use the 2 tripods on the left and the tripod on the far right in certain specific situations.
Of course, I use my new Oben tripod most of the time now because it's versatile for me to use in all of my shooting situations and it's always exciting to use your newly photog gear.
The tripod I bought in college for using a 4x5 inch view camera.
I purchased this one in 1992 for using in my portrait photography business.
The 3rd cheap plastic tripod I bought (and repaired) and use for my kids photo workshops.
I simply don't remember where I obtained this tripod.
This was give to me as a donation to use in my childrens photography workshops
My Rocketfish tripod was purchased to use on strenuous hikes and backpacking trips where a compact size and light weight are required.
I chose the Oben carbon fiber tripod CT-2491. My requirements and the reasons I purchased it:
Has to be sturdy and capable of supporting my fulls sized DSLR and a heavy lens.
Must be lightweight and easy to carry on strenuous hikes.
Has to be able to get down really low for macro and low perspective photos.
Must have a high maximum height for high perspective photography.
Can't be priced even nearly as high as the "professional" landscape tripods costing close to $1000.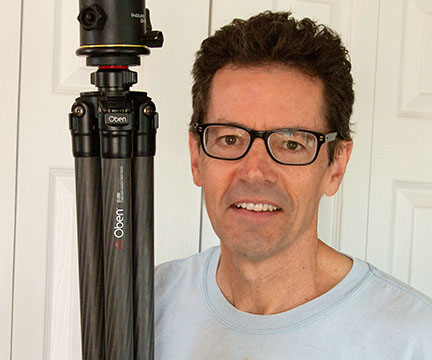 I chose the Oben CT-2491 tripod.


OBEN CT-2491
CHECK CURRENT PRICE
---
cheaper Rock Solid tripods for
2022
As an Amazon affiliate I may receive a small commission from qualifying purchases, at NO added cost to you.

---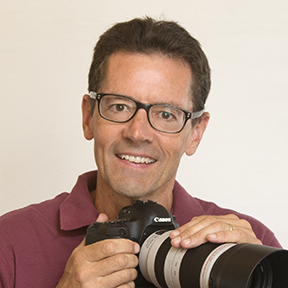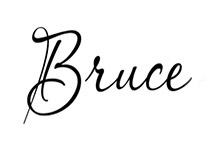 ---
---