famous nature photographers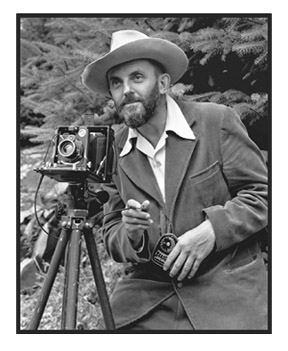 Ansel Adams
Who are the most famous nature photographers?
It's a fun topic for a nature geek like me, for sure.
There are many candidates and it is challenging to compare nature photographers from different eras.
The technological advances that have come with the advent of digital photography has leveled the playing field, and post-capture editing has exploded the possibilities of enhancing the final resulting images.
One could easily argue that Ansel Adams is the nature photographer that is the most well known of all (certainly in the USA), but perhaps not so much with the younger crowd.
Ansel likely added more to the awareness in the beauty of nature to the common person than any other photographer in history. 
The photography of Ansel Adams inspired me to become a photographer
His work was the major reason I became interested in photography as a young boy, inspired me to visit and photograph his famous stomping ground, Yosemite National Park, and choose photography as a career instead of a lucrative career as a chemical engineer.
Honorable mention, in the same area, before easier travel and photographic technologies came about goes to William Henry Jackson and his black and white photography of the west. The hardships and perseverance involved in traveling and transporting bulky photography equipment in a relatively uncivilized environment.

Heather Angel






Heather Angel.  Mrs. Angel has been writing about and photographing nature for over 50 years.  

Highly educated and experienced, she lectures, runs workshops and writes prodigiously about nature photography.

She has received numerous awards, including a Royal Photographic Society award for "Her contribution to the advancement of nature photography through her books, her teaching, her exhibition work and her encouragement of other nature photographers."



In the more modern era of color photography, I think Art Wolfe is at the top of the list of famous nature and wildlife photographers.  

Art was highly educated and talented as an artist before even entering the world of photography and his sense of design and composition is both remarkable and inspirational.




Art Wolfe


Another famous American landscape photographer is Rodney Lough Jr. Working with an 8x10 view camera, use of color and patterns in nature, processing techniques developed and perfected over a 15 year period, produces fine art quality unmatched in the industry.  
Rodney is an astute business person, earned his masters of Photography Degree from PPA and opened the largest single-artist photography gallery in the world.

Arthur Morris could be called the most famous bird photographer. Bird photography is all about long lenses, incredible patience, and specific techniques, and Arthur's images are fantastic.
One of my photos from a trip to Alaska:
not so famous nature photographer 
That would be me.  You can see some of my more recent work here:  Inspirational Nature images.
I don't have any intention of being a famous photographer, but I would like to have more time to play around with nature and landscape photography.
Shoot more photos.
Watch less TV
Bruce
Leave Famous Nature Photographers and go to Nature Photography
Go to Digital Photography Tips Main Page