camera tripods for beginners
What about tripods for beginners? This beginner's guide to tripods will help you get the most out of your tripod.
The best tripod for a new photographer should be easy to use, hold the camera steady, and most importantly, be affordable.
You have so many good choices. There are plenty of starter tripods in the marketplace that won't break the bank and will serve you well. You also need to know how to use tripods the right way. Here are 5 tips on getting the most stability from your tripod.
beginners guide to choosing the best tripod
Where do you start? There are just a few tripod characteristics that should matter to you. Here is what you will want to think about.
tripod heads and legs
Beginners don't need to buy tripod heads and legs separately. You can save money by buying complete tripods rather than buying the head and legs as separate components.
Leave the compatibility issues up to the pros. Buying a tripod that already includes a tripod head is easier and cheaper. That way you're ready to shoot right away.
capacity 
Beginning photographers don't usually use heavy, full-sized sensor pro bodies with big lenses.
New photographers typically use point and shoot and small DSLR cameras that don't require high capacity tripods.
The tripod capacity numbers are really just subjective and can be used as guidelines. There are no standardized test to measure a tripod's weight capacity.
height
You can get tabletop tripods, mini tripods, compact tripods, travel tripods, and tall tripods.
The important thing to remember is how tall you are and the type of photography you'll be doing.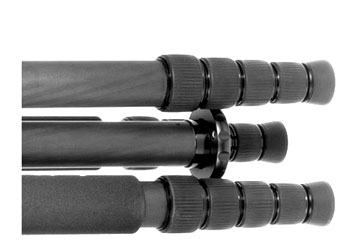 5 Leg Section Tripod
The number of sections in the legs affects the height, how heavy, how steady, and how compact your tripod folds up.
For the beginner, it's best to just keep it simple with 2 or 3 section tripods.
consumer opinions on camera tripods 
You can learn a lot about the advantages and disadvantages of any one tripod by reading what other buyers have discovered. The internet gives you access to dozens or hundreds of camera tripod reviews.
It is a great time to be a consumer!  Twenty years ago you might get a recommendation from one friend about one certain tripod. If you were really a camera accessory detective, you'd subscribe to Consumer Reports Magazine or buy a Popular Photography issue with a review.
Now you have Amazon, the King of Review Sites as your best friend.
warning about beginners tripods
You must have a realistic expectation when it comes to performance and durability. Cheap tripods are made from plastic and other economical materials that won't last as long as aluminum and carbon fiber tripods.
Treat them gently! If you over-tighten knobs, overload them with a heavy camera, or bang them around they will break.
where to buy tripods for beginners
You can buy camera tripods for beginners anywhere. You might already know I am an Amazon addict, but there are literally 1000s of place to buy a tripod that is appropriate for new photographers.
You can even get a used tripod from Craigslist or eBay if you carefully look at the credibility of the seller first. Your local box stores and the big chains like BestBuy, Walmart and Kmart have plenty enough selection.
I like to order my equipment on-line because I am lazy and don't want to drive around shopping. Amazon is my favorite because of the extensive number of reviews that consumers write about the items they've purchased.
Good luck with your tripod hunting.
Shoot more photos.
Watch less TV.
Bruce
Leave Tripods For Beginners - Return to Tripod Reviews
Tripods for Nature Photographers