taylor swifts camera for 2019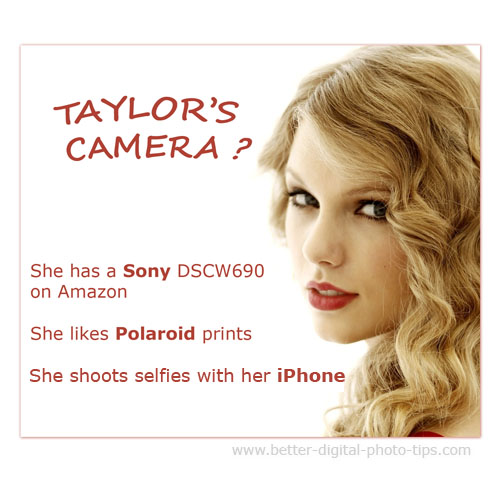 What do you think Taylor swifts camera of choice would be?
She has an incredibly huge following and has a lot of influence on consumers. Her attraction to Polaroid prints has probably caused a spike in sales for the iconic maker of the Polaroid Cube.
Polaroid has declared bankruptcy twice.  Is this the lucky break that will bring them back as a prominent camera maker?  I think not.
what's the updated camera for Taylor Swift?
I have to admit it's a sharp looking camera. More importantly, instant print cameras area a blast. Just go to a rockin' party and whose camera is everyone paying attention to? The one that pops out a print you can take home and put on your refrigerator. 
Here's the most video of Taylor Swift's new camera the Instax Square SQ6. 
---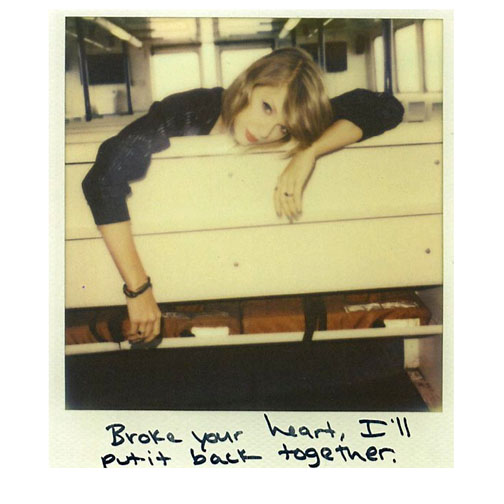 How about you?  Do you think the Polaroid photographic print will return in popularity?  There has also been a lot of buzz around the the Polaroid Socialmatic.
This camera adds the iconic Polaroid instant print with the capacity to share via Wifi.  The name "Socialmatic" is perfect too!    
---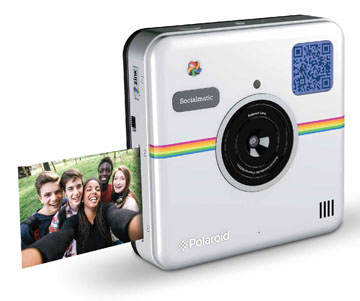 what polaroid camera does taylor swift use
Can you imagine how it would feel to have such a huge fan base that you could influence hundreds of thousands of consumers into buying a product, just because your name is associated with it?
If she were to connect with a camera manufacturer in a big way and help design it, what features would it have? Would it have to have a good recording system for shooting video with sound recording possibilities? Here are the photos of Taylor Swift's camera for 2019.
Perhaps it should have to have automatic retouching software to make you look perfectly beautiful, despite all of your imperfections.  I think it would definitely be able to Tweet, Facebook, post images on Instagram, and Pinterest, all at the same time.
video of taylor swift's old amazon camera
Here's the video of Taylor Swift advertisement promoting the Sony camera that sells on amazon. Notice the commercial is all about Taylor and not much about the camera. Maybe that's because the camera sucks.
disclaimer about taylor swifts camera
I have no insider knowledge about Taylor Swifts favorite camera.  I have never met her. I don't follow her twitter account, nor have I talked to any agent or representative for Taylor.
I am just a camera geek who is fascinated about how our society idolizes its celebrities and wants to know everything about them.  This may include the underwear they buy, the toothpaste they prefer, and yes, even Taylor Swifts favorite camera.
Should we buy a specific camera because it's the choice of our favorite celebrity?  I am not so sure. One of the things I do for readers of the Better Digital Photography Tips web site is offer help for choosing the best camera.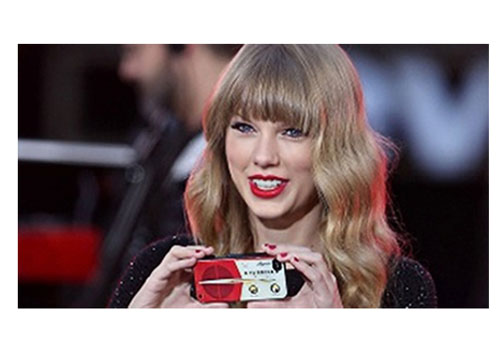 Taylor Swift: iPhone or Polaroid Cube
How often do you think Taylor Swift has a traditional digital camera with her?  I'd guess not very often. I am thinking she likely uses her iPhone as her camera 95% of the time, at the least. I'll suggest to you that you might choose the best digital camera based on your own interests and preferences and not those of iconic celebrities. What about the favorite cameras of the stars on Shark Tank?
Warm Regards,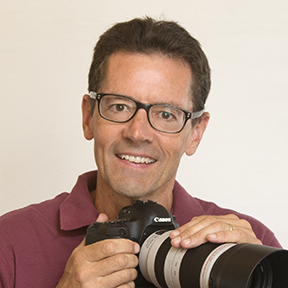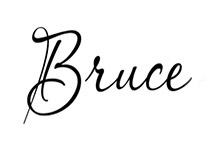 ABOUT BRUCE LOVELACE
Bruce is the publisher of this website. He is the author of the book "Improve Your Photography Instantly."  Read more on Bruce on his Bio Page. He's been known as The Traveling Photographer ever since 1994. Or read more about this website.
View some of Bruce's photos on Instagram.   Visit the Facebook Page. Watch him on YouTube.  Bruce runs photo workshops for kids and adults, and provides one-on-one photography coaching.
---
---
---