how to resize pictures

resizing photos

You need to learn how to resize pictures.
You want to share your digital photos with your friends and family.
It's good to know the best picture sizes for printing, emailing and sharing on the web.
Printing
Whether you are printing at home using your own printer or sending them off to your local drug store, department store or national online printing company such as Snapfish or Shutterfly, you will get better digital photo prints by learning a few things about resizing photos.
Your ink jet printer in your home or office actually prints tiny colored dots on a page. Resolution in printing is measured by "dots per inch" or DPI.The dots are so small and there are so many that your eyes perceive them as continuous colors.
If you try to print a 72 PPI picture on a 300 DPI printer, it won't usually look as good as it does on the computer monitor. The printer doesn't have enough dots of information to create a clear, sharp image.
Emailing
Most digital camera have large sensors and give you big picture files. Sometimes those big files will slow up your computer or be too big for many email programs to handle. If you make picture smaller, like to a 5x7 inch size at 72 PPI, it is big enough to view on your computer and small enough to send by email.
Sharing on the web
Viewing photos online does not require a large photo size. Computer monitors resolution and photos on your computer are measured in "pixels per inch" or PPI.
Pictures on the Web are usually 96 or 72 PPI because that is the resolution of most computer monitors. Higher Resolution is a waste of memory.
how to resize pictures with web sites
Picasa by Google is a great, free down loadable program from Google. It's simple to use, has many retouching, editing and organizing features.Click the link to watch the introduction video on Picasa. It shows you many of the cool features, including a button that will resize pictures in order to email them.You can also make movies, create collages, get rid of red-eye, adjust lighting, crop, print, organize albums and print. It's an amazing photo editing program and it's free. It is also non-destructive. That means that you can return you picture to it's original state with the click of a button.
www.shrinkpictures.com. I found a great web site for you to use for free! This is a real easy way to shrink your photos for email. It has a browse button right on it, so you can load your better digital photos from your computer and resize your picture and save it back to your computer.
 Resize Your Image web site.  I just added this resource. It's a newer site than the shrinkpictures web site and cropping and rotation features make it very versatile.
"Adobe Photoshop". Sometimes the need arises for me to reduce photo size of an image. I will reduce photo size for several reasons: to share with a client though email, to use in a video slide show, or to speed up my presentation to clients on my portable laptop computer.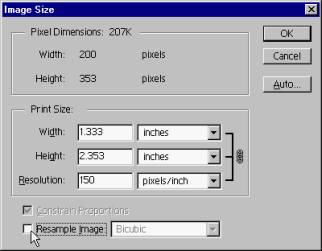 I use "Image Size" in Photoshop because it gives me complete control over the dimensions, the resolution and overall size of an image. You can also vary the quality setting when you save an image to compress the data more without losing pixels.
Have a blast with your digital photography!
Bruce
Go to Digital Photography Tips Home Page