use morning light
Try to use morning light to get a different feel to your photographs. The early morning is a great time to get take advantage of beautiful lighting in photography. And after all, good lighting makes for great photography.
Nature photos and landscape photography are two good situations to take advantage of doing photography at this time of day.  I do most of my macro photography in the morning, when the air is still and the lighting is sweet.
This photo by cobalt123 has such a beautiful feel of morning light.
It is a soft light that has direction and really brings out both texture and detail in this plant.
It makes the photo appear almost 3 dimensional.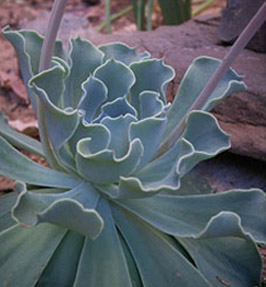 "Early Morning Succulent Grace"
Have you ever noticed that when you focus your mind on something, that something tends to appear in some way in your life? If you purchase a new car, or a pair of shoes, then suddenly you notice how many other people have made the same purchase.

I was enjoying my coffee just after sunrise and noticed this beautiful warm glow of light streaming through our front door. I had been focusing for several days on a topic to cover as my next article.
I thought about lighting in photography as something I should write more about. After all, it is the light that creates the form, textures, shapes and the colors of photographs.
Normally, I would not consider the floor or the door to the basement as a particularly interesting subject to photograph. 
Being a photographer (and a lighting geek), I was immediately struck by the textures and reflections created by this morning light.
As a photographer it can be great practice for you to occasionally stop and look at the light. Once her twice during your busy day, stop for just a few seconds and observe where the light is coming from and how it is revealing objects or people.

Look at textures, shapes, shadows and brightness of different areas of your field of view.
look for inside morning light
You never know when photo opportunities might arise. May it a practice to be ready and have your camera convenient to get to. Office buildings, restaurants, and stores often have large windows and early in the morning you may get a chance to take an interesting photograph.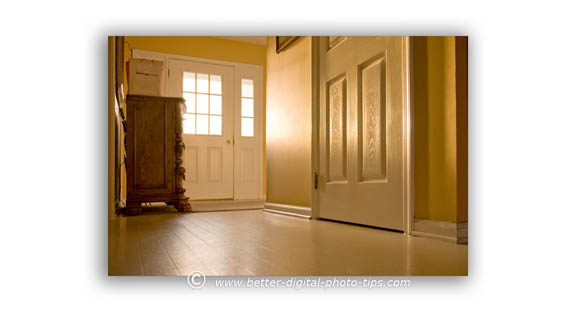 I set my coffee down, grabbed my Canon 5D and took this photo to illustrate the point of this article on lighting in photography. I was fascinated by the texture, shapes and reflections of the morning light coming through the frosted window panes of the front door.
I was particularly interested in the differences in the reflections of the sunlight on the floor, on the wall, and on the side door.
It's a continuous process.
It has taken me many years of practicing to See the light and get better at recognizing the 4 Elements of Photo Lighting.
Please take advantage of all of the tips on taking digital photography on this web site.
Have fun with your camera whether you are are just beginning photography or are an advanced amateur photographer.
| | |
| --- | --- |
| | If you enjoyed this article titled "Use Morning Light" please share it with a friend.  I really appreciate your support. Have a blast with photography lighting! |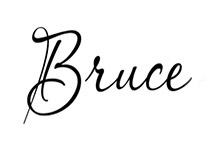 ---
---
Go to Digital Photography Tips Main Page
Leave Morning Light and Return to Photography Lighting
p.s.  If you try to use morning light for portrait photography it's a good idea to make sure your subject is fully awake before taking a portrait of them.   (:-o)
why not use morning light and share it with other readers