creative portrait photography technique
Using a little creative portrait photography technique means thinking outside of the box. You can take traditional "safe" portrait poses of your subject first. Then get a little creative. Here are 5 techniques to make your portrait photography stand out. This small gallery will give you creative ideas you can copy.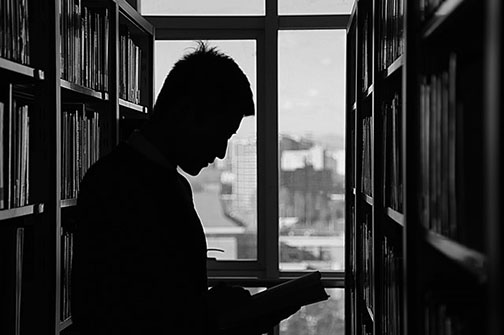 Try silhouette portraits in unique locations


This is an interesting portrait portrait created by one single light source behind the subject. Combined with the library environment, it's an intriguing story telling pose that reveals something about the interests of the subject being photographed.
technique 1 - find good backgrounds 
Backgrounds can make or break a photograph. Look for backgrounds that either have very little detail and distractions or that have patterns or texture that go with your subject. One of the biggest mistakes in portrait photography is bad background technique.
Sometimes just moving your position a few feet can dramatically improve your portrait.
With this sibling portrait, the background chosen has a repeating pattern that doesn't detract from the subject. Try backgrounds that are simple. Dark solid colors tend to be less distracting than well lit backgrounds with bright colors.
2. Creative Portrait Photography Technique:  use reflections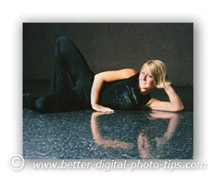 Use Creative Reflections


We did this high school senior photo session in the dance studio. I noticed the shiny reflectiveness of the polished floor, so I thought I would have some fun with it.
I posed her arms in such a manner so her the arms and their reflections did not lead your eye out of the frame.
The mdoel was dressed in black, so only the flesh tones reflected on the floor, creating an interesting dynamic of composition. Smooth surfaces like water, windows, mirrors and polished floors can all be used to get this effect.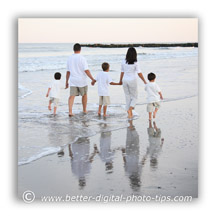 Use Water Reflections


I get the chance to do a lot of Beach Photography and I like to use the reflection technique when the water is just right.
Sometimes having the picture tell a story instead of being a standard pose makes it a unique shot. I directed my beach family of five to walk slowly away from me.
I often shoot quite a few frames with my subject walking toward me as well as away from me. The other important thing to watch for is the height of your subjects.
In the beach portrait sample above, the photography pose I used is called the "M" pose. This particular portrait photography technique works well with family portrait photography when you have 2 adults and three children.
If you draw an imaginary line starting from left to right, from one head to another, you have written a capital M. Having one or both of the adults on an end would make it an unbalanced composition would be a posing mistake.
Photography Portrait Tips. In addition to these portrait techniques, here is another photography article with portrait tips. This one, giving tips on posing an individual's portrait, has photo examples to make each point.
Photography Lighting Equipment.  Portrait photography lighting is also very important.  This article talks about the different lighting systems available and the different characteristics of each type of lighting equipment.
technique 3 - tell a story
This creative technique involves just a little forethought. Storytelling portraits have more of an emotional impact than the typical standard pose. I positioned these babies with their heads tilting inward to tell the story of these two who were born just 5 days apart.
Rather than just a mundane snapshot you can get creative with making the pose the unique and telling a story.
One of my favorite poses with this family portrait was the interaction of the 2 year old big brother and his daddy listening for a sound his soon to be sister.
Both of these next two portrait techniques were used as part of the porch project during the Covid-19 pandemic shutdown. As a way to give back to the community, a couple of professional and enthusiast photographers volunteered their time and talents to photograph the families in their small town.
4. Use Unique Clothing
When you tie your group of subjects together with a common activity or common identity it makes for a clever portrait. Here are two examples, one with common clothing and one with the use of a common prop.
This father and his two sons are first responders in their small hometown. I posed them near their front door with the father positioned on the first step of the porch to make him taller than his two boys in the composition.
Similarly, in the portrait below, there was a commonality that was very important to the client. These 4 brothers all enlisted in the Navy.
When my kids were young and playing youth soccer I used the same idea with all 5 of us dressing in our soccer uniforms. My three kids each wore there soccer jerseys and my wife and I dressed as soccer coaches for our selfie family portrait.
5. Use A Common Prop
After a heavy wind and rainstorm, this family was photographed with each of them holding their own umbrellas. I placed the two daughters in between the two large trees to add a little visual interest rather than them just stand four in a row.
Another version of this technique in addition to them all wearing blue jeans could be to have matching umbrellas. 
You can take advantage of another valuable source for some creative portrait technique ideas by browsing through books on portrait photography, I have a small library of books and they've been very helpfful to me in my portrait photography business. 
Books about Portrait Photography Technique
It's no doubt, you can find a lot of free information on techniques for creative portrait photography. Hey, that's what you're getting on this website.
But what about buying a traditional, old fashioned book about portraits? There's something to be said about having a printed book on your shelf, easily accessed and held in your hands.
You can search reviews on eBooks or printed books on portrait photography and add to your knowledge and skill set. Why buy when you can get it for free? Two reasons.
EXPERIENCE. It's a different experience. Just like reading a book printed novel on paper is different than reading it on a Kindle or a Nook. Screen resolutions are absolutely great these days, no doubt. But there is something unique about seeing and feeling the physical pages in your hands as you read and explore a physical copy of a book.
SPEED. Finding bookmarks in a book is faster. I have several books in both printed and Kindle versions and it's so much easier to flip through physical pages to your bookmarks than it is to find a digital bookmark. And who doesn't like to save time looking for something? 
Stay inspired and creative. Keep shooting.
Enjoy related creative photography techniques by using one of the links below my signature.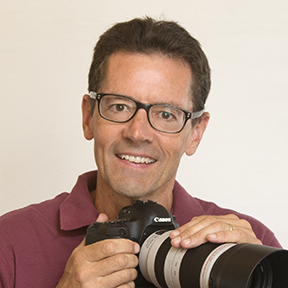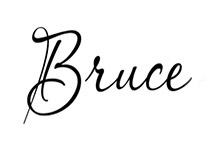 ---
Back from Portrait Photography Technique to Portrait Photography Tips