How much does a tripod weigh?


How heavy are tripods?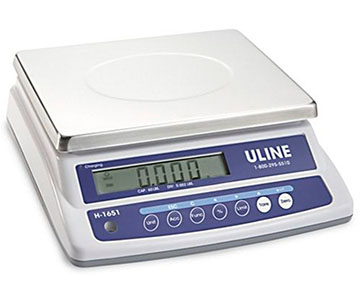 Scale to weigh tripods
You've been trying to find out how much does a tripod weigh and how much of your equipment can a tripod support.  You really don't want too heavy of a tripod but you also want a that's plenty steady. Let's dive into the first answer right away and then piggyback the important second question.
About 90% of tripods weigh less than 9 lbs. and more than 65% of all tripods weigh less than 5 pounds. More precisely, almost all regular everyday tripods weigh between 2 and 5 lbs.
I know that's not very precise, but here's the problem. There are millions of tripods already in use, thousands and thousands of tripods for sale, and there is no "Tripod Accounting Authority" to keep track of them all. Besides that, tripod designs and performance have improved a lot in the last 10 years.
In all seriousness, all we can do is estimate the average weight of a tripod. 
tripod weight by class
To find out what tripods weigh it would be too confusing to include all tripods in the search. It makes more sense to look at the type of tripod you're considering. You can divide tripods into 5 different classes and you'll get a good idea on what they typically weigh.  Here's a tripod weight comparison table, followed by a graphic version of the table with the same information, in case you want to share it. 
table of tripod weights
Pocket Tripod
Phone tripod
Tabletop
Mini tripods
Travel
Hiking
Light Duty
Medium Duty
Photo Studio
Tripods With Wheels
---
Chart of tripod weights


---
how much does your tripod weigh?
I researched a bunch of different sources, trying to find out what is the average weight of tripods is for photographers who answered a poll on that questions. The following tripod weight bar graff is one of the only useful polls I found, adapted from the forums over at photography-on-the-net.com.

Tripod Weight Bar Graph
how heavy are my tripods
As part of my research on the weight of camera tripods, I thought it would be interesting to check out my own collection of tripods and see how I compared to everyone else. I weighed them all on my wife's kitchen scale, so the weights should be very accurate. Here's what I found out.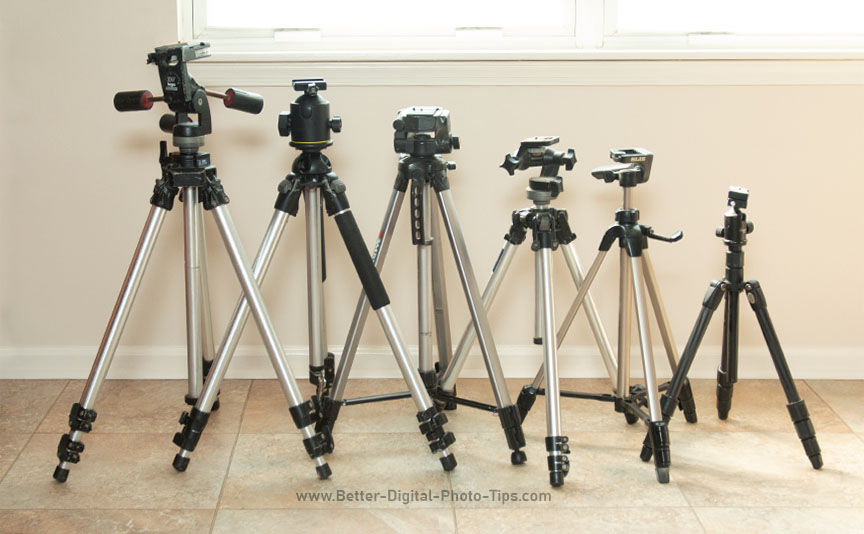 Going from left to right, the weight of my tripods are: 
The first thing that became evident is that I am definitely a camera geek. Seriously, who the heck needs 6 different tripods? Secondly, I realize that the older I get the more I like lighter tripods. The largest one of course, all the way to the left, is the one I used in photography school. It was capable of holding my 4x5 inch view camera, which weighed about 15 lbs. That's a Bogen with heavy duty legs and a massive 3-way tripod head, totaling a weight of over 9 lbs.
The smallest and lightest one is the carbon fiber Rocketfish tripod, all the way to the right. That's the only one I take with me when I'm taking vacation photos or hiking on a nature photo excursion. That tripod weighs less than 3 lbs.
video on tripod WEIGHTs
The topic of tripod weights needed to be covered on Youtube too, because a lot of people prefer watching videos instead of reading an article. I shot the following 5 minute video and would love to hear from you on what you think.
I you can leave a comment below the video on the Youtube website, I'd rally appreciate it. To watch it on Youtube, just click the little youtube icon in the bottom right corner of the video below, or click this link: Tripod Weight Video.
The truth about tripod weight capacity
The key is to find out how heavy should a tripod be in order to support the camera/lens combination that you have. Manufacturers can claim the weight capacity of their tripods any way they want. There is no universal testing method or standard rules on how to rate the load capacity for individual tripods.
Tripod sellers usually have a few different lines of tripods, each with different materials and different rating for load capacity.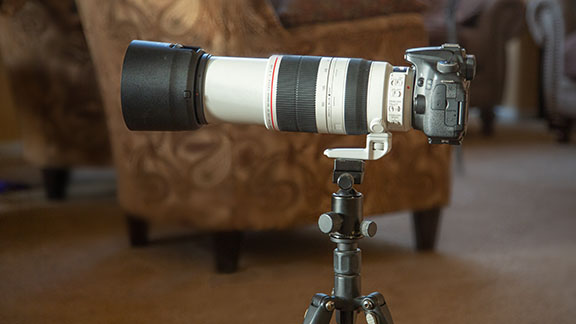 Overloaded tripod but evenly balanced.
Stable only if you're careful and keep it level.
You can get a tripod to hold up a much heavier load than the tripod is recommended for. The problem is that its performance will be very poor under such conditions. It's really a subjective thing and you can read the opinions of a bunch of other photographers to get a rough idea on what load capacity is appropriate for your camera and for your stability needs.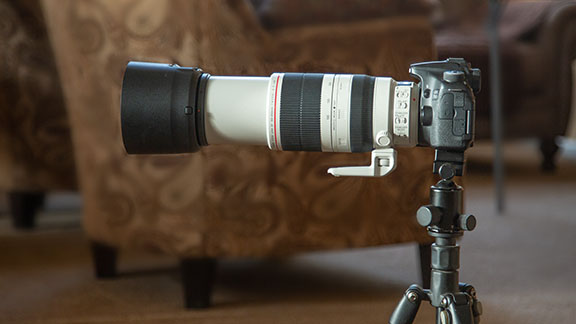 Overloaded and poorly balanced.
Disaster waiting to happen!
You can use the load capacity ratings of different tripods for comparison purposes at best. It makes more sense to have extra load capacity, rather than maxing out your tripod or worse yet, overloading your tripod with too much weight.
what is a tripod weight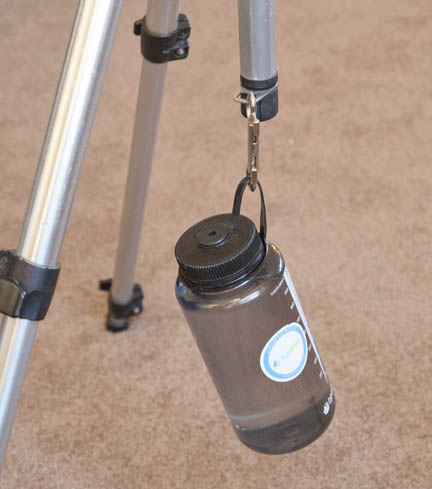 Water bottle weight
One way to get sharper photos and increase the stability of your tripod is to make it heavier. You can add weight to your tripod in a variety of ways, including adding an accessory called a tripod weight. It's just like it sounds. You can literally use anything that will stay stationary and not touch the ground.
I go for the DIY method of stabilizing my tripod. You can hang anything from the center post of your tripod to weigh it down. I carry an empty plastic bag that can be filled with anything nearby your photoshoot, but you can also buy one of these styles of tripod weights. 
---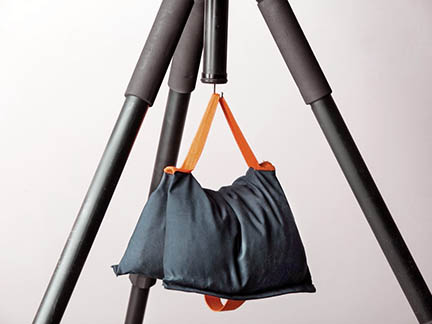 Center Post Sandbag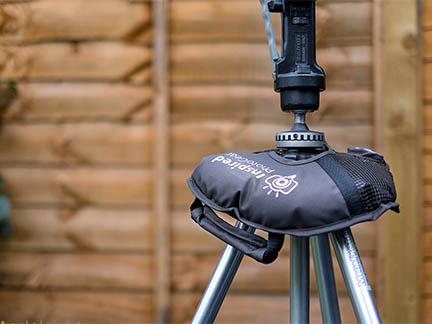 Water Weight by
Inspired PhotoGear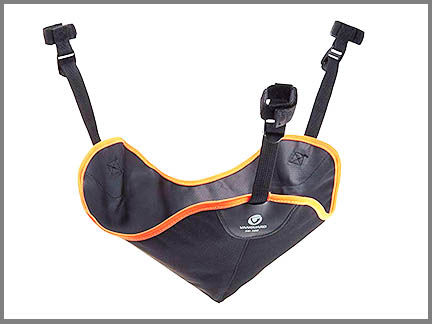 Tripod Legs Weight Pouch
final thoughts on the weight of your tripod
Both the camera and lens determine how heavy your whole set up is going to be. Tripods vary greatly in how much they weigh and how much they support. Lightweight camera-lens-tripod-combinations will become significantly more steady with the addition of tripod weights.
related tripod articles
---
Keep shooting. Keep learning. Keep improving.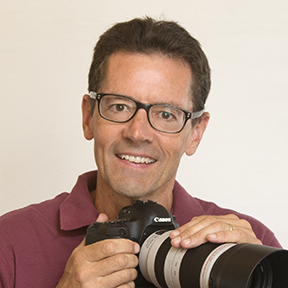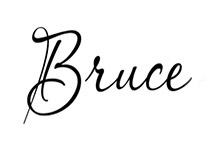 ABOUT BRUCE LOVELACE
Bruce is the publisher of this website. He is the author of the book "Improve Your Photography Instantly."  Read more on Bruce on his Bio Page. He's been known as The Traveling Photographer ever since 1994. Or read more about this website.
View some of Bruce's photos on Instagram.   Visit the Facebook Page. Watch him on YouTube.  Bruce runs photo workshops for kids and adults, and provides one-on-one photography coaching.
---
---