selfie monopod


(

monopods for self portraits

)
Here is a selfie monopod with blue tooth remote shutter release.  Currently it's very affordable at less than $10.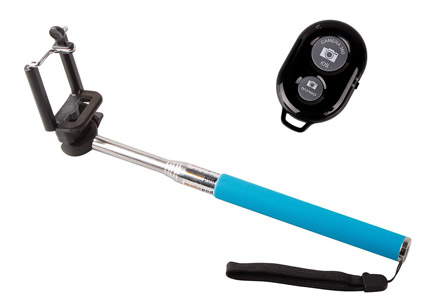 These devices are one of the most affordable digital camera and cell phone accessories you can get that will add to your picture and video taking pleasure, but there are................  
 .......several important issues you need to be aware of first.
selfie monopod features to watch for
Compatibility.  The culprit for many complaints about monopods for self portraits is the mistake of buying the wrong one. Smart phone come in a variety of sizes with different shutter release buttons.  It's important to ge the right match between your phone and the right monopod for it.
It's smart to buy a monopod that has a good adjustable bracket so that you can use it for your next phone purchase.
Length.  Most selfie monopods are adjustable for length, giving you the ability to compose your photo with the right distance from the camera to you.
Shutter trigger.  Wireless/remote triggers are versatile for other photography uses besides taking selfies, but also mean you need to use a 2nd hand to trigger it.  Using the self-timer function frees up your hand, gives you extra time to compose yourself, but the exact timing of exposure may be challenging to anticipate just right.
Angle Adjustment.  It can be quite awkward to take a decent photo if you can't adjust the angle your smart phone or point-N-shoot camera is aimed.
Strength.  When fully extended, some monopods are simply not sturdy enough to hold the weight of larger smart phones.  As a general rule, the lighter a monopod is, the less sturdy and strong it is.
This is another common area of disappointment that buyers have experienced.  Bigger phone and longer extensions require ticker monopods.
How do you choose the right one?
1.  Purpose.  Take a minute to really define exactly how you are going to use this gizmo.  Watch the video below just to stimulate your thoughts on how you want to use your monopod.
2.  Budget.  If you are really strapped for cash, don't waste your time looking at the high end models.  Just realize that your use of your monopod may have a some limits.
3. Reviews.  Read the reviews opinions of others who have purchased your perspective monopod.  I read the reviews on Amazon for just about any purchase I can think of, even things that I am not going to buy there.
Amazon has millions of items sold, cameras and accessories included, where many consumers give their honest opinions, positive and negative, and their return policy is excellent.  
If you make a purchase on Amazon when visiting from a link on the Digital Photography Tips web site, Amazon give me a little financial thank you and that helps keep this site going.  I do appreciate your help.
Read the comments and reviews from buyers of selfie monopods on Amazon
istabilizer monopod - video
One of the pricier, high quality monopod is the iStabilizer.  The video below should be interesting for you to view, giving you some ideas on other ways to use a monopod in addition to the standard photo of your self and your friends.
It is a great time to be interesting in photography and video.

Have a blast!
Bruce
Digital Photography Tips Home Page