photography lighting systems and kits


(

flash photography equipment options

)
looking for a few thoughts on photography lighting systems
?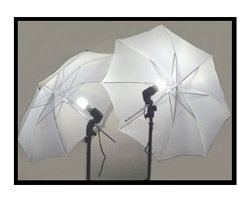 Umbrella and Flash Gun
Lighting System
There are so many photography lighting systems and kits available that it's hard to choose what direction to go.  
This article only applies to flash photography lighting equipment and is for beginners.  
If you are an advanced or pro photographer, stop reading any further. You can't learn anything here. (Just kidding)
It's helpful to realistically determine your needs and wants for lighting equipment first before looking at specific photography lighting systems.
There are pros and cons to all lighting systems and the lighting technique you use depends on the light sources you have available.
Here are a few systems and the advantages and disadvantages of each:
built-in camera flash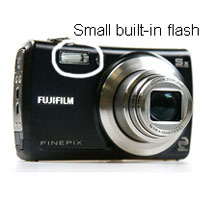 Most would not classify this as a system at all, but these flashes do integrate seamlessly with the camera.
My least favorite by far, this is the small flash that is already built into your camera.
The biggest pluses are that is is always there, very easy to use, and ready to use at all times.
advantages of built-in camera flash
Convenient
Automatic
Small and Lightweight
Comes with the camera
disadvantages of built-in camera flash
Not much covering power
Creates distinct shadows
Not at all versatile
Often creates Red Eye
Can be blocked by your finger position
pop-up camera flash
Usually on higher quality cameras.
It may have more power and a bit of flexibility.
You can add a diffuser on top (see the photo).
This may soften the light quality a little.

Diffusing it like this will reduces it's coverage significantly.
Pro

Easy to open or close for use

Automatic

Light is above camera lens

Can be modified with diffuser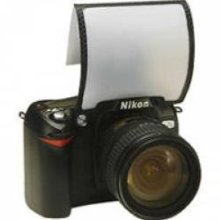 Con

Average covering power
Creates distinct shadows
Only slightly versatile
Can't bounce the light
speedlite or shoe-mounted 

Lots of power settings, versatility and options for added accessories.
You can add attach the speedlite to the top of your camera or use it off-camera by using a transmitter on top.
Can also be bounced in many directions and you can attach high capacity batteries to shoot photos all day.
Truly can be used as a lighting system when combined with several other units or other light sources.
---
---
Pro


Still small and easy to carry
Very powerful and versatile
Light aim in many directions
Can be modified many ways
Adjustable power settings

Con


Purchase separately
Needs it's own batteries
Makes your camera a little heavier to carry
Sized to use on DSLR cameras only



professional studio lighting equipment
The next group of photography lights is professional studio equipment that needs electricity.
There are lights that feature a separate power pack with individual lights that plug in and also individual studio lights that are powered independently from each other, called monolights.
I recently came across some very positive reviews on a piece of lighting equipment that I wanted to pass on to you.
Some photographer likes to put their own photography lighting systems together by combining equipment that they already own and adding to it.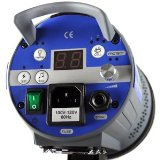 Monolights are versatile lights that pack plenty of power to handle almost all photography lighting situations.
They come with a modeling light that closely mimics the lighting effect that you will get when the powerful electronic part of these flash units fire.
Monolights are often used with umbrellas or soft-boxes and the Cowboy Monolight gets good reviews on Amazon. You can get Cowboy Monolights by them selves or as part of a kit.
---
---
Lighting systems have several characteristics that need to be considered before buying one. Here are some more thoughts on Photography Lighting Equipment.
Have a blast improving your photography and please share these digital photography tips with someone you care about!

Happy Shooting!
Bruce
Back to Photography Lighting Techniques

Back from Photography Lighting Systems to Photography Lighting Kits