new manfrotto monopods
Are you an outdoor photographer?

The new Manfrotto monopods are part of several new products that Manfrotto has announced as part of a series of accessories aimed at photographers who like to combine hiking and shooting.
It's called the OFF ROAD COLLECTION.
At the time of this post by Jaron Schneider of resourcemagonline, there's been no update on the Manfrotto web site.
I've occasionally used a traditional camera monopod for hiking, but as you can see from the photos below, both the tips and the handles are different in form and function for hiking sticks and monopods.
More importantly, unlike the traditional camera monopod, the new Manfrotto sticks are designed to be a sturdy accessory, appropriate for safe hiking on rough terrain.
These sticks are less than a pound and a half which make them the lightest that Manfrotto offers.
Part 2 and part 3 of Manfrotto's new off road collection are newly designed tripods and backpacks. I understand the new tripod design with the trended new colors, but I am not convinced that the backpacks are such a great idea.
In an effort to increase sales, companies sometimes mistakenly expand their product line in tangents that can dilute their core product line.  This can lead to a lack of focus and damage the identity as "THE BRAND" to get with a certain product line.
Time will tell.
new manfrotto monopod colors
These new accessories come in bright colors, a trend that seems to be somewhat popular in the monopod and tripod industry.  The Manfrottos come in red, blue, and green.  It;s too early to have any valid feedback on what consumers are experiencing yet.
You could become a trendsetter among your photography friends by owning one yourself.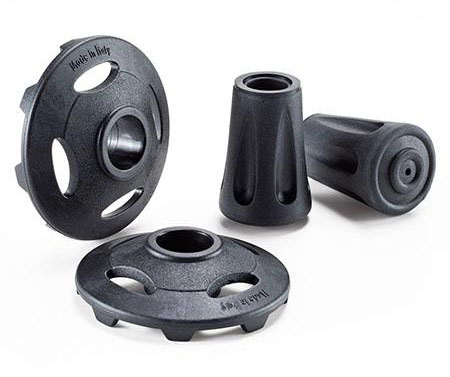 Manfrotto basket tips
Here is what's included:
Manfrotto OFFROAD Sticks
Basket Tips (for Snow)
Rubber Feet
Manfrotto 2 Year Warranty (Additional 3 Years with Online Registration)


where to buy new manfrotto monopods
To find out more or to buy one of these new manfrotto monopods, here are two retailers I use:
Manfrotto OFF ROAD monopod at Adorama
Manfrotto OFF ROAD monopods on Amazon
related monopod topics
Manfrotto Monopods - long considered the best brand in monopods and tripods
Articles on Monopods  - dozen of articles on monopods, tips for getting the most out of them, and monopod accessories.
Sticks for Selfie Portraits - much more affordable due to the smaller load they have to carry, the are one of the hottest new accessories.
---
---