Is It Safe To Buy A Camera Online
Your days of buying a camera at the local camera store or from an advertisement in a magazine have all but been completely replaced by buying cameras from online retailers. But is it risky? In this post we dive into whether to buy a camera online is safe or not, as well as what steps we can take to avoid getting burnt from an online purchase of camera gear.
Buying a camera online is very safe. If you you buy your camera from a reputable dealer and there is a solid no risk return policy you won't risk getting burned. Ordering a camera with a credit card that has good buyer protection policies gives you added protection.
Additionally if you buy a specific camera that has a high number of positive reviews your odds of having any issues are further reduced. 
According to ibisworld.com, Online Camera Sales, the online camera selling business is huge, coming in around $9,000,000,000 per year. Yes, you heard that right, 9 billion dollars.
If online camera buying was highly risky and a large percentage of camera buyers were getting screwed, it wouldn't be so successful for such a long time. Have there been issues? Of course, just as there has been with all types of consumer purchases.
Eventually, if there is a significant segment of consumers getting hurt either the marketplace, consumer protection organizations, or the government step in and influence the needed safety changes.
risks of buying a camera online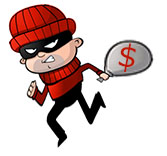 Identity Thief
What are the risks to buying a camera online? Here's a list of the top 4 hazards of ordering a camera online.
1. IDENTITY THEFT/FRAUD. According to smallbizclub.com the biggest risk isn't a defective product.** It's Identity theft and credit card fraud. In reality, you're more likely to get scammed by responding to an email or clicking on a link in an email, even if it looks legitimate. The major online retailers pump a lot of money and other resources into security.
Try avoid storing card details on e-commerce sites. I break this rule with Amazon, but for most sites and I don't save my credit cards on their sites.

2. FAKE SITES.  Scammers can easily build websites that look like the real thing. This is easy to avoid by simple typing in the address of the retail website you want to visit. You can also confirm by look at the address bar at the top of your internet browser to make sure your on the rite website.
3. FAKE REVIEWS. This is less likely to happen much with cameras made by the large manufactures like Canon, Nikon, Sony, and Panasonic. It's more common with book reviews and other products marketed by individuals rather than large companies.
4. MALWARE. Malware is software that is downloaded to your computer from you being tricked into clicking on an advertisement on a webpage or in an email. A lot of malware is harmless, but some is designed to steal your private information, damage or disable your computer.
safety and benefits of buying your camera online
Sure, there are always some risks with any financial transaction, but don't forget the benefits too. In addition to the risks of online camera shopping you need to look at the advantages too and then decide if it's right for you. Here is a list of the pluses of online camera shopping.
You can check the customer feedback on any online retailer before buying.
You can thoroughly research the specific camera you are considering to buy.
Some offer toll-free ordering with a real live person.
Price and feature comparisons give you confidence that you're getting a good price on an excellent camera.
You can shop 24 hours a day, giving you control on when you have some uninterrupted time to research the vendor and the product to make sure you're making a safe camera purchase.
Online camera purchases are heavily encrypted with protective software.
---
How to Safely Buy Photography Gear Online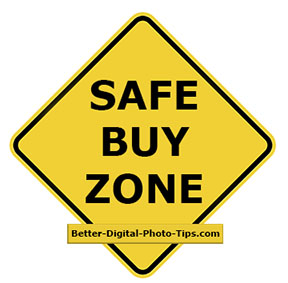 Create a Safe Buy Zone


You're probably wondering how to buy a camera online safely. There are a few easy steps you can take to keep your online purchase of a camera as safe as possible. 
WEBSITE URL. Whatever online seller you decide to use, you want to make sure you're actually on the right website. The best way to do this is to type in website URL directly into the address bar of your web browser. You can also use Google to search for the correct website. The results of your search will make the legitimate website obvious.
remember the the "R
s"

of online purchases

1. REPUTATION: Investigate the reputation of the seller, particularly if you're considering individuals or a NON-big brand companies to buy from. You can use Google and search for customer service reviews on any company in the world.

2. RETURN POLICY: All trustworthy camera sellers should have a friendly return policy. There should be a decent return period of at least 2 weeks or, better yet, 30 days. That gives you a chance to test drive your new camera. You'll need to be extra careful in protecting your camera from dirt and dings so insure that you can return it in pristine condition.

3. REVIEWS: Reviews that buyers have already left are a good indicator of the quality of the product and the safety of dealing with a particular vendor. Look for products that have a larger number of reviews. Be skeptical of reviews that lack detail, or are too positive. The short reviews are sometimes not worth that much.

The really long, detailed online reviews of cameras are a goldmine for finding out what's good and bad about specific camera models. You can also use professional camera review sites to research specific cameras ahead of time.

The graphic below sums up the the ways to stay safe with your online purchase of a digital camera.
---
is it safe to buy a camera on Amazon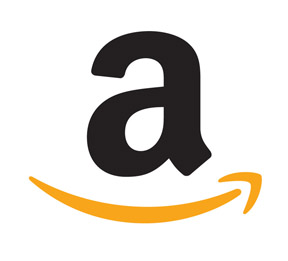 Amazon is the leading online retailer in the world, but that doesn't automatically mean they're the safest. Amazon allows 3rd party sellers to list and sell camera gear on the Amazon site.
I've purchased more camera equipment from Amazon than any other online retailer, but it's because I'm a self-admitted Amazon addict. It's THE PLACE I go for reading reviews on just about any product you can think of.
The only real danger of using amazon to buy a camera is if you buy it from a 3rd party seller with a bad reputation for customer service. That's a red flag you'll see if it's an issue at all with one of the Amazon vendors.
If you look at the table further on in this post you'll see of all of my own online camera gear purchases. You'll see my addiction with using the internet for purchasing digital cameras!  LOL.
is it safe to buy a camera on ebay

Ebay is the second largest marketplace in the world. It has evolved dramatically from its early days An estimated 430,000 people in the United States make all or most of their living by selling on eBay*. I made my first ebay camera equipment buy in 2003.
It wasn't a camera, but I've ordered dozens of items from ebay over the last 20 years and much of it and camera equipment. The only time I had to return an item was a camera lens that wasn't sharp, so the only loss I incurred was that I had to pay for return shipping.
my online CAMERA equipment buys
Early on I was very suspicious and reluctant to order anything online, especially expensive cameras, but I started with ebay purchases of several non-photography buys and slowly build up confidence over the years. Things are so much more secure nowadays, that in addition to online camera equipment, our household orders  everything you can imagine under the sun via the internet. Here are my major online camera purchases:
| | | |
| --- | --- | --- |
| YEAR | ONLINE VENDOR | ITEM PURCHASED |
| 2014 | Adorama | Canon EOS 70D Camera |
| 2020 | Amazon | Canon EF 16-35mm f/4L IS USM Camera Lens |
| 2018 | Amazon | Canon TS-E 17mm f/4L Ultra Wide Tilt-Shift Lens for Canon DSLR Cameras |
| 2017 | Amazon | Canon EF 100-400mm f/4.5-5.6L IS II USM Lens For Full Frame Camera |
| 2016 | Amazon | Tamron SP 150-600mm F/5-6.3 Lens for Canon EF Cameras |
| 2015 | Amazon | Canon EF-S 10-18mm f/4.5-5.6 IS STM Lens For "Crop" Cameras |
| 2013 | Amazon | Canon EF 24-105mm f/4 L IS USM Lens for Canon DSLR Cameras |
| 2013 | Amazon | Canon EF 24-105mm f/4 L IS USM Lens for Canon DSLR Cameras |
| 2013 | Amazon | Canon EF 400mm f/5.6L USM Super Telephoto Lens for Canon SLR Cameras |
| 2007 | BHPhotoVideo | Canon EOS 5D Mark I Camera |
| 2012 | BHPhotoVideo | Canon EOS 5D Mark III Camera |
| 2018 | Ebay | Novatron Flash Powerpack, Light Heads, Stands, Umbrellas |
| 2019 | Ebay | Canon 28-70mm f/2.8 L Macro Lens For Full Frame DSLRs |
| 2020 | Ebay | Canon EF-S 18-135mm f/3.5-5.6 IS Lens For "Crop" Cameras |
| 2020 | Tri-State Camera | Canon EOS 90D Camera |
As an Amazon affiliate I may receive a small commission from qualifying purchases, at NO added cost to you.

It really is safe to buy a camera from an online retailer provided you just use some common sense. Remember the 3 Rs: Reputation, Return policy, and Reviews. I hope you found this article helped you decide if online camera buying is the right risk for you or not.
For related articles, click on one of the posts below my signature, or search for any topic on my site using the Google search box below.
Search for a new topic on this site: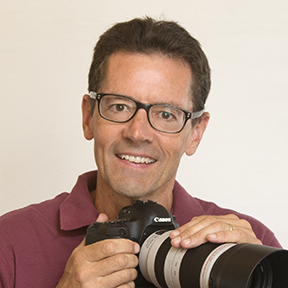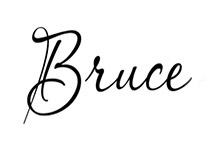 ABOUT BRUCE LOVELACE
Bruce is the publisher of this website. He is the author of the book "Improve Your Photography Instantly."  Read more on Bruce on his Bio Page. He's been known as The Traveling Photographer ever since 1994. Or read more about this website.
View some of Bruce's photos on Instagram.   Visit the Facebook Page. Watch him on YouTube.  Bruce runs photo workshops for kids and adults, and provides one-on-one photography coaching.
---
---
CREDITS:
  * 

https://www.bartleby.com/essay/Ebay-the-Worlds-Largest-Online-Marketplace-a-FKFUQJJE3RYZA

  **

https://smallbizclub.com/technology/ecommerce/know-potential-risks-online-shopping/