more family portrait ideas - copy these poses
It always refreshing to come up with more family portrait ideas whether you are a seasoned professional photographer or just a beginning amateur. I have been photographing the family shown below since the two kids were just babies.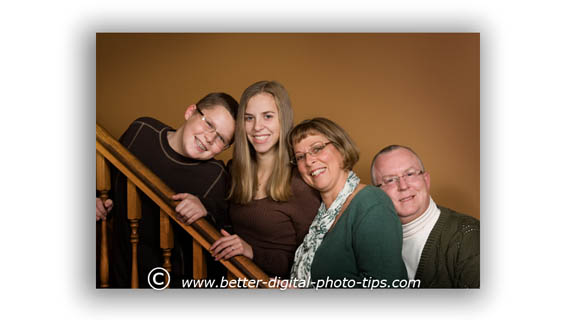 We had discussed ideas for the best portrait clothing before the day of the photography session. Due to a mistake on my part, we were unable to get outdoor photos taken, so we were forced to do an indoor session.

The mom had suggested the steps as a possible location for a family pose. I had done a holiday pose of just the two children at the bottom of the stairs several years ago. It was a great idea now that the kids were taller.
I composed the photo so that the shortest member of the family was on the highest step and the tallest member was on the lowest step. This somewhat equalized the height of everyone, but still achieved a diagonal composition.
Often family portrait pose ideas can come from surveying the environment when you arrive at a location to take family portraits.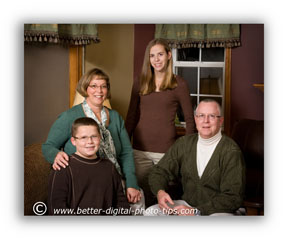 In this portrait pose on the right I used a pyramid shape for the composition. When I walked into the den, I immediately notice the colors and knew we had a great situation.
The greens and browns were a perfect match with the colors of the walls and the draperies.
Notice that none of the clothing colors for the portrait clothing were exactly the same, but they are all in the same color family.
We moved a chair out from the wall and close to the couch to provide a base for creating this pleasing family portrait pose. I had the mom sit on the arm of the couch.
Then my two male models sat on the edges to frame in the females. See how each subject's head is at a different height. I composed the photograph so that nobody's legs or feet were included.
how i lit this family portrait
I used two Novatron strobes bounced into two white umbrella reflectors and used a lighting ratio of about 3:1.
If you'd like to share More Family Portrait Ideas with our readers you can post at the bottom of this page: Family Portrait Ideas.
Also available for your reading pleasure and learning advanced techniques are some reviews of some of my Portrait Photography Books.
Happy Shooting!
Bruce


topics related to more family portrait ideas