5 creative uses for your plamp
Have you thought about some other creative uses for your Plamp?   Photography clamps, cleverly re-named as "Plamps" by Wimberly, are designed specifically to clamp onto a tripod leg for macro photography applications.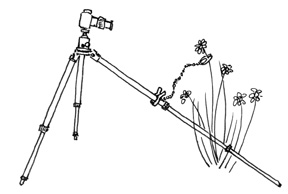 Plamps can gently hold or
re-position a flower to the perfect spot.
Plamps can be used in a couple of ways related to photography, but they also can serve you as a versatile accessory for other tasks. They can be very a useful gadget when you don't have a helper with you.
non-photographic uses for your plamp
The re-designed thumbscrew clamp on the Wimberly Plamp II gives you the ability to grip several different types of objects. The flexible articulated arm can be configured into any possible shape you can imagine.  I've never done this, but you can even connect two plamps together to make your own small tripod.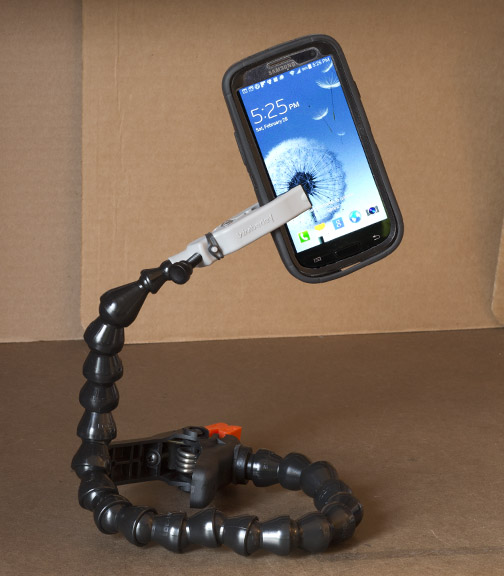 Use Your Plamp to Hold Your Cell Phone
The plamp can hold your cell phone for you, keeping it close-by and secured to your tripod.  You may want to keep your phone off of the ground so you can see it better. Of course, you can shoot a short videos of yourself on location, without using one of your hands, like you do with a selfie stick. 
Occasionally you may have to crawl under your car or under the kitchen sink to make a repair and your photographer's clamp can hold a small flashlight for you.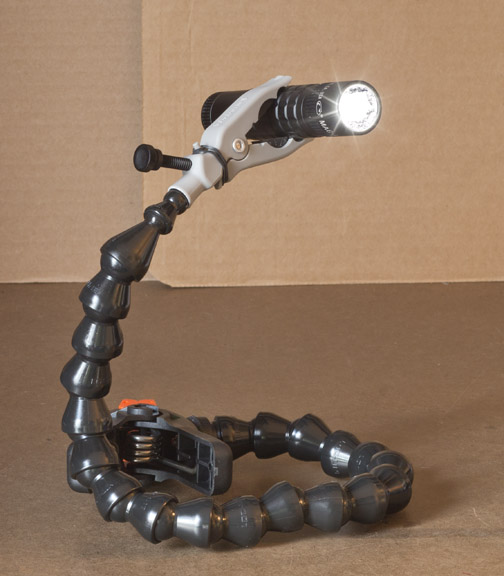 Plamp as a Small Flashlight Holder
Also great if you are a hiker or landscape photographer, it's very valuable to have a third hand to hold your flash light while you perform tasks that require two hands.
---
Reviews of Plamps on Amazon
---
creative uses for your plamp shooting photos
The plamp can take the place of having a human assistant with you during a macro photography shoot. The orange-capped end was specifically made to grip round poles like your tripod leg, but will work on flat surfaces as well.
You can also attach your plamp to a monopod like the Koolehaoda carbon fiber monopod shown below.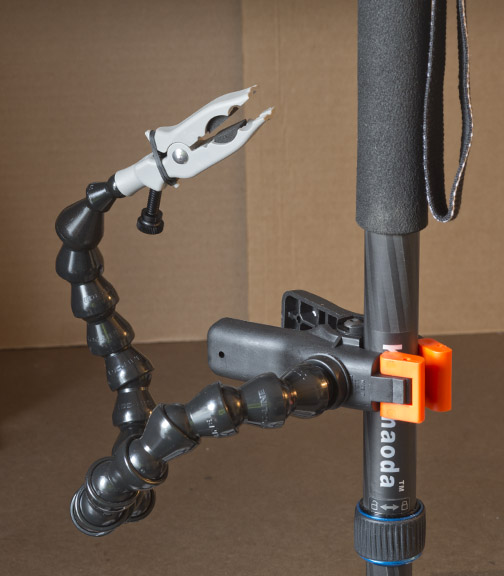 Use Plamp on a Monopod
I find that this is very useful to block sunlight from hitting the lens directly by attaching a piece of cardboard to the plamp's thumbscrew clip.
The plamp is designed to only hold lightweight gadgets.  There are more secure ways to do this, but in a pinch you can use this accessory to hold a small flash unit like the Canon 270EX II.
The 270EX II has a bounce feature, but it does not swivel.  Having the ability to aim it in any direction will let you bounce the light off the best available surface.  You can also use the plamp to hold a small LCD light panel for fill light whens hooting macro.
I'm sure you can come up with your own creative uses for your plamp.  these are just a few of the uses that have worked well for me.  There are other options out there too.  I bought the Wimberly Plamp II for two reasons.
It is a second generation product, improved from the first version.  It was already popular but was improved upon after getting customer feedback.
High customer reviews on Amazon.
It was designed specifically for macro photography and I wanted a lightweight tool, easy to carry and effective at helping me concentrate to taking great photos.
Watch less TV
Shoot more photos
Bruce
Reviews of Plamps and other Photography Clamps on Amazon
Digital Photography Tips HOME Page