why break the rule of thirds in photography

Why would anyone want to break the rule of thirds in photography? After all, aren't we photographers supposed to follow the rule of thirds as one of the most important compositional guidelines in photography? Perhaps not.

I do use the rule of thirds quite a bit, often automatically without even thinking about it, particularly with nature and landscape photography.

I composed this night-time scene by placing the pirate ship ride directly in the center of my frame. I was using the compositional rules of leading lines and framing instead as the dominant guidelines to compose this image.
The railing in the lower left and the line of people in the lower right of this photo act like leading lines, steering our attention inward toward the center of the image. I positioned by camera and tripod so that the top two corners were framed in my the trees, which are barely visible but still add some visual interest.
Even when I break the rule I sometimes use it partially. I centered Yosemite Falls between these two trees.
Notice though that I place the top of the falls at about 1/3 of the way down from the top. Do you think I didn't break the rule enough? The lighting was perfect from this vantage point. I liked the contrast of the sunlit water cascading in front of the dark, wet rocks that were still in the shade.
Once again, in the photo below I centered my subject, but still placed his head about 1/3 of the way from the top of the composition. Can you tell I like to poke a little fun at myself?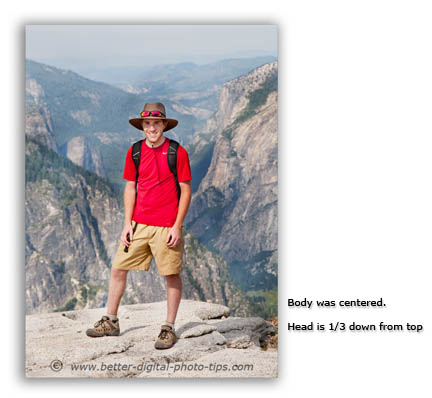 Being a portrait photographer, I did direct him to turn slightly to his right to create a slight angle. Usually it is not a good idea to have an individual stand directly facing the camera, but that's more of a topic for an article on portrait photography tips.
Watch less TV. Shoot more photos!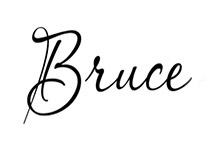 ---
Back to Rule of Thirds in Photography
Back from Break the Rule of Thirds in Photography to Photography Tips Home page