turn your color pictures into emotional black and white photography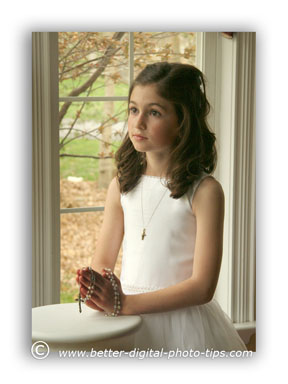 Have you ever looked at emotional black and white photography? Would it have the same emotional impact if it were a color photograph?
I don't know the psychological reason for it, but when the color characteristics are removed from a picture, it sometimes automatically has more of an impact. Maybe without the colors, we focus more on the subject matter.
The lighting becomes more important as well. I used the natural light from this bay window for this color portrait of this young girl for her first holy communion.
I placed a large white card on the right to add a little fill light.
The green color of grass is not overly distracting, but look what happens when we eliminate the colors and turn the photograph into a black and white.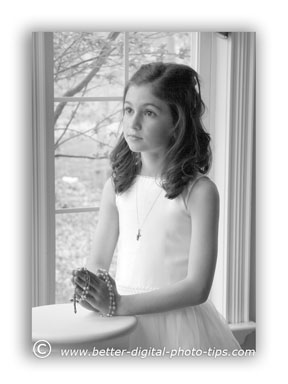 Notice with the edited image, our eyes are drawn immediately to her eyes and her innocent expression.
In Adobe Photoshop, there are several ways to accomplish this. The quick and easy way is to simple make an adjustment to the saturation.
Saturation reduction eliminates color.
This is okay sometimes, but I prefer to use a "Photoshop Action" The action I use came with a program call Quick Mats, developed by John Hartman.
It uses the different color channels to get a more realistic black and white image.
Using separate color channels give you a whole lot more control and more tonal variations. 
There are also really good plug-ins to Photoshop that do an even better job of converting to black and white such as Nik Software Silver Efex Pro.
use channels to get better emotional black and white photography results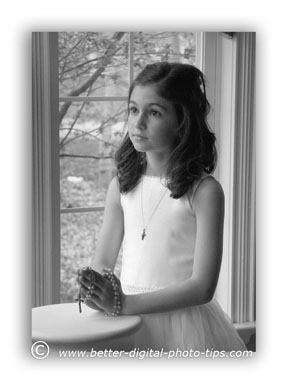 It does a great job of rendering the shadow areas with a little more detail.
The third version was edited by adjusting the saturation to zero.
If we compare the two edited photos, we can see that the second one is a nicer portrait.
It's not a big difference in a small picture on a web page.
It would be a big difference if this portrait is going to be printed as a wall portrait.
If I had taken this picture of my subject in black and white, I would have not had the option to have it in color as well.
shoot raw and convert to black and white post-capture
Shooting in "raw" mode gives you the opportunity to process your color image literally into hundreds of different black and white photos all from the same original photograph.
With large capacity memory cards being so affordable, you never should have to worry about running out of camera memory from shooting large "raw" files.
Have a blast creating emotional black and white photos!
Bruce
Back to Black and White Photography 

Back from Emotional Black and White Photography to Digital Photo Tips Home page
---
REVIEWS OF BLACK AND WHITE PHOTOGRAPHY BOOKS
---