bluetooth selfie stick
I purchased the Dreamcatcher Bluetooth selfie stick for two reasons. Yes, I wanted to explore the topic of selfies for this web site.  The popularity of taking of selfies has exploded and many of you are interested in finding out more about them.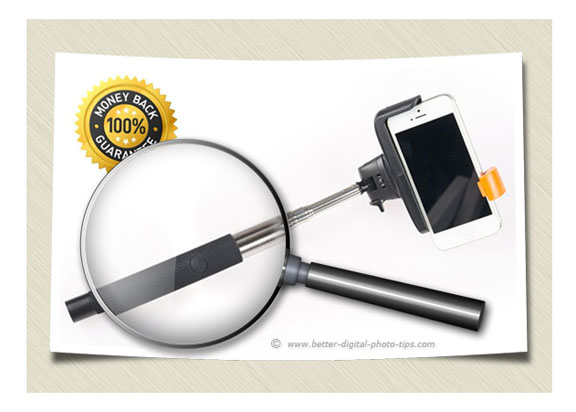 Close-up magnified view of Bluetooth Selfie Stick shutter release button
Secondly, I also thought it would be a great challenge to my creativity to capture some unique selfies without being too self-centered or narcissistic. I did my due diligence. I scoured the web for information and learned about the different features, sizes and load capacities.
I settled on a design that was intended specifically for cell phones and would be fully compatible with my Galaxy S3, with the right fit, AND with a built-in shutter release button.
Initially, I considered a heavy duty camera extender that would work with my Canon G1X Mark II but later decide to go with an accessory that is more mainstream, for people shooting selfies with their cell phone cameras.
the dreamcatcher bluetooth selfie stick review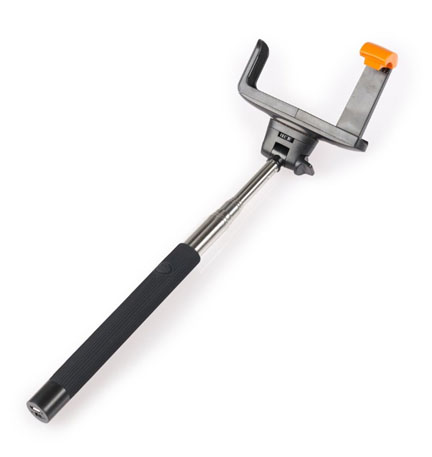 I then proceeded to my number one on-line retailer and read the reviews and opinions of consumers.
The number of models being offered is staggering and it took quite a bit of time to sift through them and evaluate everything for the best fit.
I was pleasantly surprised to find one with 96% of reviewers giving it a 4 or 5 star rating.  
That is very unusual for a camera accessory that only costs $25.
 I decided to give the Dreamcatcher Bluetooth Selfie stick a try.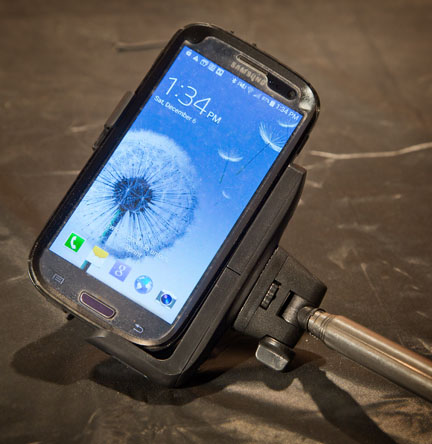 Galaxy S3 fit well in the selfie bracket
I was a little concerned when it first arrived from Amazon because the monopod's box I received was completely different than the one picture on Amazon.  
Fortunately, all of the contents inside were as expected, it was easy to setup and synchronize with my phone, and it worked perfectly.
I was surprised at how sturdy it felt in my hands.  Sturdiness was my biggest concern as many of the reviews on other competing models had various complaints about flimsy and loose-fitting brackets.
I soon discovered that it was a much better fit to remove my "Otter" soft rubber case first before securing my phone inside the bracket.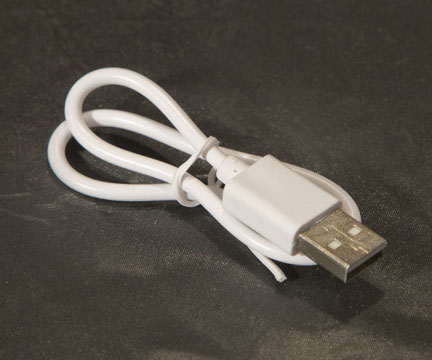 The Dreamcatcher comes with a short USB battery charger cord
The Dreamcatcher has a rechargeable battery to power the Bluetooth signal to the camera.  The signal requires very little power to send its signal a few feet atthe most and the battery should hav a nice long life before charging is needed.
---
creamcatcher selfie stick specs
Maximum load: a little over a pound (500g)

Length:  9 1/4   to  39 1/2 inches (235-1005mm)

7 sections

Weight:  5 2/3 ounces (160 g) 

Compatibility:   iOS 4.0  Android 3.0




Battery capacity:  45 mAH

Charging voltage:  5 Volts  USB

Charge time:  About 1 hour

Standby time: 100 hours
---
selfie stick features
Spring loaded bracket
The plastic bracket has a sliding arm with an internal spring to hold the phone fairly securely and a standard 1/4 inch threaded hole to attach the pole.  You could also use the bracket to attach your phone to a tripod or traditional camera monopod if you didn't want to use the telescoping stick handle.
WARNING:  I recommend you remove any soft or hard shell case you have on your phone before attaching to the stick's bracket.  The spring is only moderate duty and will not withstand excess pressure to widen the arm too far.
I made the mistake of pulling the arm to forcefully and had to dig inside the bracket and re-attach the spring. 
The shutter release button on the Bluetooth selfie stick is quite small and must be depressed in the right direction to work properly.  It wasn't a big issue, just something that had to be learned specific to the model I purchased.
The On/Off switch is very small as well and is located on the end of the camera pole below the battery charging port.  Overall I was impressed with the design for such an affordable accessory.
I put the link below where you can ready the reviews and opinions on the Dreamcatcher as well as other selfie sticks:
Dreamcatcher BLUETOOTH SELFIE STICK (and other reviews on Amazon)
Have a blast with your digital photography!
Bruce
Go to Better Digital Photo Tips Main Page