macro photography ideas

inspiration for great macro photos
Looking for some fresh macro photography ideas?  Read on, my friend.  When you breezed through this article, you can go on to find a whole lot more by reading some of the other macro photography articles listed at the bottom of the main macro page on this site.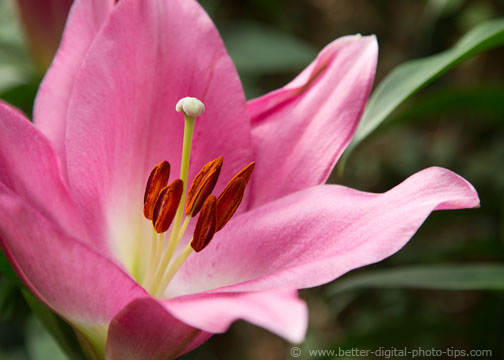 You can find subjects everywhere. It just takes a little practice.  You could start by visiting a room in your house.  See the article on finding subjects in the kitchen or the bathroom - visit the links on the left side of this page.
Here's an article on the Digital Photography School site that gives you 5 Tips For Finding New Ideas for macro photos.
This article is intended to give you some great macro photography ideas. Any macro photo inspiration you pick up here can be carried over to all of your digital photography.
Objects in nature (insects and flowers) are by far the most popular subjects for photographers doing macro photography, but you might be looking for different, more unusual close-up subjects.
| | |
| --- | --- |
| | Close up of a pine cone |
This link and yellow photo is of the flower Carmelia. This is a good example of a composition where the rule of thirds was not used.
The yellow and white stamen were centered in the middle of the red flower petals. Do you think you would have taken this macro photograph of the Carmelia the same way?
I have found that looking at photos from other photographers is a great way of getting ideas for creating your photos with your own personal method or interpretation of the subject matter of your image.
The number of subjects is both plentiful and amazingly diverse, so ideas are limitless. I did include a few small nature photos from other photographers as samples of macro photo subjects in this article to give you a little variety from other photographers.
Most of the photos on this web site have been taken by me personally. I have, on occasion, used photos from other photographers as inspiration and for ideas to write additional articles.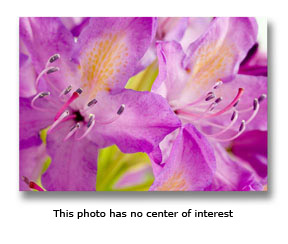 There are many sources of royalty free and public domain photos that are available for you to use.
I enjoy the photos from one site in particular: publicdomainpictures.net
Petr Kratochvi has thousands of photos there and I have contributed money to Petr for the use of his photography on this digital photo tips web site.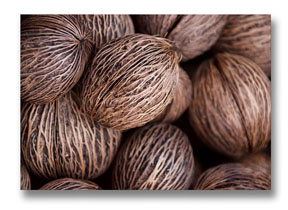 If you were photographing the pine cone or the rhododendron above, what would you do differently?
Perhaps you would use a different lighting technique or take a different perspective.
That can change the visual impact completely of any subject by altering your lighting, your perspective or your composition.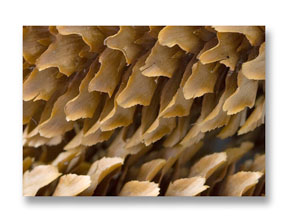 Another way to come up with creative macro photography ideas is to focus on one aspect or characteristic of a subject.
For instance, you could look for textures. These last two photos are all about texture.
Seek inspiration for a photo by looking for just subjects with interesting texture.
Another way to get inspiration for creative macro photography ideas would be to make a list of suitable subjects like insects, food, hardware or water droplets. Give yourself an assignment, explore and have a blast with macro photography.
locations for more macro photography ideas



You can also stay away from nature when searching for ideas on subject matter. Do you have any junk drawers or tool kits sitting around?  I challenged myself by looking for macro subject within a single room of my house.
I've limited myself to just the kitchen, just my office and yes, just my bathroom-see the photo above.  It is a way to get your creative juices flowing.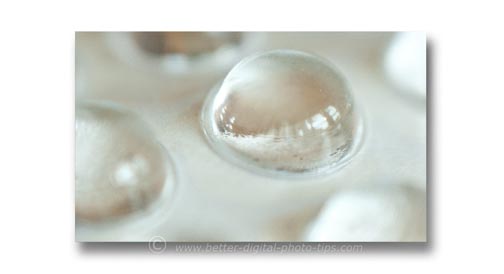 This macro idea came from a shoe box full of framing supplies, located underneath my work table. This photo is a close-up of a"bump-on" which is one of those little plastic dome cushions that you place on the back of a picture frame to protect the wall.
The list of macro photography ideas is truly infinite. You just have to exercise your mental muscle and look around. Another possible way to get inspired is to consider getting a macro lens for your cell phone camera.
Perhaps a bit unusual, for sure, but you always have your cell phone with you and might come up with an interesting idea for your next macro photograph while you're on the go.
Add-on cell phone camera lenses are quite small, perhaps a bit of a gimmick, but definitely very affordable. Of course there is a downgrade in quality when you are using a cell phone to take photos, but the reality is everyone is doing it all the time and the photographs are getting better: Cell Phone Camera Lens.
Another great way to learn about a subject is to attend a workshop. Mike Moats is a dedicated macro photographer who travels the country and does workshops for photographers who don't have sophisticated macro photography equipment.  
Here is the link:  http://tinylanscapes.wordpress.com/workshops/
Happy Shooting
Bruce Lovelace
I have quite a few books on photography in my "library" and I keep them around so that I can occasionally flip through them and generate new ideas in my limited creative brain. A great source of additional information can be found here:
Reviews of Macro Photography Books on Amazon
p.s. For some more ideas, go to :
If you would like to share some macro photography ideas with the other readers, you can submit them below.
share your macro photograph
Do you have a macro photograph to share?
what other visitors have said
Click below to see contributions from other visitors to this page...