baby poses
(copy any baby portrait pose you wish)
Can you think of anything more fun to look at than great baby poses? Even if your not a fan of babies, it's hard to stay in a bad mood when you see that innocent baby face and those innocent eyes staring back at you.
This infant pose is one I used for over 9 years as a baby portrait photographer for a national in-home baby portrait company. Simply lean your baby in a secure, safe and comfortable manner over a firm pillow facing directly toward your camera.
It is a good pose for babies from newborn up to 4 months old. It is a great way to capture the natural expressions of a young child in a close-up manner.


This article on baby pictures is about two simple poses that are easy to copy and are always winners if you are taking portraits of your own child or for someone else. The baby photo below is the classic baby-on-its-belly pose.
All babies develop their muscles and body control at different rate, but the baby-on-its-belly is usually a great pose for ages 3 months to one year. One little precaution is necessary though: Never leave a baby unattended or in a dangerous position where it could fall off a table or be exposed to any kind of injury.
The baby above had enough upper body and neck strength to lift her head and turn it to look at me while I made a clucking sound to capture this serious, but adorable pose.
One of the Digital Photo Tips covered elsewhere on this photography site is on choosing to shoot using a vertical or a horizontal composition. The belly pose is a great time for shooting a horizontal composition.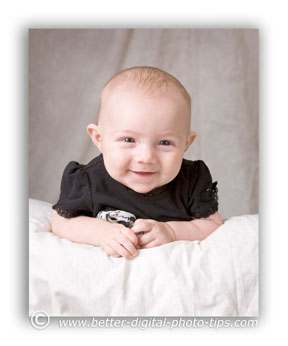 This baby pose on the right is called the "Personality Pose." It's looks better photographed as a vertical composition.
When your infant is facing directly into the camera, you really capture the unique expressions that babies make at this age.
The faces are always natural expressions at this point because they haven't learned how to make fake expressions.
The baby is in an almost upright, kneeling position and MUST BE held by an assistant, with their hand hidden from the camera's view. I either wrap a pillow up like a large Tootsie Roll or use one of those doughnut shaped pillows as support.
Using a tripod is one of the tips for taking digital photography that I always make for doing portrait photography. It allows you to watch your subject and time your exposure without having to worry about supporting your camera.
If you are looking for more baby poses for photographs or if you are interested in poses related to Yoga for babies, there are some excellent illustrated resources for both of these topics available here: Baby Poses on Amazon

This portrait pose is usually good for infants 1 month old up to 6 month old. The younger ones, who have not developed enough neck strength often have their heads resting on their hands, which are placed underneath their chins.
---
---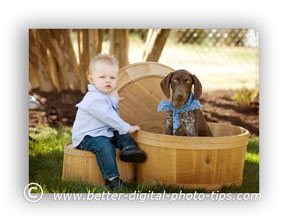 In this outside photo of this young boy and his dog, the photography props I used served two functions.
They were not just for providing some scenery.
The baskets also worked as a "pen" to keep the dog stationary and acted as a support for my young model to steady himself.
Baby pictures, just like family portraits come out better when you can take advantage of good photography lighting. You may also want to discover a photography tip on using a Photo Fill Light.
My biggest Digital Photo Tip is always the same: Have fun getting the hang of taking better photos. The digital age of photography allows us to experiment and try many new photography techniques without wasting film or money as we go.
I recently took some more newborn pictures for someone.
I couldn't resist adding this baby portrait example as one of the poses I like to do with babies.
There is a saying that there is nothing more peaceful than a sleeping baby.
Poses like this are easy to do when you have a content sleeping baby.
I place a blanket in the corner of my friends couch and set up my Photoflex Softlighter to the right side.
I used a large white piece of cardboard on the left side to bounce the light back into the shadow areas.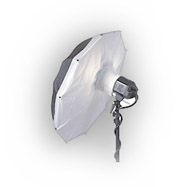 This creates a nice soft light which is great for baby poses.
My little model was safe and secure, supported by the arm and the back of chair.
Then I tucked the blanket underneath the baby's hand.
The white blanket, the light pink bow and the baby's fair complexion added together create a nice high-key portrait.
articles related to baby poses
Baby Photography Tips. More thoughts on baby photography and keeping things simple to get great baby portraits.
Newborn Portrait Photography. I use three specific photography techniques when taking newborn portraits. This article explains these tips on photographing newborn babies.
Family Portrait Ideas. In addition to portrait photography tips related to baby Poses you may also be interested in reading some creative ideas for family portraits.
Photography Poses. Tips on group photography poses for family group portraits of 3, 4,5 or even 6 people.
Photography Lighting Equipment.  You have a lot of choices on how to do your lighting.  Sometimes you can go real simple and natural.  Sometime you''ll want to go a little more sophisticated.
---
I just added this baby portrait as a reminder to give you a tip for doing full length baby poses. Get as far back as you can from your subject and use your telephoto setting on your lens.
This gives a more pleasing look without spatial distortion that can occur when using a wide-angle lens setting. 
Of course, after I finished writing this article on baby poses, I took another baby portrait that I wanted to share with you.
Generally when photographing a baby that has just learned to sit up by herself you get an easy pose to take. Babies are likely to stay in one place at this stage of their development.
If there is a suitable spot, I like to take baby portraits on a floor. It is a safer situation than photographing a baby on a table.
This wooden floor was a great spot and it was an ideal situation because there was a double width door to the right of my baby. The door provided a beautiful, large, soft light source. I placed a very large white piece of cardboard on the left to use as a fill light.
Baby poses that are taken without much clothing, provided they are tastefully done are always a winner.
Have fun with baby poses,
Bruce
---
---
Have Any Baby Poses to Share?
Would you like to brag about a baby portrait you took? Share your photo and the story behind it.
What Other Visitors Have Said
Click below to see contributions from other visitors to this page...

Use a wicker chair for baby poses

Another tip is to use a white wicker chair as a support for babies that can't yet sit up on their own. This baby portrait is also a high key portrait, …
Back from Baby Poses to Portrait Photography Tips

Back to Digital Photo Tips Home Page